Sweeping and mopping the floor daily is a basic yet quite tedious house chore. With the new realme TechLife Robot Vacuum, this process is conveniently automated, so you have more time for the more important stuff.
Design: 4/5
Like other similar products, the realme TechLife Robot Vacuum is a disc, much like a flying saucer, particularly with the raised LiDAR unit protruding from the center of the upper surface. It is 350mm in diameter and 100mm high.
On the upper surface, you will also find the Power and Home buttons. On the front side of the plastic casing are the sensors and a pressure-sensitive bumper, while at the back is the removable dust container.
On the underside are the fall sensors, the drive wheels, and a guide wheel, beside which are the charging contacts. Alongside these are the side brushes, while the large removable main brush is found across the center of the disc, slightly behind the drive wheels and adjoining the dust container.
Hardware: 4.5/5
The centerpiece of the TechLife Robot Vacuum is its LiDAR Smart Mapping and Navigation System that is capable of 360-degree real-time laser scans. This is complemented by 38 side infrared sensors for more precise and accurate navigation, so it can safely go under or around furniture.
It delivers four levels of suction strength up to a maximum of 3000Pa. In quiet mode, it operates at only 55dB noise level. Three filter layers, including a HEPA filter, screen out up to 99% of PM2.5 particles, ensuring that fine dust is captured inside the dust bin.
With its large 5200mAh battery, the TechLife Robot Vacuum can clean continuously for up to 300 minutes or 5 hours. The package comes with a charging base with a simple but neat cable management system.
User Experience: 3.5/5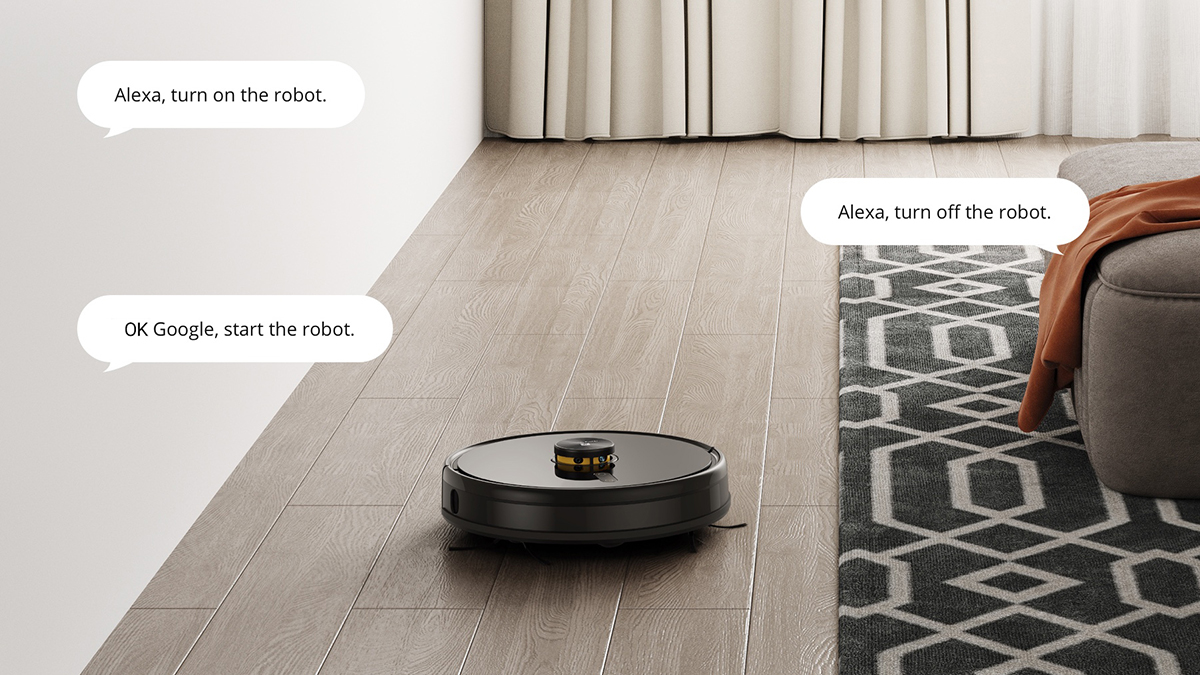 The TechLife Robot Vacuum is virtually plug-and-play. All you need to do is snap on the side brushes, check the filter, set up the charger, and you're good. I was at first disappointed that it did not have a remote control and required me to download the realme Link app.
Having done that, the app recognized the device almost immediately, and pairing and integrating the Robot Vacuum to my home WiFi was quick and easy. The app detected a firmware update so I waited for the process to go through, and it was cool that you could see the progress status on the app. At the same time, the Robot Vacuum also "told" me once it was completed. Yes, it's smart and it gives verbal alerts in English.
For the first order of business, realme recommends that you first allow the TechLife Robot Vacuum to map your floor area. When I turned it on, I was surprised that it was able to quickly detect the walls of my living room. It then started moving around the edges, detecting obstacles and furniture. Once it had established the boundaries, it then started moving back and forth across the open surfaces, going over these areas and picking up debris.
It is able to go over carpets without snagging, and you can sense that it applies greater suction because of the louder noise (this is on auto mode). Over hard floors, it moves more quickly and is quieter.
I really like its large 600ml dust bin capacity, as it's able to pick up more dust before it needs to be emptied out. Of course, since this is basically a dust sweeper, it does not do a good job with larger and heavier bits of trash like candy wrappers or fur balls.
Through the app, you can map out the areas or "rooms" to be cleaned, indicate no-go zones, schedule when you want the areas cleaned, and many other functions. Once done, it automatically returns to its charging base.
I was excited about the TechLife Robot Vacuum's mopping capability, which makes it stand out from other ordinary robot vacuums. Sadly, the mop kit does not come with the standard package and is an add-on that needs to be purchased separately. However, checking on the local realme site and other shopping sites did not turn up any realme mopping kit package for sale, so I guess that's a feature that I won't be able to use until the kit becomes available.
Overall, I think the TechLife Robot Vacuum is great for quick daily maintenance cleanups just to keep floor surfaces dust-free. It's also great for going under beds and low furniture, areas that normally don't get regular cleaning. It's not a replacement for regular handheld vacuum cleaners with all the brushes and extensions. Instead, I think of it as a daily sweeper (and mop once it becomes available) in between more thorough floor-to-ceiling house cleaning sessions.
Value: 4/5
The TechLife Robot Vacuum has an SRP of PHP16,990, pricier than other robot vacuums now available in the market. However, the higher sticker price could be justified with its smarter, more advanced features. Plus, since this is something you're likely to use every day, you're assured of a quick return on investment.
Specifications:
Cleaning modes: vacuum, mop, vacuum + mop
Suction: 500Pa (quiet), 1200Pa (normal), 2500Pa (turbo), 3000Pa (max)
Capacity: 600ml dust bin, 300+350ml 2-in-1 detachable dust bin & water tank
Battery: 5200mAh, continuous use up to 300min
Charging time: approx 6hrs
Dimensions: 350x100mm (vacuum), 160x143x81mm (charging base)
Connectivity: Works with realme Link, Google Assistant & Alexa, support for iOS 11+ and Android 5.0+
What's Hot:
It's very smart!
LiDAR smart mapping and navigation
realme Link app
What's Not:
Mop kit needs to be purchased separately
Only light carpet cleaning
Bottomline:
This smart helper is something you should write to Santa about.
Reviewed by Maribelle Alba
Also published in Gadgets Magazine November 2021 Issue