How do you improve on what's already the best? Let's take a close look at how the all-new Secretlab TITAN Evo 2022 Series was redesigned to be an even better version of its award-winning precursors.
Design: 4.5/5
Feedback from over 1-million Secretlab users were taken into account in the development of the all-new TITAN Evo 2022 Series, and improvements were introduced while retaining the best features of previous models.
First, with regard to sizing. The TITAN Evo 2022 Series now comes in three sizes — Small, Regular, and XL — to accommodate all body types. Previously, the OMEGA was offered for smaller frames, while the TITAN was recommended for larger individuals.
Second, more advanced upholstery. I chose the fabric version for my test unit, and this now comes in an upgraded SoftWeave Plus version that's supposed to be softer, more breathable, and more durable. You can also get the TITAN Evo 2022 Series in the new NEO Hybrid premium leatherette material that's supposed to be as plush as, yet tougher than, regular PU leather. As before, NAPA leather remains an option.
Hardware: 5/5
The TITAN Evo 2022 Series features an all-new 4-way L-ADAPT lumbar system that can be precisely adjusted up/down as well as in/out. In addition, it can intelligently adapt to your spine curvature through its lattice-hinge design.
The armrests are now detachable, with powerful magnets keeping them in place. With this new CloudSwap replacement system, you can choose to upgrade to a more premium armrest.
The memory foam head pillow for the TITAN Evo 2022 Series is similarly magnetized, doing away with the adjustment straps to keep them in place.
With the utmost attention to detail, Secretlab has also incorporated improvements such as better positioning for the under-seat levers and better feel and grip for the recline handle and lumbar adjustment knobs.
At the same time, the TITAN Evo 2022 Series retains many outstanding features, such as its patent-pending cold foam formulation that delivers both comfort and support; the multi-tilt mechanism and full-recline backrest; and the steel frame and reinforced aluminum wheelbase with extra-large PU casters.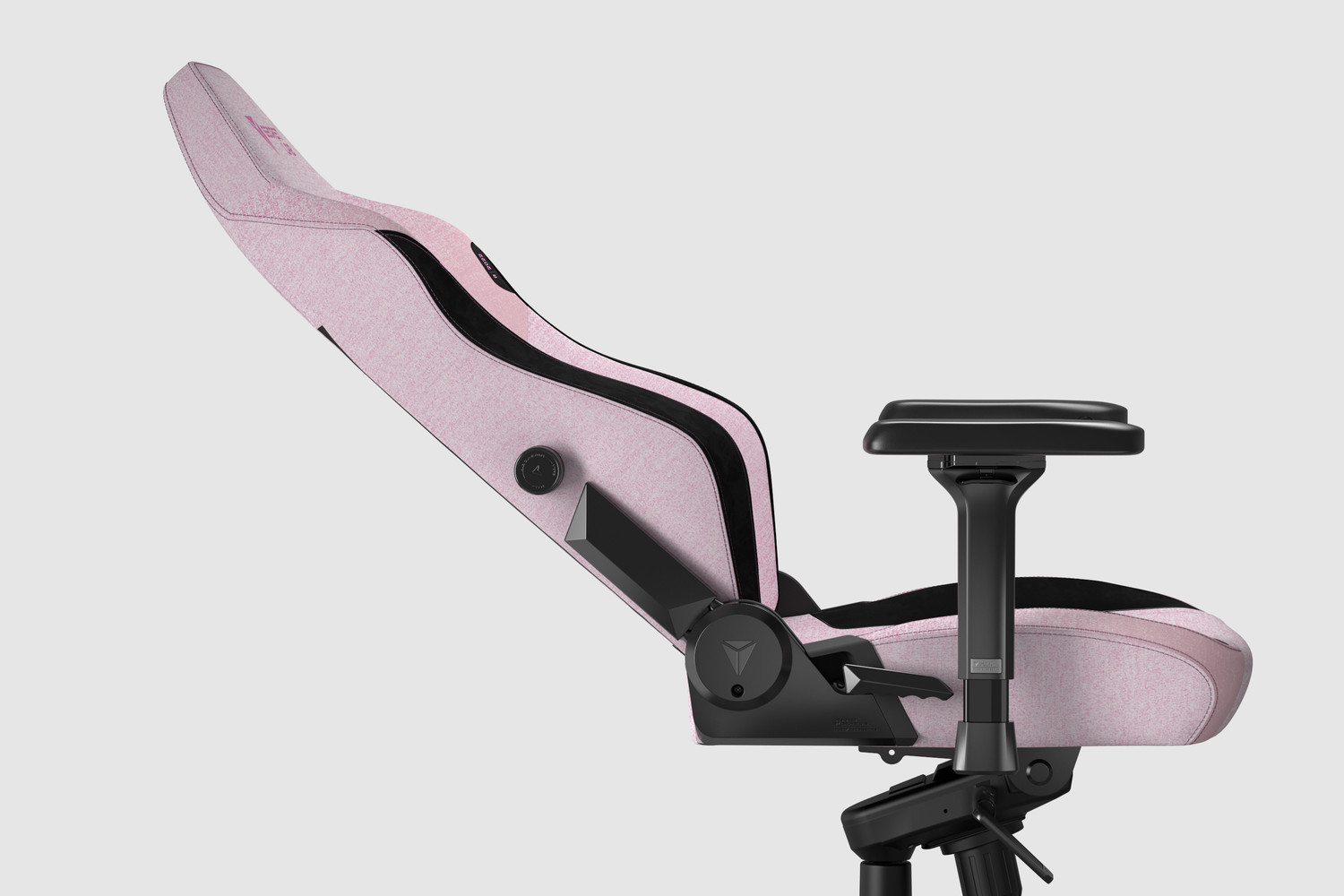 User Experience: 4/5
I know that Secretlab paid attention to the one tiny complaint I had with their OMEGA 2020 Series. I wanted to be able to lower it a bit more to accommodate my shorter legs. Secretlab listened, and gave the TITAN Evo 2022 Series shorter hydraulics so I can now sit more comfortably with my feet flat on the ground — a small adjustment that makes a world of difference.
The seat base has also been redesigned so it now feels firmer and, it seems, makes me sit up straighter. Posture and sitting position may not seem important, but these are the small details that deliver the most benefits.
The adjustable armrests on the TITAN Evo 2022 Series can be precisely positioned to ensure that my elbows are supported at the right height to guard against upper arm fatigue and eventual shoulder, neck, and back pain, while allowing my lower arm, wrist, and fingers freedom of movement on the keyboard.
When I want to take a few moments to mull something over, a twist on the tilt lever allows me to either rock the chair or tilt it back to a more relaxing position. When I want to stretch my back, I can recline the backrest to 165-degrees and slide the magnetic head pillow into position for proper neck support.
What's not to like about the TITAN Evo 2022 Series? I sort of miss the wider lateral supports of the OMEGA which gave me a snugger fit. Also, while all the necessary tools and detailed instructions for assembly are included in the package, the size and weight of this gaming armchair require an extra set of hands.
Value: 5/5
The Secretlab Titan Evo 2022 Series does not come cheap. The particular SoftWeave Plus model that we tested is priced at PHP27,990 discounted from a PHP32,850 SRP on Lazada. Most people would balk at this expense, and it is a large amount for a one-time cash-out. However, given the 3-year (extendable to 5-years) warranty, you're assured that this will be a long-term investment. If you don't want to burden your cash flow, you can actually avail of the 36-months installment offer, where you only have to shell out about PHP1,057.40 monthly.
For hard-core gamers or even ordinary desk warriors who will likely spend at least 8 hours a day seated on this chair, how much do you value your comfort and even your long-term spinal health?
Specifications:
Chair/seat back: Full-length backrest
Foam type: Cold cure foam mix (patent-pending)
Upholstery: SoftWeave Plus fabric; also available in Neo hybrid leatherette and Napa leather
Logo stitching: Machine embroidery
Armrests: (LxW) 27x10cm, 4-directional, full-metal mechanism. soft PU coated top, CloudSwap replacement system
Tilt: multi-tilt mechanism with tilt and tilt-angle locks; [XL] heavy duty
Recline: High-grade spring, 85-165o
Lift: Hydraulics gas piston class 4; [XL] heavy duty
Frame construction: Steel
Wheelbase: ADC12 aluminum alloy
Casters: PU-coated
Head pillow: Magnetic, memory foam with cooling gel
Lumbar support: In-built 4-way L-ADAPT lumbar support system
Recommended height: [S] 150-169cm, [R] 170-189cm, [XL] 181-205cm
Recommended weight: [S] <90kg, [R] <100kg, [XL] <180kg
Maximum load: [S|R] 130kg, [XL] 180kg
Product weight: [S] 33.5kg, [R] 34.5kg, [XL] 37.5kg
What's Hot:
Improved ergonomics
Better sizing
What's Not:
Assembly is not a single-person job
Bottomline:
This is the new BEST seat in the house!
Reviewed by Maribelle Alba
Also published in Gadgets Magazine October 2021 Issue