You don't have to be a gamer to appreciate the benefits of a great gaming chair like the Secretlab Omega 2020 series. After a couple of months of daily use, here's why I think it's going to be hard to find anything better.
Design: 4.5/5
Secretlab designed even the packaging to be of the highest quality. When you open the box, the individual pieces are all nicely ensconced in black plastic foam cut out to securely — everything. It also comes with a large easy-to-follow instruction board, and even the needed tools came in a compact case that I've added to my toolbox.
The variant that I received came in a charcoal gray Softweave fabric made from dense short yarn with an ultra-soft and fluffy texture. Because it's breathable, it does not get warm, and you don't get sweaty. The full-length backrest and the seat itself have raised lateral supports reminiscent of racing seats, which not only look great but actually also add to the excellent ergonomics.
For additional comfort, the Secretlab Omega 2020 Series also comes with a separate head pillow made of memory foam with cooling gel and a memory foam lumbar pillow.
Hardware: 5/5
Secretlab didn't stint on the hardware that goes into the Omega 2020 Series. First, the steel frame is able to carry a load of up to 110kg. It rides on a balanced and reinforced aluminum wheelbase fitted with extra-large polyurethane (not plastic or rubber) caster wheels that are sturdy, wear-resistant, and quiet. The lifting mechanism is powered by best-in-class Class 4 hydraulic gas pistons for consistency, stability, and safety. The recline mechanism is made of a high-grade spring that allows you to lie back almost flat at 165o.
The cold-cure foam mix used for the seat and backrest is so special Secretlab has a patent-pending for its manufacturing process. It is firm yet supple for whole-day sitting comfort, much like how an orthopedic mattress optimizes sleeping comfort.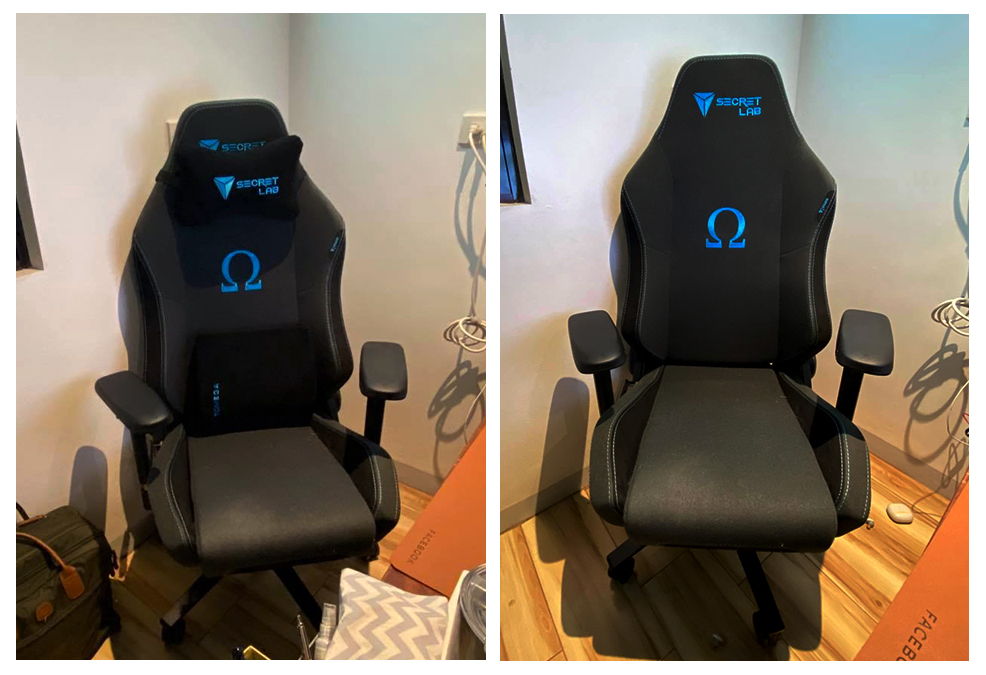 User Experience: 4.5/5
mill swiveling office chair with a medium-height mesh backrest, and as I wasn't into reclining or tilting or any of the fancy stuff, a premium gaming chair was never on my wishlist. So, when the Secretlab chair finally arrived, I wasn't terribly excited until I opened the box. From the quality of the packaging alone, I knew this was something very special.
Yes, it requires assembly. And because it is rather large and heavy, you would need an extra pair of hands. Putting everything together was pretty straightforward — just follow the steps on the large instruction board and took maybe half an hour or so.
Among the things I like best about the Secretlab Omega 2020 Series are its 4-way adjustable armrests. I have this thing about armrests and usually have them removed from my office chairs so I can move my arms more freely. The Secretlab Omega lets me adjust the armrests to my preferred position — up/down, right/left, angled right/left, forward/backward — and it is the best feeling ever to finally be able to comfortably rest my elbows while working.
You don't appreciate how good something is until you realize everything that has stopped bothering you — like rising up from several hours of intense typing on your computer without the lower back pain or the tired arms. There are also those things that you never did before but now do, simply because you can — like stretching out on your back and putting a pillow under your neck for a quick refreshing break all without leaving your seat.
What don't I like about the Secretlab Omega 2020 Series? Okay, this is really nitpicking, but it's a bit large and heavy, and so you need some floor space to accommodate its bulk. The lowest height from the floor to the seat base is 46mm — I find I need a footrest for a more comfortable sitting position. Finally, the fixed headrest makes it hard to properly position the head pillow — I don't use it when working and just pop it under my neck for reclining support.
Value: 4.5/5
Listed at PHP23,990 on Lazada, the Secretlab Omega 2020 Series is premium-priced, reflecting the top-notch build and materials quality of the product. Backed by a 3-year international manufacturer warranty, extendable to 5-years, you should think of this as a long-term investment. After all, you'd probably spend more time in this chair than in bed, and being able to enjoy the benefits of an ergonomic, well-built chair should more than outweigh the cost factor. Get it on a 36-month installment plan and you'll hardly notice the less than PHP1,000 monthly charge.
Specifications:
Chair/seatback: Full-length backrest
Foam type: Cold cure foam
Upholstery: Softweave fabric; also available in Prime 2.0 PU leather and Napa leather
Logo stitching: Machine embroidery
Armrests: (LxW) 27x10cm, 4-directional, full-metal mechanism. soft PU coated
Tilt: multi-tilt mechanism with tilt and tilt-angle locks
Recline: High-grade spring, 85-165o
Lift: Hydraulics gas piston class 4
Frame construction: Steel
Base: ADC#12 aluminum alloy
Casters: XL PU-coated
Head pillow: Memory foam with cooling gel
Lumbar pillow: Memory foam
Weight: 30kg
Recommended height: 160-180cm
Maximum load: <110kg
What's Hot:
Premium materials
Topnotch build quality
What's Not:
I wish it could go lower
Rather bulky
Bottomline:
Truly the best seat in the house — and not just for gamers.
Reviewed by Maribelle Alba
Also published in Gadgets Magazine June 2021 Issue