Type-2 diabetes runs in the family, so as my doctor keeps reminding me, it's not a matter of if but when. This means I need to be careful about my food choices and stay away from food high in sugar and carbohydrates—like, sadly, rice. But with the Toshiba Low Sugar Multi-Cooker, can I start enjoying hearty rice meals again?
Design: 4/5
The Toshiba Low Sugar Multi-Cooker has only a 1.0L capacity, so its black boxy body does not take up too much counter space. Over the top lid is a glass layer with an LED display and touch panel for the control buttons. Lining the upper lid is a removable plate with a steam vent. A round button on the front portion of the body unlatches the hinged lid.
Inside is the inner pot that's 3mm thick with 7 layers to transfer heat evenly. This is coated with non-stick Japanese Binchotan charcoal — derived from high-quality Japanese oak — which purifies the water and absorbs other undesirable substances. Nestled on top of this is a cooking basket/steamer made of SUS304 stainless steel for cooking "healthy rice."
Hardware: 4/5
The Toshiba Low Sugar Multi-Cooker uses 3D heating induction technology for consistent cooking from anywhere within the inner pot due to an optimal simmering process, micro-pressure, and precise temperature control. The cooking basket utilizes starch removal technology where unhealthy starch is isolated from the rice into the water while still retaining the essential nutrients.
There are preset menu functions for various types of rice — white rice, brown rice, Gaba brown, and mixed rice— plus a dedicated button for "healthy rice." Additional menu options include quick cook, steam, and congee, as well as keep warm/reheat.
The Toshiba Low Sugar Multi-Cooker is SGS certified to deliver a 58% increase in healthy digestive resistant starch and 35% reduction in sugar through its starch removal technology.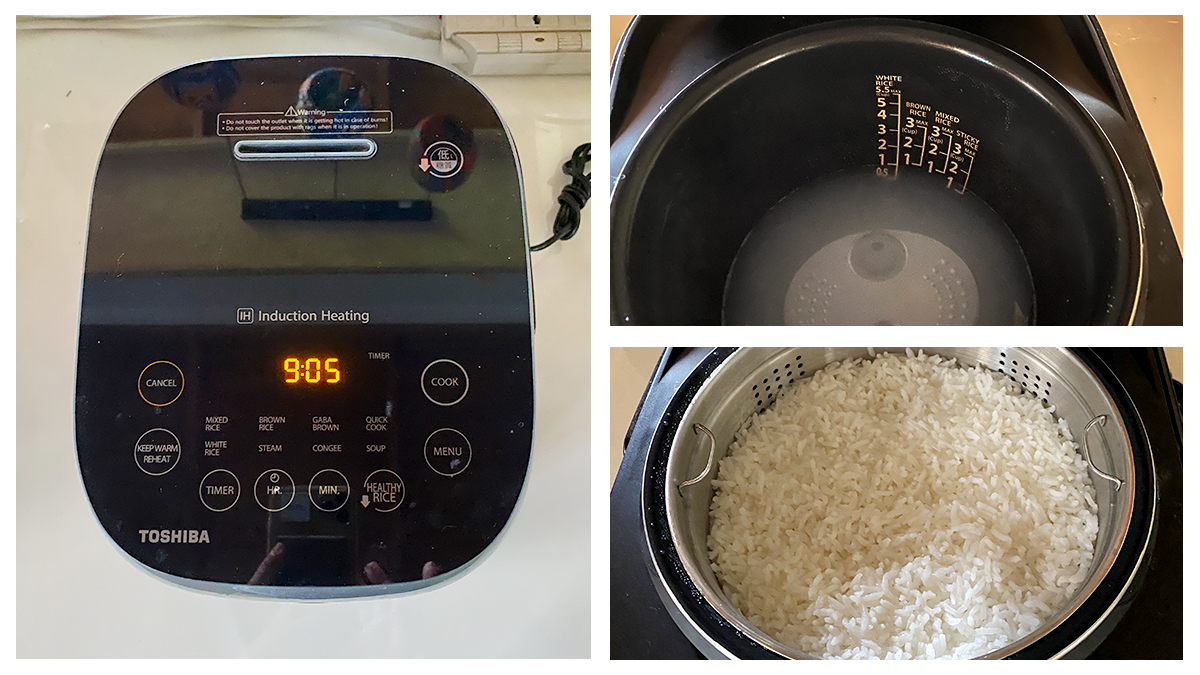 User Experience: 4.5/5
Cooking "healthy rice" is easy. First, in the cooking basket, you put in the desired quantity of rice (up to 2 cups), then rinse the grains, place the cooking basket into the inner pot, add water to the indicated level, position the inner pot into the multi-cooker, close the lid, and press the dedicated Healthy Rice button to start the 40-minute cooking process. A tone sounds to tell you when it's done, and the multi-cooker switches automatically to "keep warm" mode for up to 12-hours.
There's also a convenient 24-hour preset timer that lets you schedule when you want the rice to be cooked, so you can pop in the rice before you start work in the morning and have It freshly cooked in time for lunch or dinner. Or get everything ready the night before to enjoy healthy steamed rice for breakfast.
In the "healthy rice" mode, not all the water is absorbed by the rice grains, and you'll see starchy water in the inner pot under the cooking basket. The cooked rice is soft and fluffy while still warm but turns a bit firm and chewy as it cools. I suppose this is because most of the soft starch has been drained out of the rice grains.
When used as a regular rice cooker (without the cooking pot), the Toshiba Low Sugar Multi-Cooker produces really delicious, great-tasting rice, thanks to its Japanese Binchotan inner pot. The preset functions determine the optimum cooking time depending on the quantity and type of rice you're cooking. It also does double duty as a steamer or for making congee or soup.
Possibly the only complaint I have is that with just a 1.0L capacity, you can cook only up to 2 cups of rice in the cooking pot or a maximum of 3 cups for mixed/brown rice and 5.5 cups of white rice directly in the inner pot, so it's not ideal for large households.
Value: 4/5
The Low Sugar Multi-Cooker is listed at PHP9,476 (as of this writing) — discounted from the PHP11,995 suggested retail price — at the Toshiba PH online store. Even for a multi-cooker, that's a price point that most people would balk at. However, for diabetics who must absolutely keep their blood sugar levels under control, or weight-watchers on a low carb diet, being able to enjoy guilt-free rice can be priceless.
Specifications:
Inner Pot: 3mm multi-layer with PFA Binchotan non-stick coating
Cooking Basket: SUS304 stainless steel (1.0L capacity)
Heating Technology: 3D induction
Controls: Glass layer with LED display and touch panel
Menu Functions: 9 presets (Healthy Rice, Quick Cook, Steam, Congee, White Rice, Brown Rice, Gaba Brown, Soup, Mixed Rice); 24-hour preset timer; automatic keep warm (up to 12hrs)
Power Rating: 1000W
Voltage: 230V
Dimensions: 219x239x262mm
Weight: 4.4kg
Color: Black/Gray
What's Hot:
Healthier rice!
Multi-function
What's Not:
Small capacity
Quite pricey
Bottomline
Guilt-free rice is life!
Reviewed by Maribelle Alba
Also published in Gadgets Magazine June 2021 Issue