With the increasing popularity of YouTube, Netflix, and other video streaming services, people are looking for bigger screens to get that immersive, cinematic experience when they binge-watch their favorite koreanovelas, or that blockbuster movie they missed on its theater run. The demand is being met by newcomers offering large screen smart TVs at affordable price points, like the Xtreme Smart TV S-Series for which we tested the 55-inch MF-5500s model.
Design: 4/5
Handling the Xtreme Smart TV MF-5500s is not a one-person job as it is quite large and heavy, although actual assembly is a simple matter of screwing in the two V-shaped legs to the bottom of the unit, should you decide on a table-mount setting. Narrow 6.7 – 6.8mm bezels on three sides and a built-in sound bar on the bottom frame the large, flat 55-inch screen. The entire unit is a matte gray color all over, giving the TV a unitary look that is classily minimalistic. No shiny chrome on this one, except for the Xtreme logo centered on the bottom soundbar. If you're making plans for a home makeover, this television set is an elegant centerpiece to any entertainment corner.
Hardware: 3/5
Being a smart TV, the Xtreme MF-5500s runs on the Linux operating system, with a 1GB DDR processor and 4GB eMMC memory. Netflix and YouTube are pre-installed, while additional apps can be downloaded from its own Zeasn app store.
The 55-inch display is a digital LED, IPS panel that delivers good picture quality with wide viewing angles. The sound system consists of built-in Pure Sound speakers.
Lined up on one side at the back are the various ports: USB 2.0, LAN, optical out, three HDMI, AV-in, antenna, and line out should you wish to connect it to other devices like a Playstation, etc. It is WiFi ready for fast wireless connectivity to a nearby router.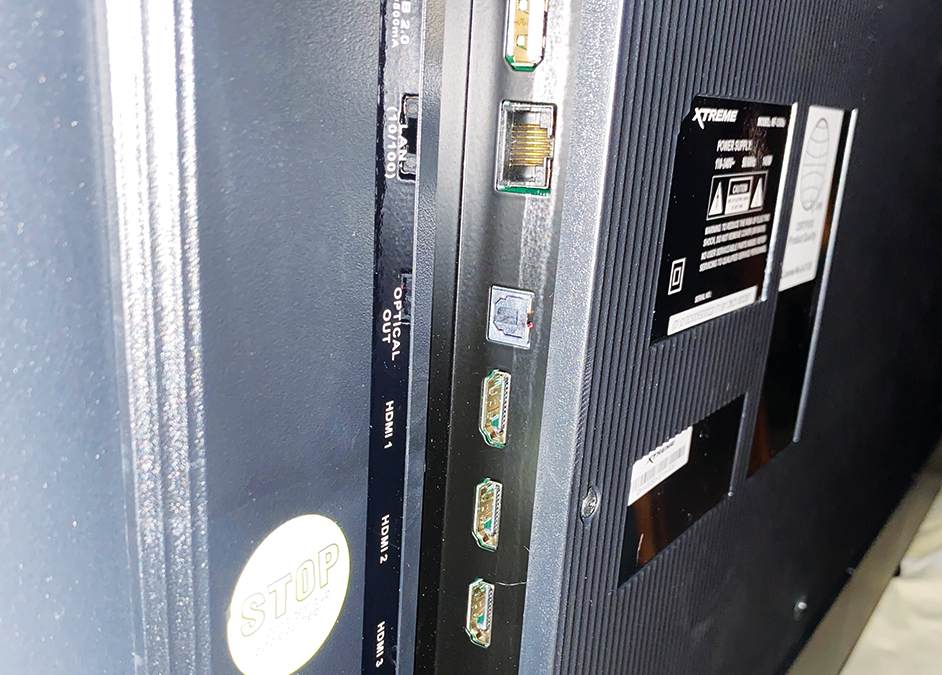 User Experience: 3.5/5
Once you've properly mounted the Xtreme Smart TV—whether on a wall or on a table-top—the rest is virtually plug and play. Connecting it to our home WiFi mesh was a simple matter of selecting the router and putting in the password. We don't have cable, so there was no need to search for channels.
Netflix and YouTube are built-in, so again, it was a simple matter of logging in with the proper credentials to access these popular streaming services. In fact, the remote had dedicated buttons for these two services so you don't need to scroll through on-screen options when you want to tune in to your favorite series or catch up on the latest vlogs.
Video quality is bright and crisp, with no fuzzy edges. Personally, I would have preferred more vivid colors and dynamic contrasts, but overall, picture quality is good enough to deliver a pleasurable viewing experience.
The built-in sound bar delivers clear enough sound, although there does not seem to be an equalizer function for custom audio settings. I like having a surround-setting when watching movies and had to turn up the volume to get that theater effect, only to realize later that I might have been disturbing the neighbors with the too-loud sound. Maybe I'm just used to having external speakers on my regular TV set? In any case, a line-out jack lets you add supplemental speakers for better audio enjoyment.
Value: 4/5
The entire range of Xtreme S-series Smart TVs is very competitively priced for the display size and specifications, starting at PHP 9,995 for the 32-inch model, PHP 16,995 for the 43-inch, PHP 22,995 for the 49-inch, PHP 26,995 for the 55-incher that we tested, and PHP 39,995 for its largest screen size, a 65-incher.
All models are similarly specced, differing only in the size of the display, and come with 2 years warranty on parts and labor.
What's Hot:
Great price point
Classy design
What's Not:
Video / audio quality could be improved
Bottomline
This 55-inch smart TV offers great value for money.
Specifications:
Display: 55" DLED, IPS panel
Smart TV: WiFi Ready, UHD Ready, Fast Cast and HDR
Operating system: Unique UI with Linux OS
Pre-installed apps: Netflix, YouTube
App Store: Zeasn
Audio: Built-in speaker, soundbar Ready
Connections: LAN, Wireless LAN, USB 2.0, HDMI x 3, AV, RJ45
Memory: 1GB DDR + 4GB eMMC
Power Supply: 110-220V, 50/60Hz, 145W
Dimensions (box): 1400 x 160 x 856 mm
Also published in GADGETS MAGAZINE April-May 2020 Issue
Reviewed by Maribelle Alba