Creating a healthier home is now made easier, as the Dyson V15 Detect is now available in the Philippines. Dyson's most powerful and intelligent vacuum has been engineered with 240AW and dust illumination technology to reveal microscopic dust. Dyson also introduces the Pet Groom Tool, alongside a new Scratch Free Dusting Brush and Awkward Gap Tool attachments — engineered to provide the ultimate whole home clean.
The machine and new attachments were introduced to cover the different cleaning needs of every household, helping to create a healthier home according to the Dyson Global Dust Study, 64% of Filipinos are cleaning more frequently than they did last year, to ensure their homes remain a clean and healthy space.
Advanced de-tangling brush bar technology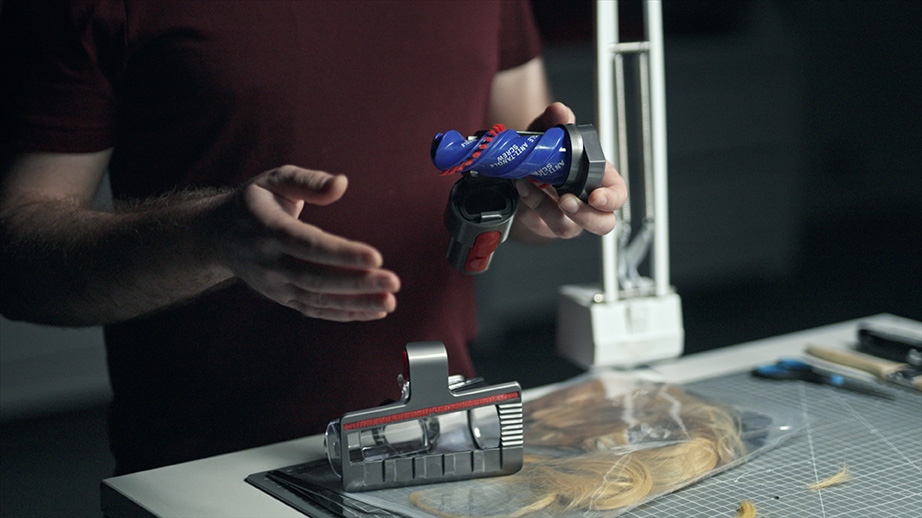 Engineered for homes with pets, the Dyson V15 Detect introduces a new brush bar technology that is designed to tackle all hair, whether it is left behind by our feline, canine, or human friends. Dyson's Global Dust Study revealed that 35% of pet owners in the Philippines groom their pets at home at least once a week, and 8 in 10 of them only groom with a brush or comb. This reduces the amount of pet hair they shed around the home, but microscopic particles remain on their pets that can potentially be spread around the home.
Inspired by a de-tangling comb, the brush bar features 56 hair removal vanes, precisely angled to help migrate all hair types directly into the cleaner head. These polycarbonate teeth, combined with a set of spiraling nylon bristles, anti-static carbon fiber filaments, and strong suction power, capture and tackles troublesome tangles, as well as larger debris and microscopic dust.
Filtration
The Dyson V15 Detect features Dyson's 5-stage advanced filtration technologies, capturing 99.99% of particles as small as 0.3 microns, to expel cleaner air. Our Dyson cyclone technology is efficient at separating dust and dirt from floors and surfaces and whole machine sealing means this isn't leaked back into your homes.
Exclusive to Dyson Direct, the Dyson V15 Detect Absolute (HEPA) is further equipped with whole-machine HEPA filtration to capture ultra-fine particles such as pet dander and nasties. The post-motor filter is upgraded to enable it to capture 99.97% of particles down to 0.1 microns, making it Dyson's most hygienic vacuum and Dyson's best-ever filtration in a cordless vacuum.  
The Dyson V15 Detect Absolute (HEPA) also comes with a built-in crevice and dusting tool. The Built-in dusting and crevice tool is cleverly hidden inside the wand and revealed at the press of a button. By having the right tools available in your vacuum, you can save time between floor and handheld cleaning.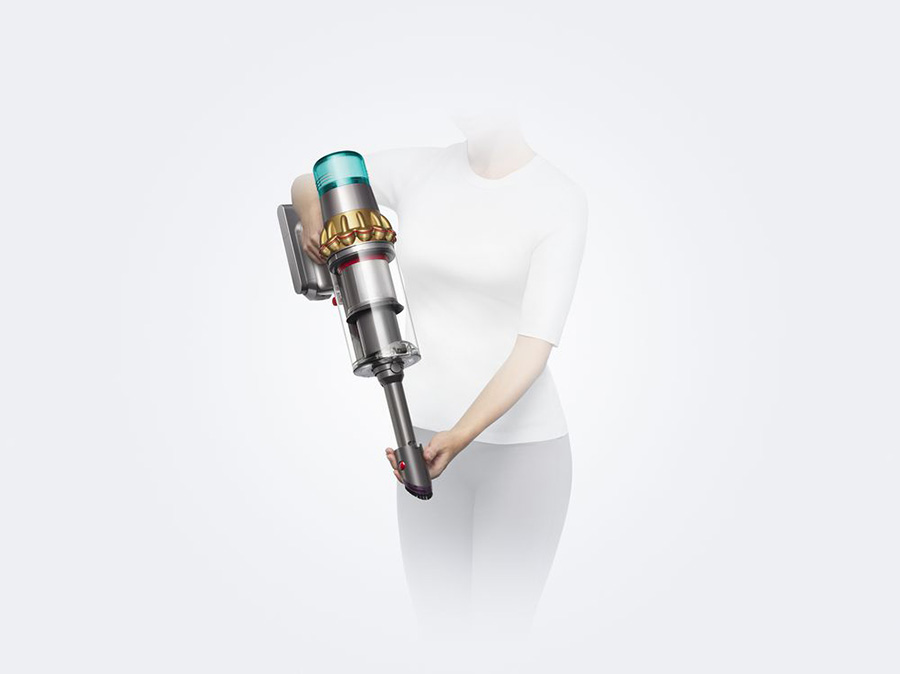 The Dyson V15 Detect features key technologies that were first introduced with the Dyson V12 Detect Slim: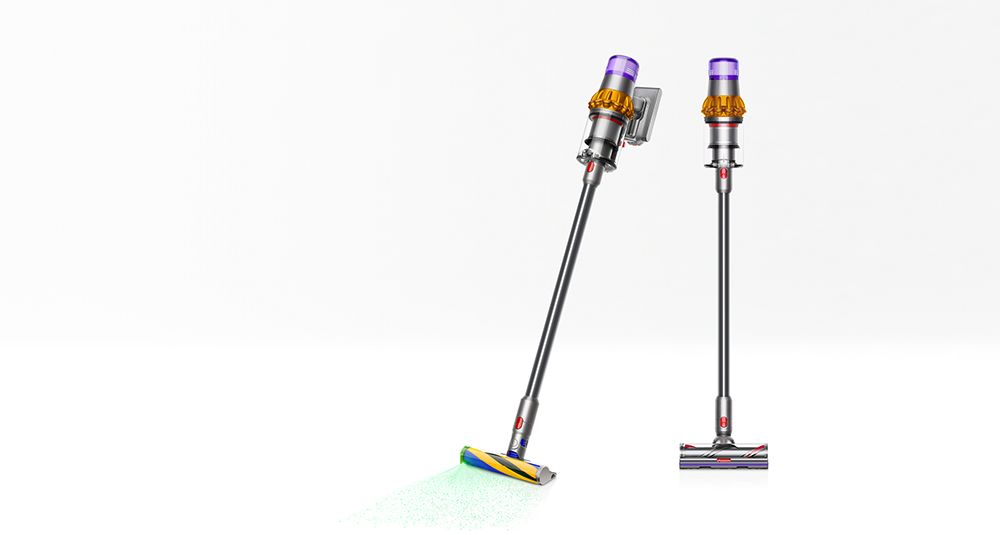 Dust Illumination Technology: Dyson has engineered dust illumination technology to ensure you are reassured that your home has been deep cleaned. Dust illumination technology reveals the particles you cannot normally see with precisely angled dust illumination technology integrated into the cleaner head.
Dyson engineers integrated a green dust illumination technology– chosen for its ability to provide the best contrast – into the Slim Fluffy cleaner head, positioning it precisely at a 1.5-degree angle, 7.3mm off the ground. It means hidden dust on the floor surface that is otherwise invisible to the naked eye can be seen and removed.
Piezo Sensor: Dyson engineers have developed a technology that enables the user to measure the dust it detects and then display it on an LCD screen for real-time scientific proof of a deep clean.
An acoustic piezo sensor has been integrated into the vacuum. Carbon fiber filaments in the cleaner head pick up microscopic particles which are sized and counted up to 15,000 times a second. The dust enters the vacuum and hits the acoustic piezo sensor within the bin inlet with the tiny vibrations being converted to electrical signals. The dust size and quantity are shown on the in-built LCD screen, so the user can see how much dust the vacuum has removed, as well as the different sizes of particles and deliver scientific proof of a deep clean.
The vacuums have been designed so that they automatically increase suction power when they come across a large amount of dust. This happens in auto mode when the piezo sensor detects high concentrations of dust, and reactive suction power is triggered to automatically increase in power. When dust levels normalize, suction power is reduced to its previous level.
Pricing and Availability
Dyson V15 Detect Absolute (HEPA)*
Dyson V15 Detect Absolute
Pricing: PHP 54,900
*Exclusively available at Dyson Demo stores.
Pricing: PHP 50,900
Available at Dyson Demo stores in Greenbelt 5, SM Aura Premier, The Podium, and SM Mall of Asia.