An obvious need exists in the smart home market for standout AC and heat pump control, and Ambi Climate Mini has just been launched in a timely response. For consumers resolving to become better connected in 2021, one literally hot topic to consider is temperature control.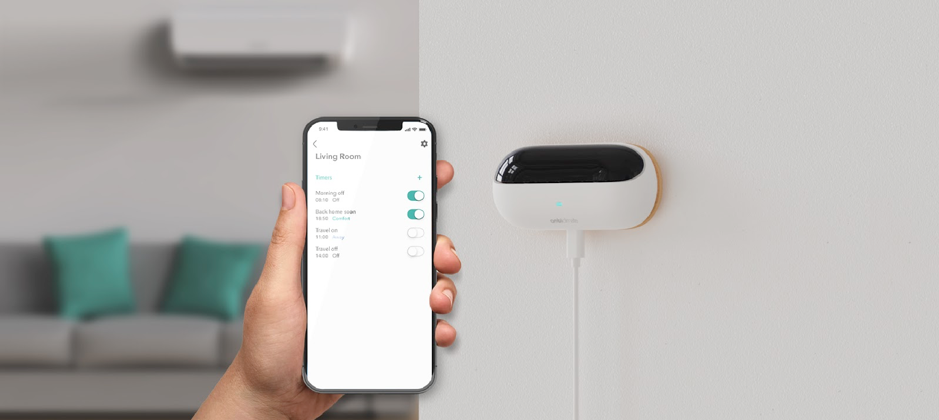 Experts widely agree on two tech trends: global use of smart home devices (i.e., voice assistants and video doorbells) is rapidly accelerating, and so is the number of household air conditioners.
By the end of this year, 35 billion smart devices are expected to be online — 4 billion more than 2020. There are also roughly 1.9 billion air conditioning units in the world with the International Energy Agency (IEA) expecting an almost three-fold increase by 2050. Combine the two, and the rising demand for smart AC controllers makes sense.
Temperature control is a major factor in global energy demand. Despite this, the IEA claims only one-third of purchased air conditioners feature the best available energy-sparing technology. This makes smart AC and heat pump controller Ambi Climate Mini one of the worthiest smart home products for 2021. Produced by Hong Kong IoT startup Ambi Labs, the feature-packed Ambi Climate Mini invites users to level up their homes by ensuring temperature control is easier than ever. 
Ambi Climate Mini also responsibly responds to one of the biggest problems to arise from the air conditioning boom: energy efficiency.
Ambi Climate Mini has best-in-class features
With users in over 100 countries, Ambi Climate has been a constant leader in smart AC & heat pump control over three generations of models. Launched in November 2020, Ambi Climate Mini uses data-driven foresight to intuitively provide excellent temperature control and solve climate-issues without the user's prompt. Best-in-class smart features include:
Control from your phone
The free companion app acts as a remote controller for the home's air conditioner or heat pump. Users can adjust and monitor their indoor climate, anytime and anywhere, even when they're not at home. Users can also stay in the know with real-time and historical monitoring of home conditions and AC usage.
Scheduling and GPS tracking
Users can name and set timers that follow their daily routines. Or, users can rely on GPS tracking to allow their air conditioners or heat pumps to turn on or off as they come and go to maximise the utility of their cooling or heating system.
Voice control integrations
Ambi Climate Mini can be controlled hands-free via voice assistants, including Google, Alexa and Siri. For those who want to have their home fully connected, Ambi Climate Mini also works with IFTTT to build automation scenarios.
Optional Comfort AI Assistant
Advanced AI technology is what truly sets Ambi Climate Mini apart. This feature creates a personal profile for one — or more — household users by continuously getting to know user preferences and remembering feedback. It then subtly adjusts settings to maintain users' comfort.
In-built sensors
These work together to detect changing internal and external conditions and adapt air conditioner or heat pump settings accordingly.
Further, Ambi Climate Mini promises easy set-up, as well as a compact and minimalist style to suit any home decor, and more efficient smart cooling and smart cooling to limit energy waste.
The smart home product to have for 2021
Ambi Climate Mini is the IoT product that responds to soaring demand for smart home connectivity and more efficient temperature control. With a promise of convenience and comfort like never before, consumers with a 2021 smart home resolution would be wise to consider it.