Acers is staying true to its commitment to gaming with refreshed Predator Orion desktops, new gaming monitors with blazing fast refresh rates, and new gaming peripherals and accessories—announced during its [email protected] global conference.
"Our latest gaming line-up is outfitted with some of the most innovative and powerful technologies available today," said Jerry Kao, Co-COO of Acer. "As a leader in the gaming industry, we strive to help gamers gain an advantage over their opponents with robust, feature-rich systems and devices that push the boundaries of performance, ease of use, and comfort."
Predator X25 monitor
The Predator X25 is a 24.5-inch 1920 x 1080 monitor that boasts a blazing fast 360Hz refresh rate and Nvidia G-SYNC capabilities. The Predator X25 can also adjust its brightness and color temperature automatically based on environmental light. With LightSense, the Predator X25 detects the amount of ambient light in the viewing environment and automatically adjusts its brightness settings to maximize viewing comfort. AdaptiveLight automatically adjusts the monitor's backlights to suit the ambient light in the room, while ProxiSense reminds gamers to take a break after a set amount of time.
Predator XB3 Series monitors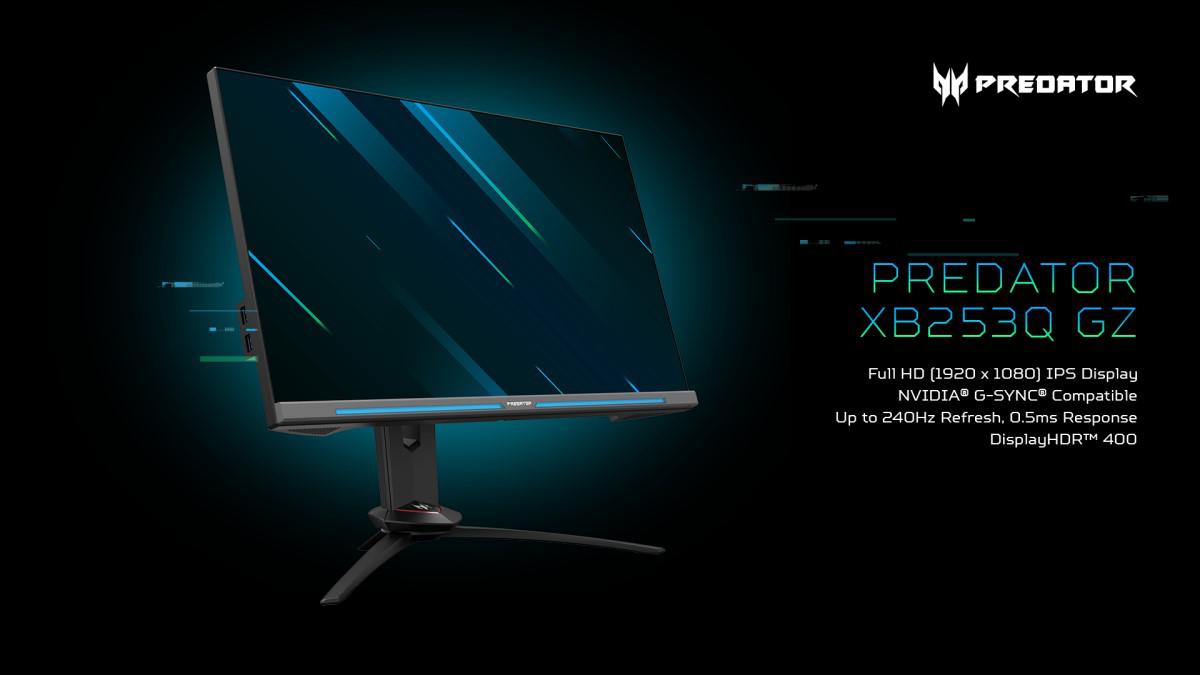 In addition to the X25, Acer is launching four Predator XB3 series monitors: the 31.5-inch Predator XB323QK NV, the 27-inch Predator XB273U GS and Predator XB273U GX, plus the 24.5-inch Predator XB253Q GZ. All four are certified as Nvidia G-SYNC compatible with up to 240Hz refresh rate and up to 4K UHD resolution.
The new line of monitors delivers silky-smooth gameplay and wide 178-degree viewing angles. DisplayHDR 400 supports stunningly bright images with high contrast and color accuracy, while up to 0.5ms (G to G) response time in overdrive drastically reduces motion blur in fast-moving images. The new line includes Acer AdaptiveLight, helping gamers stay comfortable during long gaming sessions. All are ergonomically designed, with a stand that features tilt, swivel, pivot, and height adjustment. RGB LightSense lets gamers choose a variety of different lighting effects, including color, speed, duration, and brightness—which can be set to react to gameplay, music, or video.
Predator Orion 9000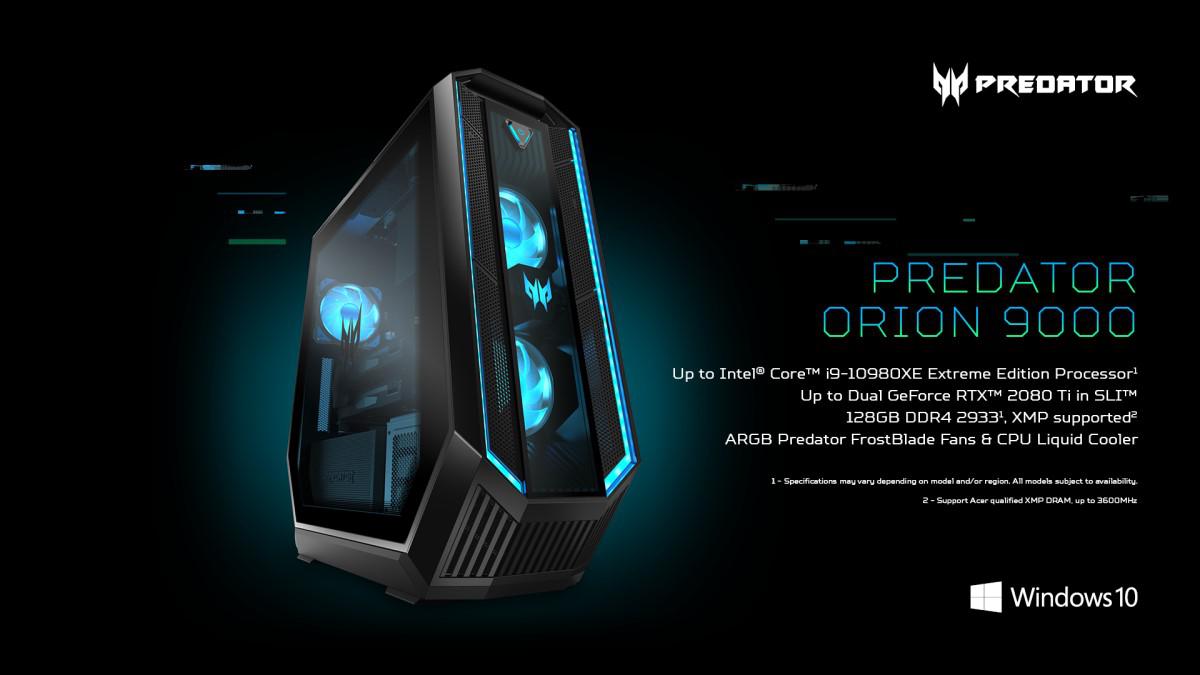 The Predator Orion is designed for hardcore and professional gamers. The 2020 Predator Orion 9000 is a gaming monster, packing up to an Intel Core i9 Extreme Edition processor, dual Nvidia RTX 2080 Ti graphics in SLI mode, up to three 3.5-inch HDDs and two 2.5-inch SDDs with a USB 3.2 Gen2 Type-C hot-swap dock for SSD/HDDs.
The new Orion 9000 now has three 4.7-inch Predator FrostBlade fans that provide up to 16 percent more airflow and 55 percent increased static pressure, while the CPU is cooled by a liquid cooler fan. Another change is that the chassis now has an EMI-compliant edge-to-edge tempered glass side panel to showcase the ARGB lighting on the internals. The chassis also includes a convient headset cradle, handles, and wheels.
Predator Orion 3000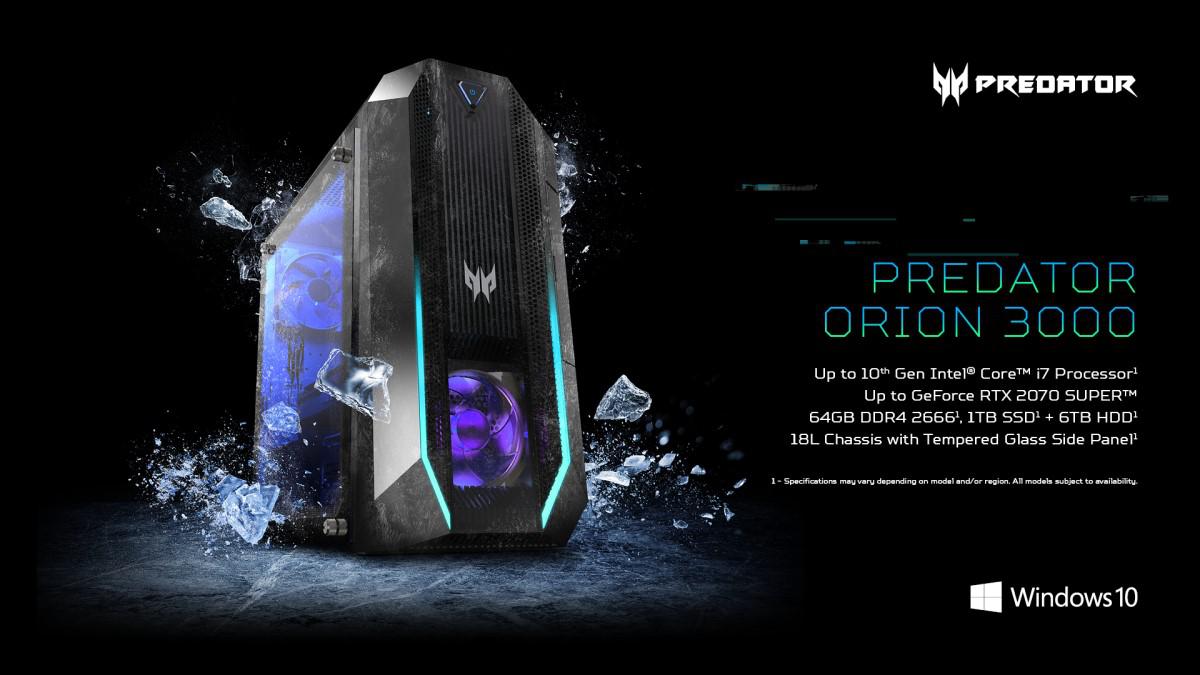 The Predator Orion 3000 models are made for gamers who want a mid-sized tower rig for their favorite games or streaming without seeing an impact on performance. The 2020 Orion 3000 will have up to a 10th gen Intel Core i7 processor and an Nvidia RTX 2070 Super GPU. Additionally, it can have up to 64GB of 2666 MHz DDR4 memory, up to 1TB of PCIe NVMe SSD, and two 3.5-inch SATA3 HDDs. For thermals, the Orion 3000 has two custom-engineered Predator FrostBlade fans. The Orion 3000 also has an optional EMI-compliant glass panel to showcase the powerful internal components.
Nitro 50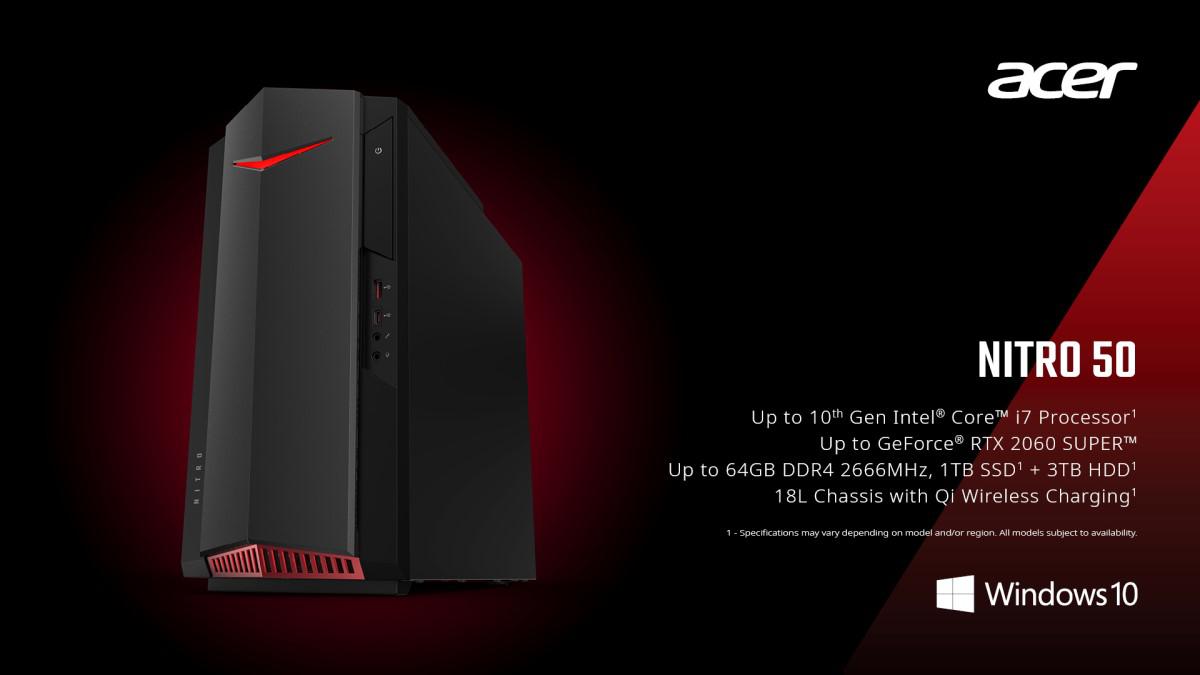 The Nitro 50 series of desktops are made for casual games as it delivers a great performance. It comes with up to a 10th gen Intel Core i7 processor and up to an Nvidia RTX 2060 Super GPU. It has up to 64GB of 2666 MHz DDR4 RAM, and 1TB of NVMe PCIe SSD and two 3 TB HDDs.
Predator Cestus 350 mouse and Predator Gaming chair x OSIM
Acer also announced two new Acer Predator accessories—the Predator Cestus 350 mouse and the new Predator gaming chair made with OSIM.
The Predator Cestus 350 is a wireless gaming mouse with a polling rate of 1ms/1000Hz when wireless and 0.5ms/2000Hz for wired use. Users have the option of five custom profiles or leverage presets DPI (which is up to 16,000) settings via the hyper-accurate Pixart 3335 optical sensor making use of the 8 programmable buttons.
The new Predator Gaming Chair is designed for professional gamers and esports enthusiasts. The gaming chair can give users a relaxing massage using OSIM's V-Hand massage technology. The Predator Gaming chair has two built-in speakers inside the chair's headrest to keep gamers fully immersed in the action.