The Huawei MateBook D14 2021, matched with a MatePad 10.8, and FreeBuds 4i — a laptop, tablet, and earbuds — all come together in an ecosystem for that perfect WFH setup.
If there's anything we've learned over the course of the almost two years living our school, work, and personal lives at home, it's that the proper tools are necessary to get the job done. Can you do practically everything on your current smartphone? Probably, but you'll be pulling your hair out before you're done. Whether it's for cooking up a monster slideshow presentation, joining a long meeting, or attending online class, having the right set of tools for the job just makes everything go that much smoother, and lets you be more efficient.
Here's the thing, though. Just getting a bunch of devices and asking them to play nice with each other can be a royal pain. I'm stubborn enough to attempt this, and while it does work, there are so many little quirks that sometimes it's just a frustrating exercise in self-tech support; and I've been a tech journalist for about a decade and a half. Fortunately, Huawei was kind enough to send over a set of tools that promised to make the whole process of working from home a little easier. The star of the show was the MateBook D14 2021, a gorgeous 14-inch Windows laptop that doesn't break the bank, but delivers the goods. Along with the notebook is the highly capable MatePad 10.8, a handy little slate that is a great complement to the more work-oriented design of the MateBook D14 2021. Rounding the kit out is the FreeBuds 4i, true wireless earphones that pack a big punch in a small package.
To really get into the review, I decided to ditch my usual work and meeting set up for the three devices from Huawei. This was emotionally difficult for me, as I tend to get attached to my devices and how they work together, but I wanted to give you folks a clear picture of how it is to really rely on these devices, so I gave my workspace up for a spot in the living room where I'd do my work for the duration of this experience. Here's what I learned.
MateBook D14 2021
First, the notebook.
Bezels are something that are designed to be ignored on a laptop. Keeping your screen is necessary given display technology at this point, but having a large frame around the space on which you're doing work can be distracting, and let's face it: large bezels are an eyesore. The MateBook D14 2021 has wonderfully thin bezels surrounding a bright, crisp screen; both of which really make the work experience that much more pleasant. I get most of my work on a PC with a 14-inch monitor, and while the display of the MateBook D14 2021 is significantly smaller than that, having such slim bezels kept me from missing the big display as much as I feared it would. This is helped along by the FullView display, with a screen-to-body ratio of 87 percent — that's a lot of screen for the overall laptop size.
The screen on the MateBook D14 2021 is plenty wide for keeping two browser tabs open without giving up too much in terms of visual information. This is a critical trait in a work or school laptop that will be used to view both a shared screen over an online meeting application, and a reference document, or maybe a word processor.
Before moving on, a quick word on that MASSIVE trackpad. I love that thing. It lets you keep pointer sensitivity low, which is great for precision, while remaining usable without constantly lifting your finger off the pad. Other manufacturers should take note. If you have a regular-sized trackpad, you don't know what you're missing, particularly since that's such a key interface between the software and the user. It really speaks to the focus the brand gave to design, and I am a huge fan.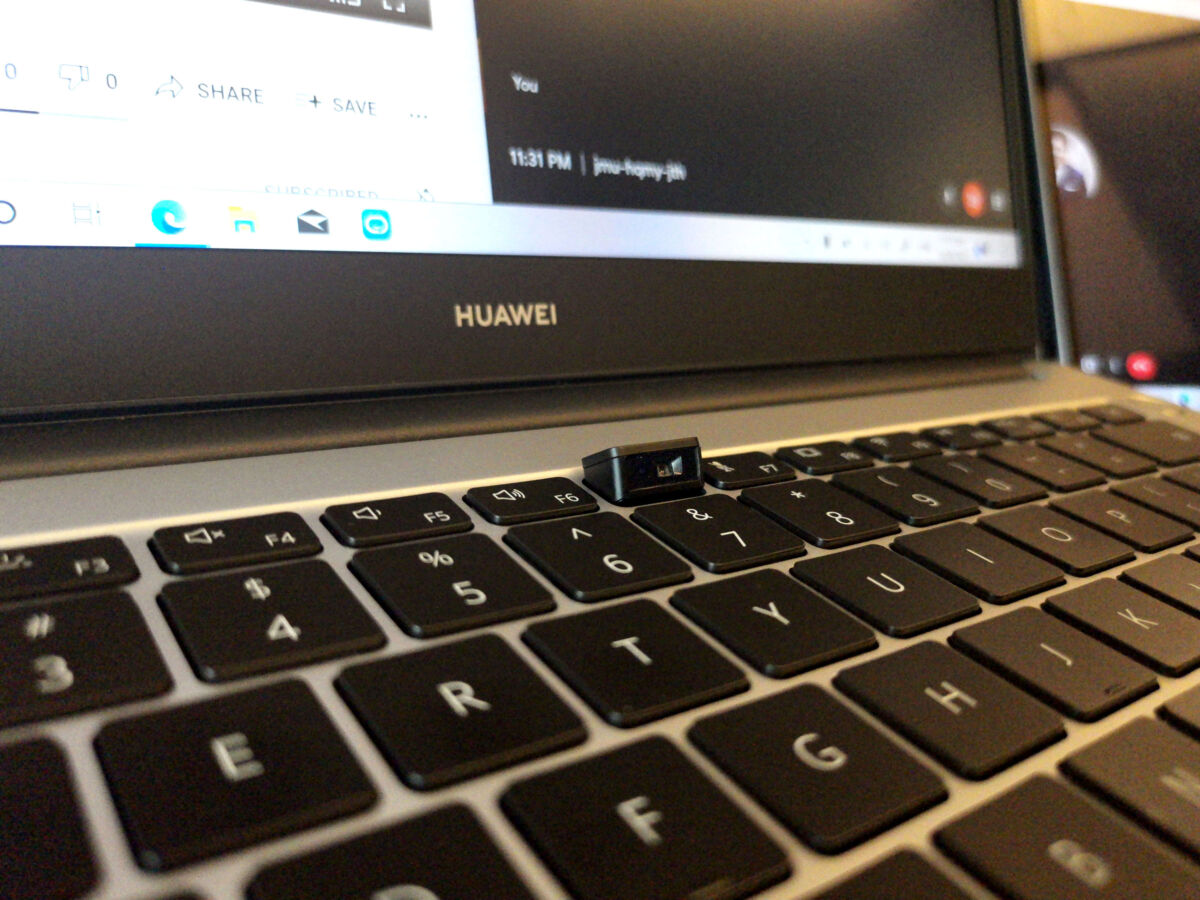 This thoughtfulness extends to the impressive pop-up camera located in the middle of the row of function keys. It offers great quality, even in lower light conditions (like indoors!), and clicks neatly, and completely into the laptop chassis when not in use, which is a security A+ in my book. While working from home means security might not be at the top of everyone's mind right now, it's something that should never be neglected. This notebook has an integrated fingerprint scanner in the power button — you don't even have to key in a PIN or password to keep your device that much safer from unwanted intrusion.
The MateBook D14 2021 isn't all good looks, though. It's got plenty of muscle. For my meetings, I'll usually have a Zoom/Google Meet window open and sharing a screen, a separate document in Word, Powerpoint, or Excel, and another browser for social media or for running quick internet searches (if that seems like a lot for a 14-incher, it is. I'll explain how I do it later). If it gets a little slow, I'll even open up a Spotify player to have some classical piano playing softly in the background. At no point did the Core i3 processor and 8GB of RAM give any indication that it was breaking a sweat. Another great thing about it is that since I moved my workspace to the living room coffee table, which doesn't have a power outlet nearby, the lower power consumption gives the battery the endurance to keep hustling through a whole workday without giving up. I swear, I have the urge to quit long before the laptop does.
MatePad 10.8
The next part of the equation is the 10.8-inch MatePad 10.8. The tablet itself proved to be a surprise. It's not particularly large, flashy, or gifted with an array of gimmicks, but it's extremely capable. It does all the tablet functions superbly on its bright, crisp 10.8-inch display, and has the same snappiness afforded by its bigger brother, the Matebook D14 2021. I mostly use it to take quick notes, so I don't remove focus from the Zoom meeting, and keep tabs on extra documents that I have in the cloud. When meetings REALLY drag on, I'll occasionally put a YouTube video on as well. If I'm not going to get snacks during a meeting, I might as well watch cat videos.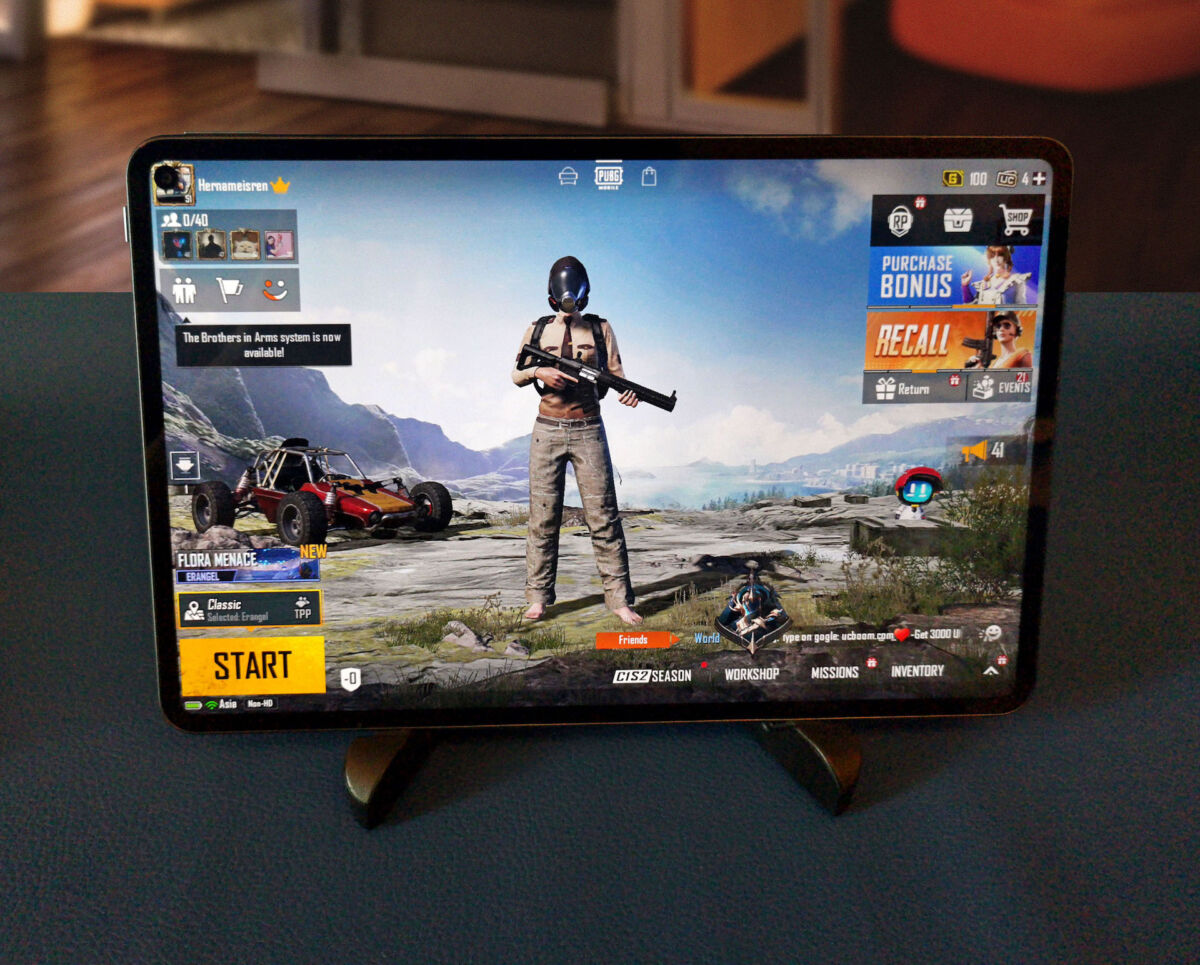 Where it really shines, though, is when it is coupled with the Huawei PC Manager on the MateBook D14 2021. Installing this unlocks what might be the best thing about the shared ecosystem that Huawei promises and delivers with their products. The software allows you to run Huawei Share, which, among other things, lets you extend the MateBook D14 2021's screen onto the tablet. You can, with a few taps, use your MatePad 10.8 as a wireless second display for your Huawei MateBook D14 2021. Let that sink in for a bit. No paid, third-party janky software, no tethers, no nothing. Just a native Huawei App and native Huawei capability built into the two devices. It's elegant, easy, and effective. This Multi-screen collaboration feature is something that can be used across other Huawei devices as well, not just the MatePad 10.8.
This also holds true for Huawei Share, which lets me share the screen, files, and control my phone from the laptop. I have an older Mate 20 Pro, and I was able to connect that with no problem either — yet another reason why a single ecosystem can generally be a better idea.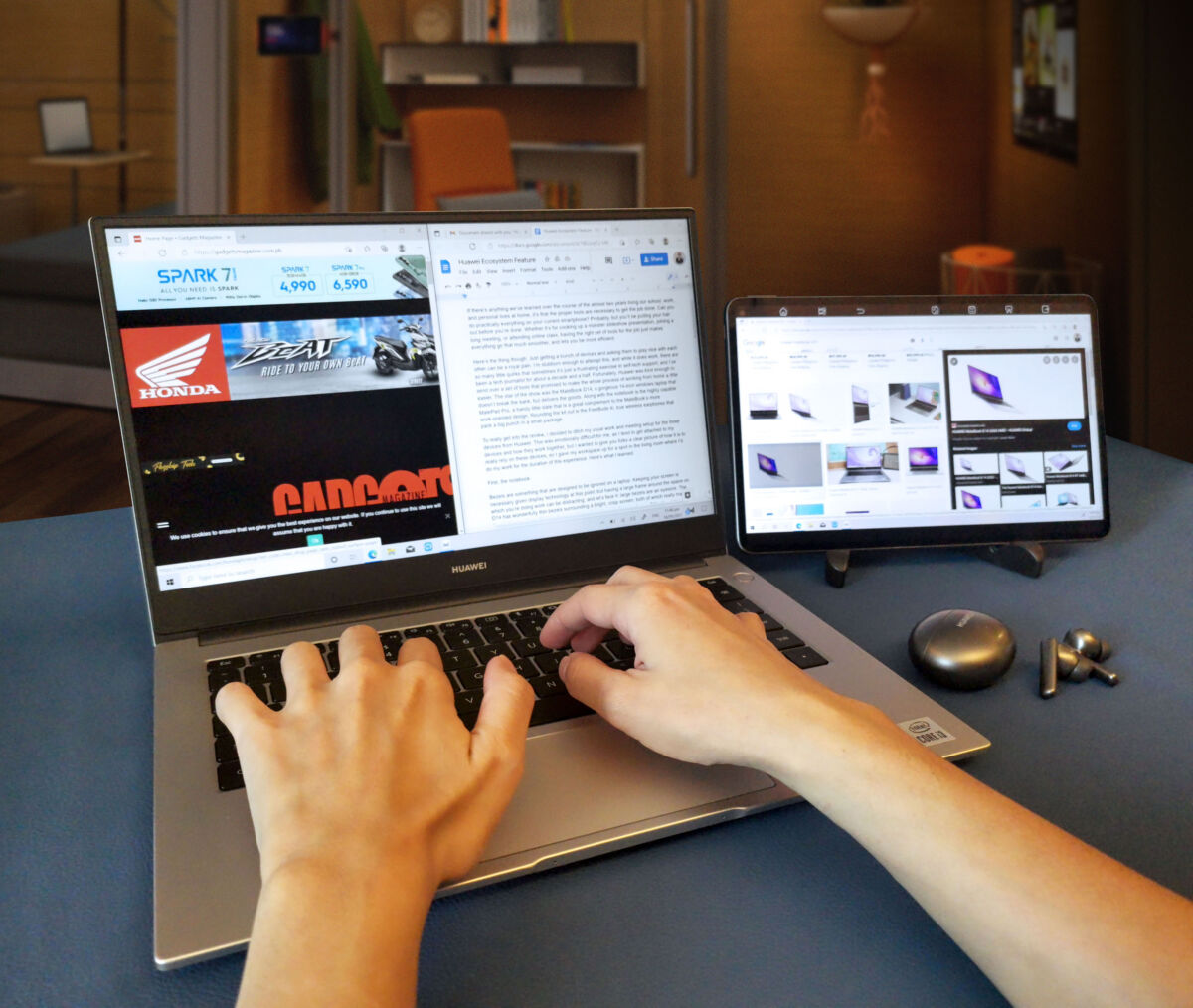 Earlier, I mentioned I had heaps of windows open — a tall task for a 14-inch tablet. This connectivity feature is how I manage it. With the MatePad 10.8 working as a second screen, there's so much more space. Sure, you could use the tablet on its own. Still, when you start mixing audio or video sources, it's much better to turn the tablet into a screen and just be doing all the work on Windows without having to switch headphones, reach over to tap the screen, or even lift a finger to do an action on the tablet. It'll change your workflow. Seriously.
FreeBuds 4i
The cherry on top of this kit is the FreeBuds 4i. I love music and own several pairs of both wired and wireless earphones, headsets, and earbuds, which I use to connect to various amps, players, and devices. These true wireless earbuds do compromise on some things, but that's more than made up for in terms of convenience. Small, light, and unobtrusive, they make long meetings much more tolerable, allowing you to move around without getting disconnected from the meeting. Active noise cancellation keeps outside distractions out and lets you focus. Plus, battery life is plenty for even the longest meeting marathons, as long as you keep it topped up via its charging case. It does use Bluetooth 5.2, so you might have to rely on the mic of the MateBook D14 2021   rather than its built-in mic if you want the best audio quality, but as with everything else on the laptop, its mics are great anyway, so it's not anything to be concerned about. They deliver impressive sound for such small buds, and the noise cancelation is surprisingly good as long as you get the fit right.
If by some chance you forget to charge the buds, its fast-charging case gives you 4 hours of playback with a ten-minute charge.
Despite everything that's going on, our work, school, and lives go on, and the beauty of technology is how it lets us keep going despite extraordinary circumstances. Having the correct technological tools is necessary to be able to not just keep going, but to keep doing well, and I honestly believe Huawei is on the right track in delivering the tools to get all our different jobs done.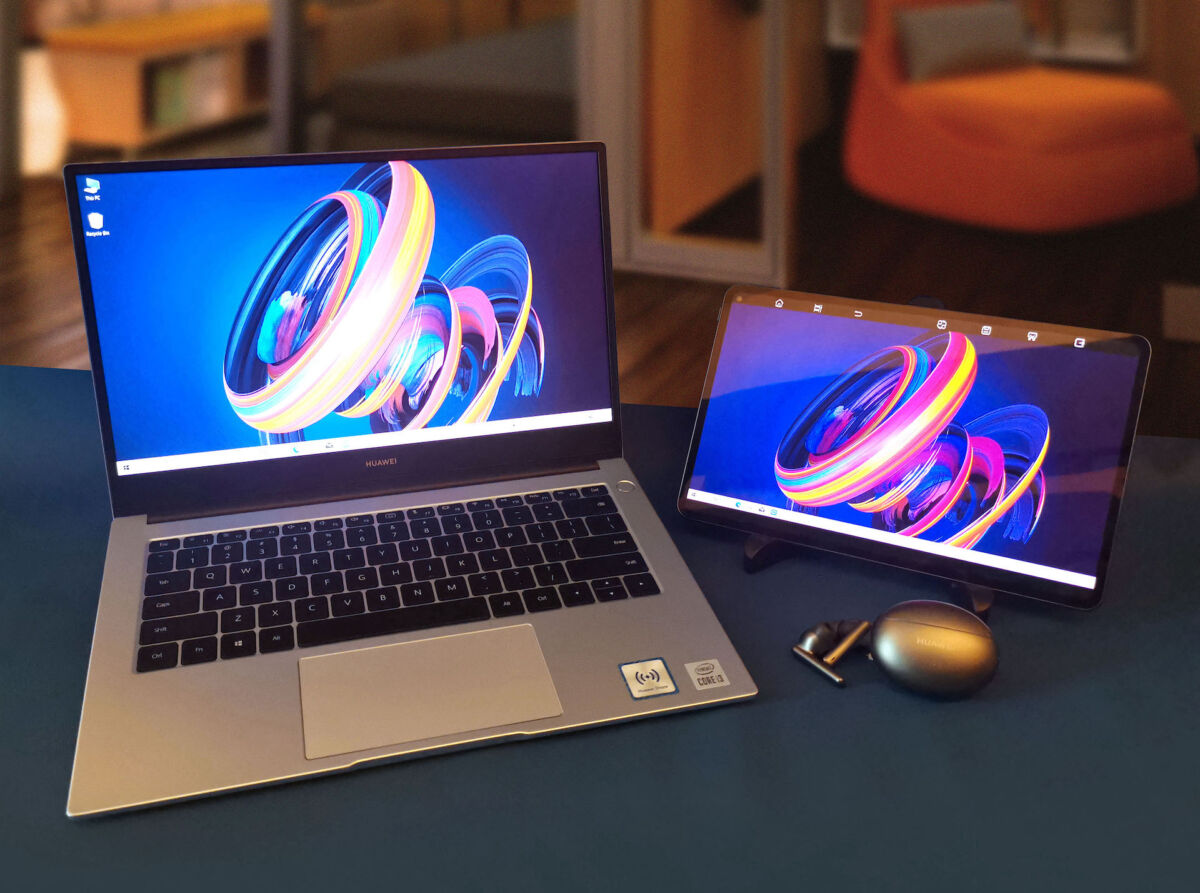 Shop for your Huawei devices here:
MateBook D14 2021 i3
MateBook D14 2021 i5
MatePad 10.8
FreeBuds 4i