The start of 2023 is the best time for new beginnings, and what better way to kick off the year than with a New Year, New Gear promo on laptops for gaming and productivity?
We're in luck because MSI, one of the top gaming brands, is offering huge price drops on their laptops from January 15 to February 28, 2023.
There are a lot of discounts in this New Year, New Gear promo, so here's a quick buyers' guide that you can use to find the best MSI laptop for you to conquer 2023 with.
VECTOR GP66
Let's start off with the biggest price drop on the list, the Vector GP66.
This incredibly powerful laptop is powered by the 12th Generation Intel Core i7 processor, which boasts an up to 30% performance increase from the previous generation. For the best gaming experience, it is paired with an NVIDIA GeForce RTX 3080 GPU. It's got a QHD 165Hz panel for smooth gameplay and MSI's own Cooler Boost 5 to keep your laptop cool through those long sessions with your buddies.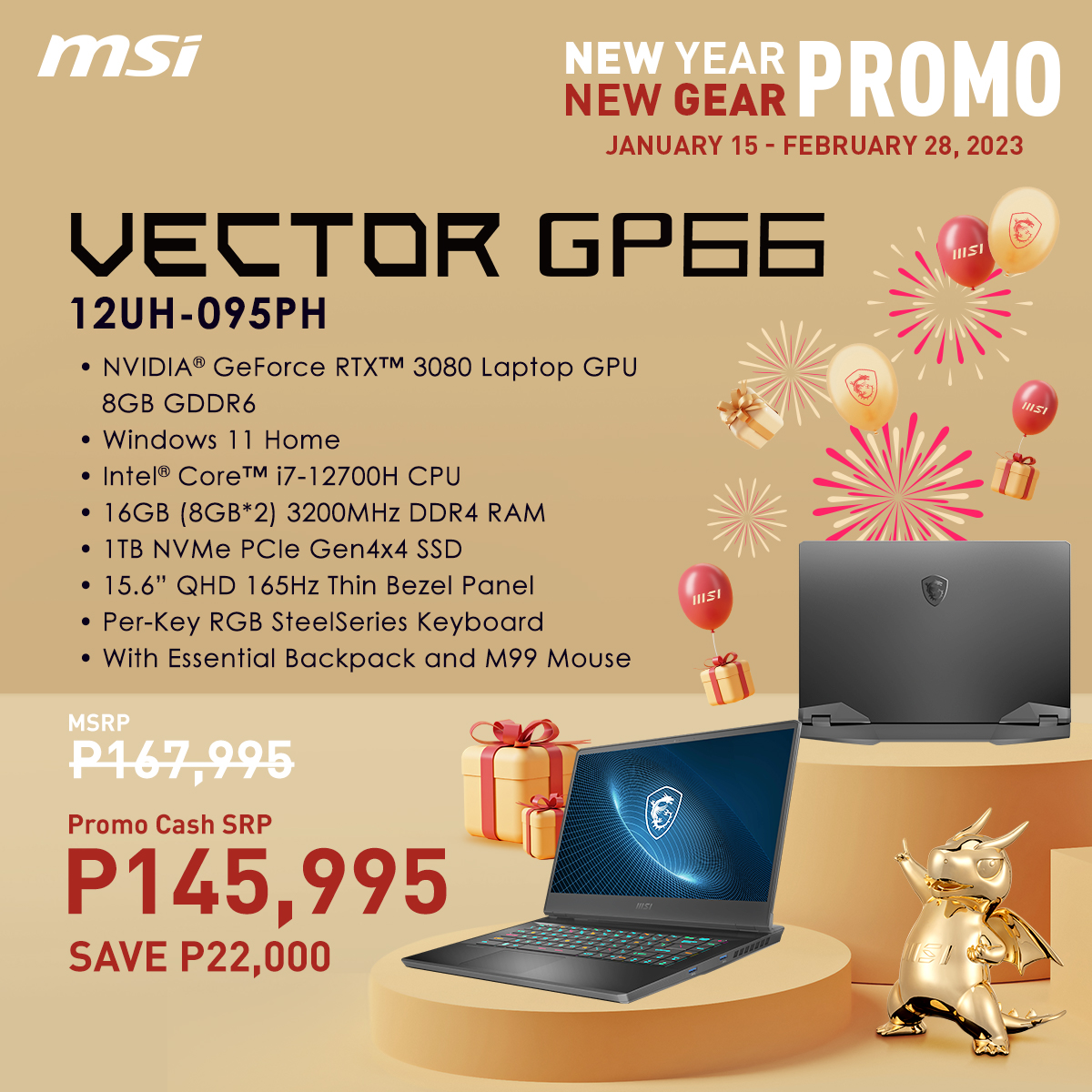 All these and more features are packed into this compact machine to make it one of the brand's best offers when it comes to playing high-end video games. And the best part is that with this New Year, New Gear promo, you can get this for only PHP145,995, down from its usual MSRP of PHP167,995. That's a whopping P22,000 off!
CROSSHAIR 15
For hardcore gamers who want a futuristic machine built with only gaming in mind, MSI offers the Crosshair 15.
The powerful NVIDIA GeForce RTX 3070 Ti GPU is the centerpiece of this machine, providing enough juice to play the most demanding games. Coming in two configurations, players have a choice between a 12th Generation Intel Core i7 or i9 processor. A 16GB DDR5 memory makes sure that multitasking is still possible. What makes this series unique is the futuristic design, including the special Spectrum Backlight Keyboard which gives off intense colors, as well as highlighted WASD keys to make sure you never lose your place. Of course, the QHD 165Hz Panel and Cooler Boost 5 still feature here to make sure you get the premium gaming experience.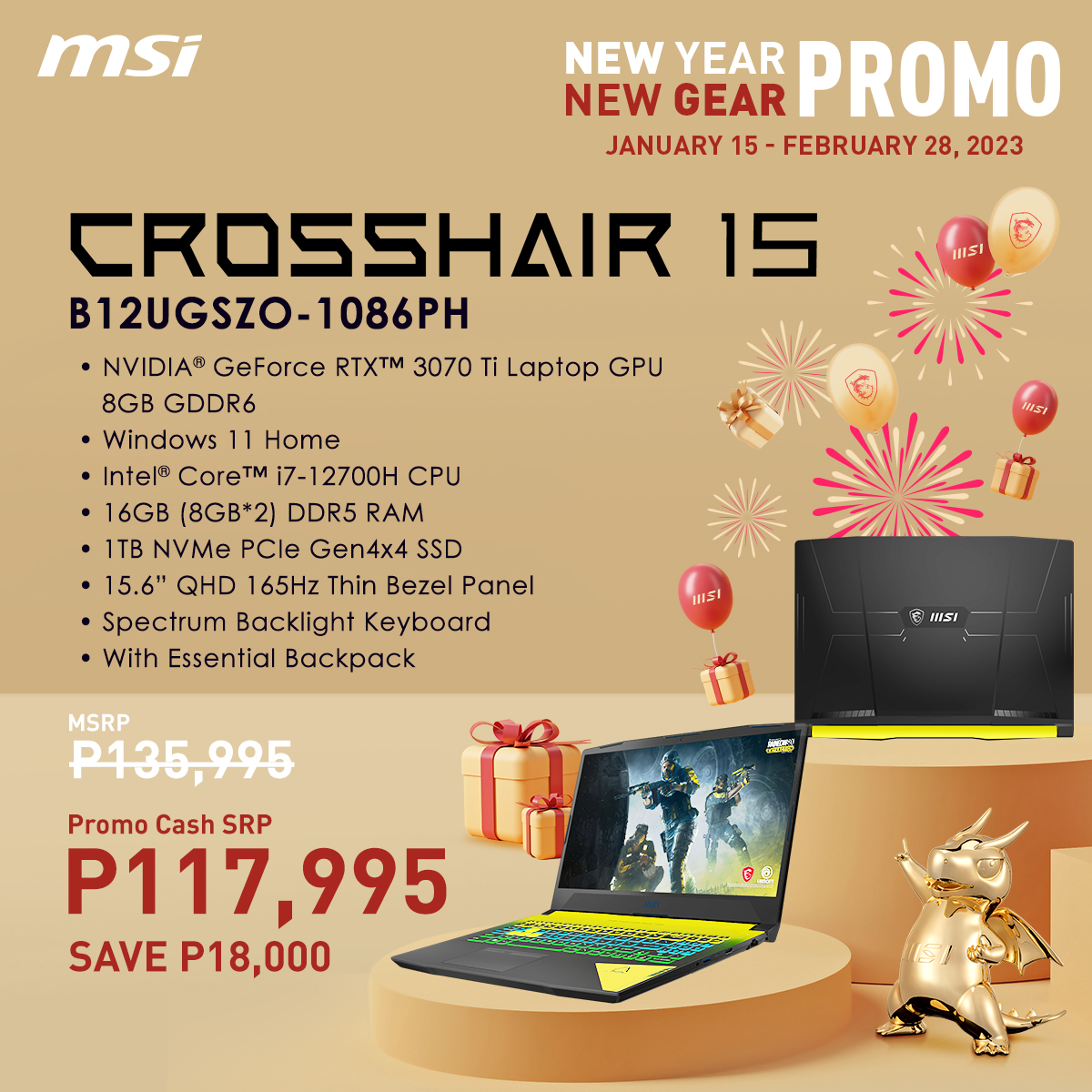 Grab the Crosshair 15 right now from PHP135,995 to PHP117,995. That's with a huge discount of PHP18,000.
KATANA GF66
For those of us in the market for more budget-friendly gaming machines, we have the Katana GF66.
Coming in multiple configurations, the CPU range varies from Intel Core i7-12700H to Intel Core i5-12450H. In the GPU area, gamers can choose from the powerful RTX 3070 Ti to the humble but capable RTX 3050 and 3050 Ti. The display panel comes in an FHD 144Hz by default but with a 240Hz option on the higher end model. The Cooler Boost 5 technology and MSI Center makes optimizing your laptop for long playtimes a non-issue.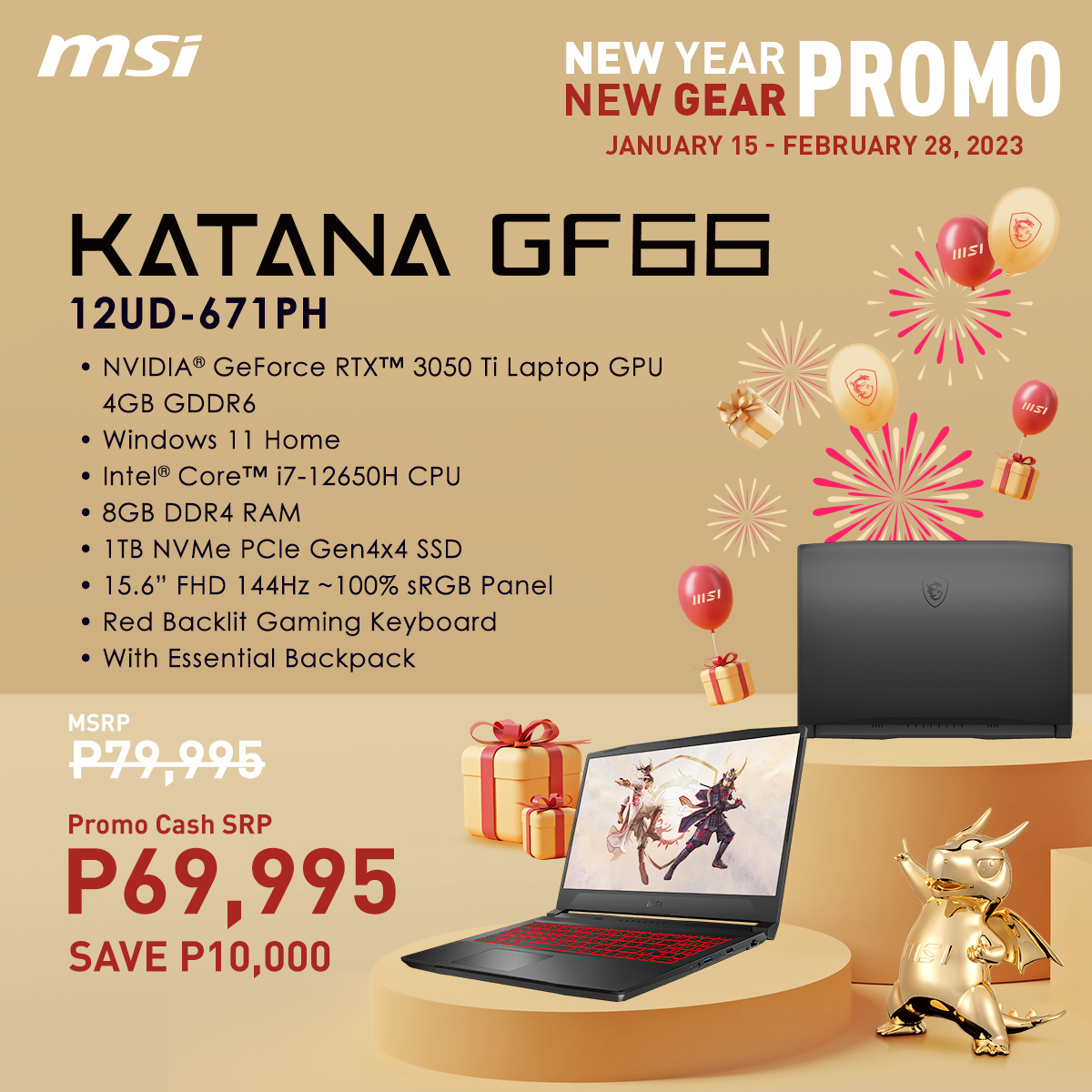 If this sounds like a good deal to you, then you can choose your configuration starting from PHP55,995 to PHP99,995. Price discounts for this series range from PHP9,000 to PHP15,000 so you get the best bang for your buck.
PRESTIGE 14/15
But enough about gaming, let's not forget that MSI caters to working professionals and productivity buffs as well! For those of you looking for a portable, work-anywhere laptop, we have the Prestige 14/15 and the Prestige 14 Evo.
These ultra-light laptops are configured with 12th Generation Intel Core CPUs and NVIDIA GeForce RTX 30-series GPUs. Meanwhile, the Prestige 14 Evo has the Intel Iris Xe onboard graphics. Designed to be sleek and elegant, these laptops still deliver speed and performance with their PCIe Gen 4 Storage, Wi-Fi 6E connectivity, and multiple I/O ports. With the built in IR Camera, Fingerprint sensor, and Windows Hello, you can be sure that this laptop is yours and yours only. This series is the pinnacle of the phrase "mobility without compromise."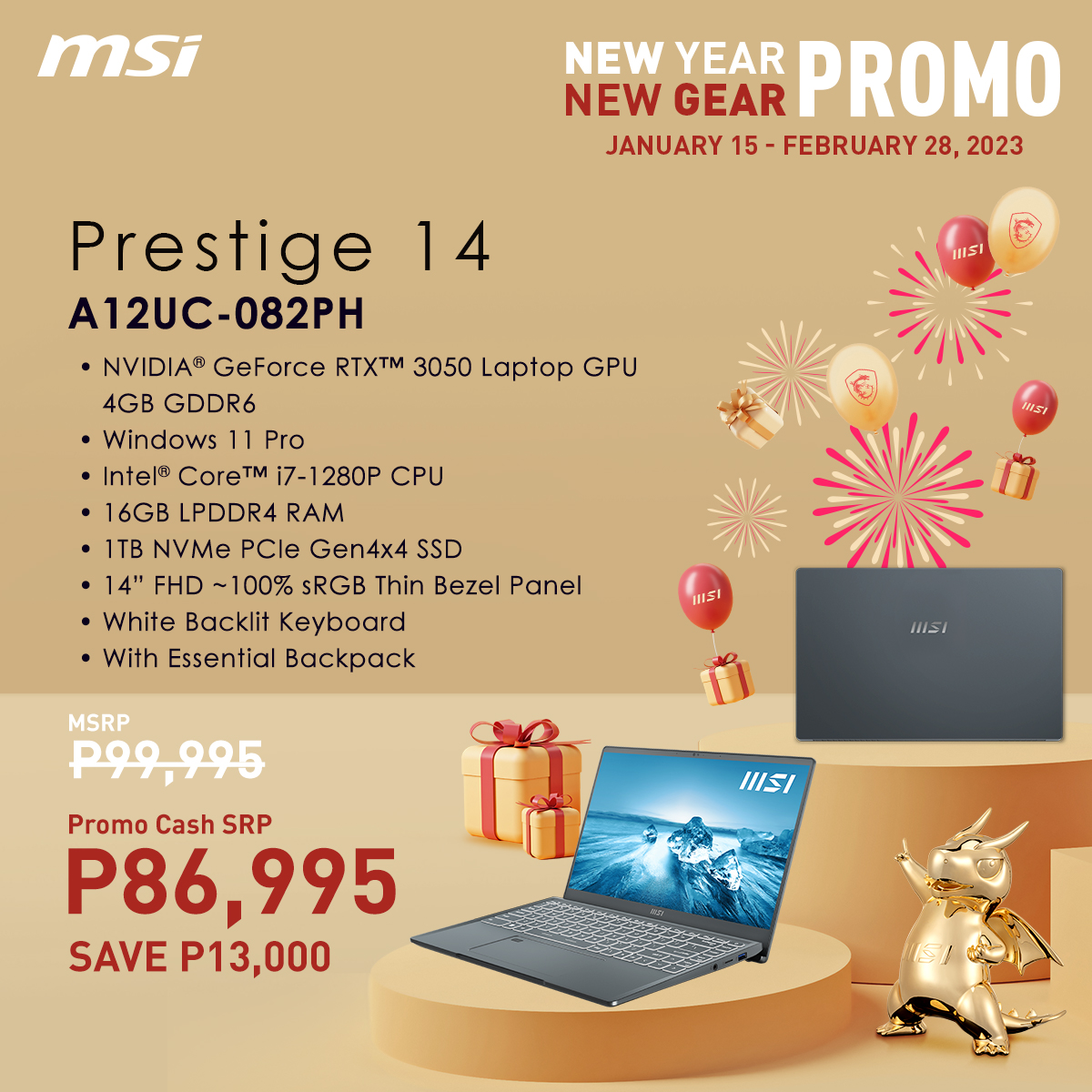 Be well-equipped anywhere with MSI's Prestige series. The price range starts from PHP 50,995 to PHP 95,995 with included discounts from PHP9,000 to PHP19,000 off.
SUMMIT E14 FLIP EVO
Want to have the sleekest post-modern laptop with precise inputs for your business work? Then the Summit E14 Flip Evo is the laptop for you.
This 14″ laptop is the pinnacle of feature-packed. The 360° flip design make it one of most unique offerings for the brand yet. It is powered by the 12th Generation Intel Evo Platform that boosts up to 14 cores for powerful performance anywhere and with an up to 2x performance boost from the previous generation. The 16:10 display is vibrant and built in tandem with the MSI Pen (included with the purchase) in mind. Use the MSI Pen to draw graphics, sign documents, and anything in between. Enterprise-level security and even a dedicated Webcam lock switch makes sure that your files and privacy is in your control. PCIe Gen 4 and MSI Center Pro help to keep your productivity fast and smooth no matter how long your work day is.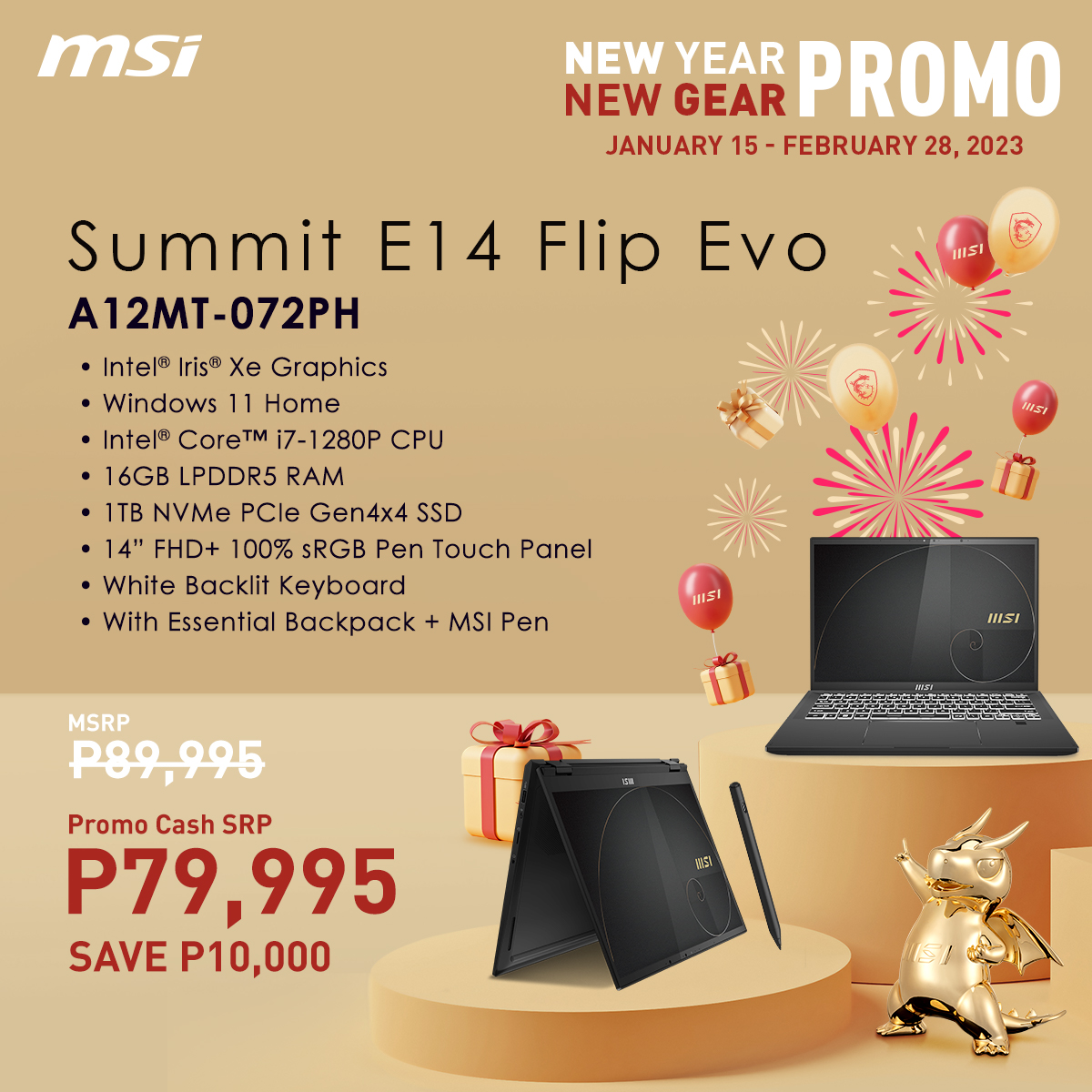 This portable high-tech notebook for professionals can be yours starting from PHP69,995 to PHP79,995. Both configurations already have a big price drop of PHP10,000. Jumpstart your productivity journey with this incredible tool.
But wait, the best part is that these aforementioned laptops are not the only ones on sale. MSI still has more series and configurations with massive discounts as part of this Happy New Year Promotion.
For all the complete details of the New Year, New Gear promo, you can head over here. Who knows, you just might find the perfect laptop for you and make 2023 your best year yet.
And to keep yourself updated on everything about MSI Philippines, follow them on their socials through this link. Stay tuned, because MSI still has more promotions and events in store!