We used to think of security cameras and surveillance systems as spycraft, often used as part of highly-sophisticated systems to secure government installations, secret R&D facilities, or sophisticated industrial complexes.
Eventually, they have become part of our daily lives, an ubiquitous and even reassuring presence, as communities began deploying closed circuit video cameras and other surveillance devices to monitor traffic flow and life on the streets in general.
Now, with more affordable and user-friendly devices, business surveillance systems are now widely accepted and, perhaps, even taken for granted, as corporate executives realize the vital role they play in protecting business assets.
Common hurdles
Of course, the decision to set up a corporate surveillance system is not without its challenges, as there are a number of pain points that need to be addressed. Here are some of the usual hurdles:
Limited camera support. Despite the ready availability of surveillance devices, traditional network video recorder (NVR) vendors offer limited support for third-party cameras and devices. Updating or replacing existing setups can be a complicated and often difficult process.
Low storage scalability. Many NVRs offer limited capacity and are not easily scalable. Thus, when the needs of the business require more disk space, the cost of getting additional storage capacity becomes a hurdle.
License and management costs. Video Management System (VMS) software used to monitor multi-sites can be costly, with recurring license fees and additional hardware integration requirements.
A cost-effective solution
Corporate security officers looking to adopt an integrated and well-managed business surveillance system need to look at cost-effective solutions that can be scaled according to changing business conditions. Synology's Surveillance Station offers a comprehensive solution for quick and immediate adoption along with future-proof features that ensure long-term utility.
Camera compatibility and device support. There is no need to stick to a single vendor or brand for your devices, as Surveillance Station is compatible with over 8,000 cameras from 150 brands. It integrates ONVIF (Open Network Video Interface Forum) Profile S for streaming and Profile G for edge storage. It also supports a wide variety of third-party devices like I/O modules, door controllers, IP speakers, POS systems, intercoms, and the like — all of which can be managed and controlled as a whole, integrated environment. This vast camera and device support offered by Surveillance Station frees enterprises from being locked in to specific vendors/brands, and gives them the flexibility to add new devices to the existing setup.
Flexible scalability. There is a wide range of Synology NAS and NVR solutions to match all types of needs and budgets, ranging from a simple 2-bay desktop unit to a rackmount server. The NAS product lineup allows enterprises to start small and scale up as their storage needs expand, such as requiring support for more cameras or storage for more recordings. Meanwhile, with Surveillance Station, security officers can customize settings to optimize bandwidth as well as organize footage using the Archive Vault tool.
Central management console. The Surveillance Station Centralized Management System (CMS) is a powerful tool that can manage up to 5,000 cameras and 300 NVRs across multiple locations. It offers a single web portal for managing all recording servers and for viewing footage and recordings. To guard against data loss and other surveillance failures, it also provides failover options for system backups in unexpected situations.
Advanced security options. Sensitive surveillance data are kept safe from malicious attacks and ransomware with advanced security measures that safeguard video feed privacy. Security options prevent unauthorized video use. For instance, access levels and privilege settings can be configured depending on the individual's security clearance, or dual authorization may be required for sensitive functions. Video streams from IP cameras can be encrypted, sensitive areas can be masked, and live feeds can be watermarked to ensure the integrity of recordings. Further, there is 24/7 system logging so all operational activities are recorded for future reference.
Mobile monitoring. You get surveillance on the go through the Synology DS cam app, the mobile extension of Surveillance Station. This lets you monitor livestreams as well as playback video recordings from up to 6 cameras simultaneously. This mobile surveillance solution is added peace of mind — in your pocket.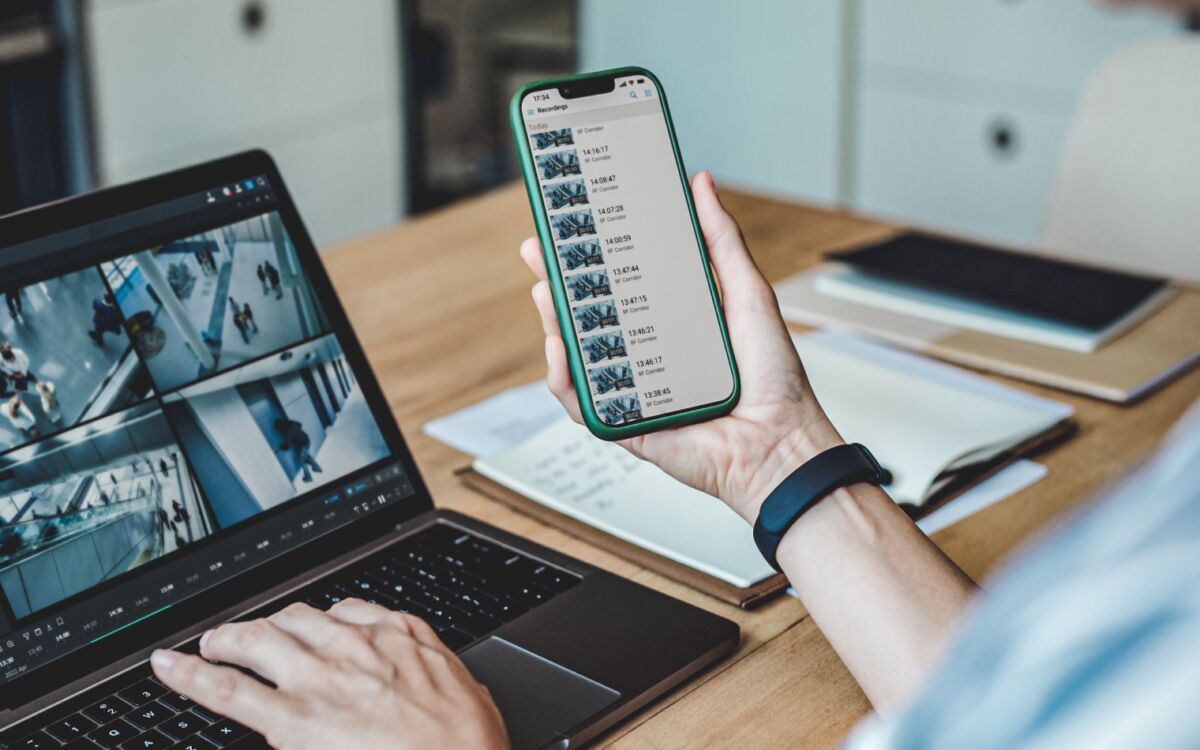 Client trust. Synology is the solution of choice by a number of leading enterprises that require a total surveillance solution. Among these are hotels, casinos, and universities, which typically require monitoring of high-traffic as well as multi-level, multi-location premises. Some of the local clients who have entrusted their system to Synology are ABS-CBN, the Midori Clark Hotel and Casino, and the Lyceum of the Philippines University.
Surveillance Station 9.0
The latest iteration of Synology's surveillance solution is Surveillance Station 9.0, its most comprehensive and advanced surveillance suite to date. Its refreshed interface is flexible and can be customized to fit any deployment. Centralized management options make it easy to keep the system updated. You can quickly find and add cameras even from multiple locations, then easily monitor the video feeds by simply dragging, dropping, resizing, and even swapping the feeds on your dashboard.
Surveillance Station 9.0 is simply much better, with supercharged monitoring, simpler deployment options, and expanded AI-powered capabilities.
Choosing the right solution is key to securing your business with an effective and efficient surveillance system. Get in touch with a Synology consultant to help you find the NAS or NVR that best suits your requirements.