Take your family on more wonderful adventures with Globe and access the latest Disney flicks through the rich library of content from streaming partners DisneyLife this Year of the Pig! Together with Disney, Globe At Home can truly offer you the ultimate digital entertainment experience right in your living room.
Globe At Home postpaid subscribers may score free 6 months access to DisneyLife and enjoy speeds of up to 100Mbps as they watch Disney, Marvel, Pixar, and Star Wars films to their heart's content without worrying about buffering or data caps. It also comes with exclusive perks like screening invites to this year's hottest Disney films such as The Lion King, Toy Story 4, and Frozen 2.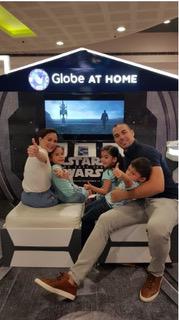 "The internet is an amazing gateway to the world, allowing us to learn, experience, interact and enjoy things that would have been impossible or unimaginable only a decade ago. And this is what Globe At Home is proud to be able to bring you, a way to support your family's digital lifestyle. And through Disney's amazing new app called DisneyLife, you will not only get to enjoy your favorite Disney classics, but also your favorite Pixar, Marvel, and LucasFilm productions," says Globe at Home's director and head of Existing Customers and Loyalty, Fatima Javellana.
Sold separately, the TP Link keep kid-friendly fun and learning without worries of online threats. It has parental control features that blocks specific websites and set surfing time limits to control children's viewing and browsing habits. Subscribers may add it to their Globe At Home plan for only PHP 150.
Check out this website for more information about Globe's Home Broadband plans.