The Oppo F3 and F3 Plus are now available via Smart Communication's latest postpaid plans.
Customers can now avail any of the latest Oppo smartphones under their plan of choice on a 24-month lock in period. Along with the phone, Oppo is throwing in a free Rags2Riches cord roll for the first 120 orders.
For Plan 399, customers are to pay an PHP 800 monthly fee for the phone. Plan 399 includes a monthly 3 GB worth of data, 20 mins all-net calls, unlimited all-net texts, and 500 MB data allocation for Whatsapp, Viber, and FB Messenger.
Customers who want to double their date, calls, and text allocation can opt for Plan 2,999, which offers them flexible terms and cost based on the everyday user demands. Plans 999 and above upgrades free data to free access to one app for the month.
A PHP 2,000 cash-out is required for the OPPO F3 Plus, under a 30-month plan, while the OPPO F3 has no cash out requirement under 24-month plans.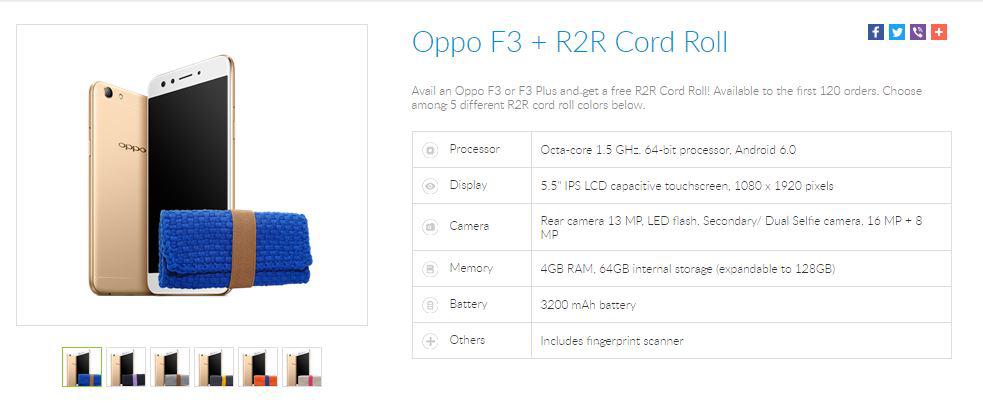 The phones are also available via Smart's All-In Plans–best for users with a strict budget–starting at Plan 500 with respective cash-out and options for 24 months to 30 months lock-in period.
For more details about the OPPO F3 and F3 Plus via Smart, please visit http://bit.ly/SmartOPPOF3 and http://bit.ly/SmartOPPOF3Plus  or log on to http://smart.com.ph/Postpaid/phones/details/oppo-f3.