Recreational Outdoor eXchange (R.O.X.) teamed up with the iLOVE (Investments in Loving Organizations for Village Economies) Foundation for "Lako Lokal. " The program, which was held on 17 November, turned the spotlight on the potential of local village economies to flourish through ecotourism.
Lako Lokal is a play on the Filipino words lako which means "to promote" or "to peddle" as well as lokal which translates directly to local. Through this, R.O.X. is helping foster the growth of local and small-scale village economies as well as environmental preservation through a series of meaningful activities.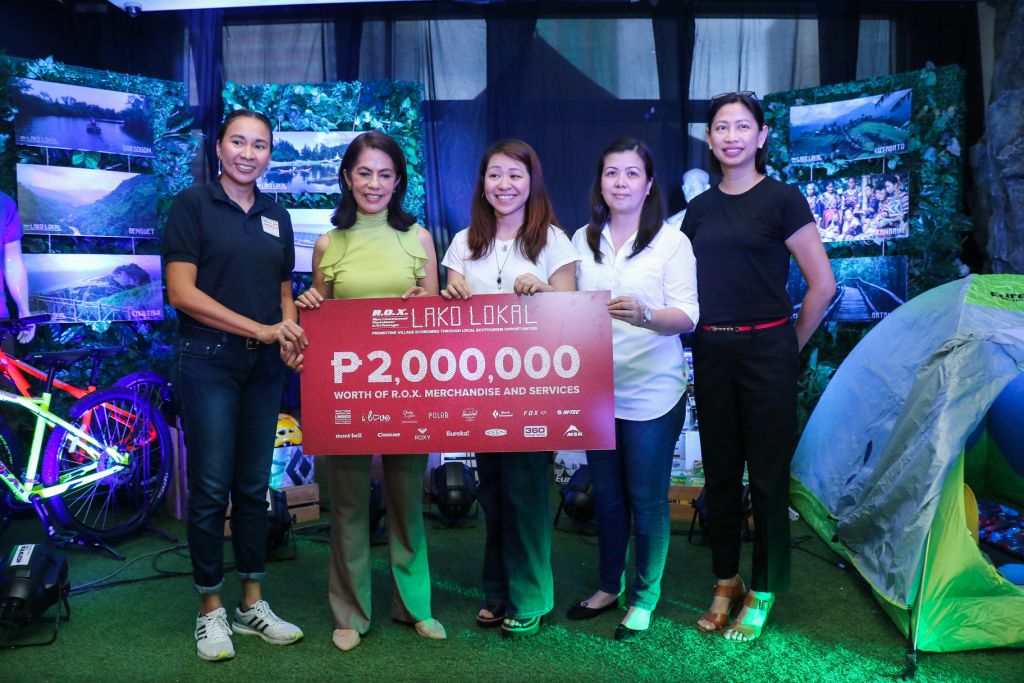 At the event, an all-new local section of R.O.X that draws from the elements of a sari-sari store was also launched. R.O.X.'s new in-store section feature Filipino brands such as G Stuff, Gouache, and Siklo to name a few.
During the event, environmental advocate and founder of the iLOVE Foundation, Gina Lopez, also gave an insightful talk about staying healthy in the Philippine setting. A volunteer booth was also set up to give guests the opportunity to know more and sign-up for future initiatives with the iLOVE Foundation.
Through the combined efforts of R.O.X. and the iLOVE Foundation, local and small-scale village economies now can steadily gain footing in their plight towards sustainable economic growth.
Among the beneficiaries of the partnership are 100 Badjao fisher folks and households from Barangay Maruwa, Tonggosong, and Mongkay in TawiTawi Island as well as the Mindanao State University College of Technology and Oceanography; approximately 200 members of AGAP or the Aggrupation of Advocates for Environmental Protection from Bulusan, Sorsogan; 500 students from the University of the Cordilleras; 85 T'boli members of the LASIWWAI or the Lake Sebu Indigenous Women Weavers Association, Inc.; 80 families from the HAKILAWA or HagdanKinatarcanLangub Workers Association as well as the Southern Partners Fair Trade Corporation; 47 members of SINAGAN or the SamahangIisangLayuningNabuklodBilangAgapay Sa Pangangalaga ng Ganda ng Kalikasan in Lobo, Batangas; 145 members of the NLUWWTAFA or the New La Union White Water Tubing Adventure and Farmer's Association; and 30 members of the G2 Traverse Porters and Guides Association from Sibuyan Island in Romblon.
The beneficiaries will receive products that will not only enhance their daily transactions but also improve their quality of life. The donations include PHP 1.6 million worth of R.O.X. merchandise from brands such as Poler, Herschel, Black Diamond, Fox Racing, Hi-Tec, Montbell, Coghlan's, Roxy, Eureka, Keen, 360 Degrees, and Mountain Safety Research. Over 150 bags from Herschel were also donated alongside assorted backpacks from customers who donated through R.O.X. stores nationwide. Meanwhile, three bikes were turned-over to the foundation. Two of which are brand new courtesy of R.O.X., while one came from a customer from R.O.X. Centrio in Cagayan de Oro.
R.O.X. is committed to championing the well-being of the environment and the Filipino people. Through its newly-forged partnership with iLOVE Foundation, R.O.X. seeks to inspire more individuals to make the world a better place.
Follow R.O.X. on social media: @roxphilippines on Facebook and Instagram. R.O.X. is a member of the Primer Group of Companies.