Japanese culture is inextricably part of our own now. From its action-packed anime, stirring animated films, avant-garde fashion, and diverse cuisine. Specialty restaurants for ramen and tonkatsu, as well as sushi stands, are sprouting like mushrooms around the metro. However, Yakiniku or Japanese grilled meat restaurants haven't really gained the kind of traction other grill places have. This gives Yoshimeatsu a competitive edge, bringing a fine fusion of Japanese and Korean cuisine to their guests.
Situated along one of the the busiest food districts in the metro, Yoshimeatsu can be found at the corner of Scout Fernandez and Tomas Morato Avenue. Its name, apart from bearing a clever wordplay between the restaurant's staple dish and a Japanese term for "good luck," has a deeper, more historic origin. According to Ella Choi, one of the owners of the Japanese-Korean restaurant, it is derived from a Japanese shogun named Ashikaga Yoshimitsu who ruled during the Muromachi period. His great penchant for culture and arts led him to build The Golden Pavilion, an intricately designed three-story building which served as his own retirement villa, and now as the inspiration for the interiors of the restaurant.
Everything is coated in gold, reflecting the third Ashikaga shogun's royalty. Plates, grilling pans, utensils, tables, and even the ducts, gleam gold. Stepping into the resto, you will be welcomed with a warm greeting from the waiters, the enticing smell of freshly cooked meat, and K-Pop plus J-Pop tunes. A wooden staircase leads to a second floor for larger groups, or corporate meetings, and small, exclusive events of 30 persons. There's also a glass display of assorted Japanese snacks and knick-knacks such as dolls and swords installed on its wall near the stairs.
It was a visit to the Land of the Rising Sun that led Yoshimeatsu's owners to the flourishing food venture. "That trip was where my business partners got the idea of putting up a Japanese grill. Later on, we decided to infuse it with Korean cuisine for wider menu options and to gain an edge against samgyupsal places around the area," the 29-year-old restaurateur shared. Choi also said that her squad wants to change the impression of Yakiniku restaurants as fancy and expensive places, offering an affordable, unlimited grilling experience that appeals to the Filipino palate while also offering authentic food items from Japan and South Korea.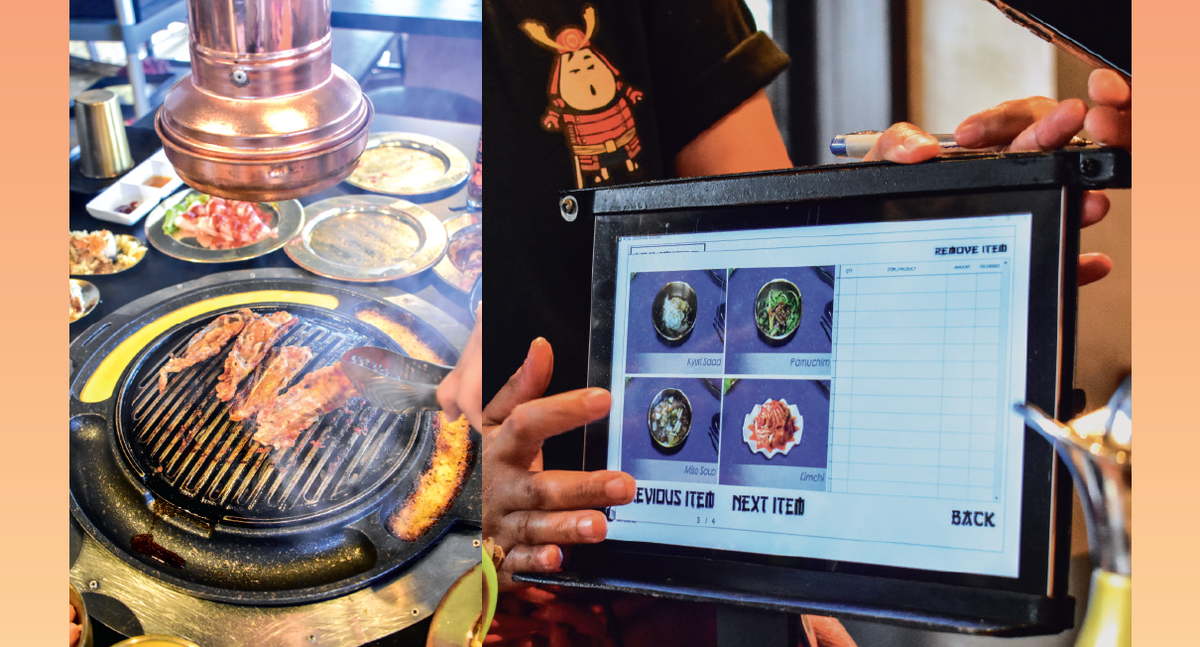 Another thing that makes Yoshimeatsu unique is its digital ordering system that increases the restaurant's efficiency, and speeds up its serving time. Each table has a touchscreen panel on which customers can place their orders. Once they are placed, it will only take the crew 30 seconds to prepare and serve the meals. Choi's team is constantly improving this sophisticated feature, adding the remaining items on their digital menu.
For an introductory promo price of PHP 549, foodies may enjoy their unlimited Yakiniku offerings, which also come with a free round of soft-serve ice cream. Customers may choose from a huge selection of meat. There's the usual selection of beef, pork, chicken, and processed meats, along with 16 side dishes that are all carefully selected to complete your meal. Their side dishes are divided into four main categories namely tempura (fish, shellfish, or vegetables fried in batter), salad, maki (seafood, raw vegetables and rice rolled in seaweed), and staples (standard appetizers).
Among their best-sellers are the perfectly fried Ebi Tempura, the refreshing Kani Salad, a combination mangoes and crab sticks on a bed of fresh lettuce topped with japanese mayo; their signature shrimp sushi Yoshi Ebi Maki, the mouth-watering Spicy Tuna Maki, and the Filipino favorite mango-and-crab roll California Maki. Their staples include a variety of Japanese and Korean appetizers, from miso soup, tazukuri (candied baby sardines), buta dumpling (steamed pork dumplings), kimchi, and pamuchim (scallions).
For meat lovers, they have Sliced Beef that's best when dipped in ssamjang, sesame oil, or melted cheese, then wrapped in lettuce; and the grilled Chicken Yakitori that's tender and sweet from first bite to last. Processed meats such as the wiener sausages, sakana tofu (fish tofu), and seafood cheese balls are a great way to mix things up. Should you crave for more, you can order premium, authentic wagyu  beef starting at PHP 3280, which goes great when paired with either a bottle of Japanese sake or Korean soju. The popular chuhai Strong Zero, can also be found at the restaurant's bar.
Currently, Choi and her friends are planning to expand the Yoshimeatsu brand by opening new branches and accepting franchise applications.

Also published in GADGETS MAGAZINE December 2018 – January 2019 Issue.
Words by Jewel Sta. Ana
Photos by Theresa Eloriaga