Brother Philippines's "Switch to Tank" promo gives customers as much as 30 percent off select Refill Tank System printers and multifunction centers (MFCs) models when they trade in their old Brother machines.  
Apart from old Brother devices, customers can also trade in their non-Brother machines and get as much as 20 percent off new Brother purchases.
Acceptable machines for trade-in are working or non-working typewriters, printers, fax machines, and all-in-one printing products. Customers may avail of the promo starting February 12, 2019 during the Switch to Tank Promo roadshows.
Customers get a 30-percent discount on Refill Tank System models DCP-T310 and DCP-T710W 30 percent by bringing Brother Trade-in machines,  or a 20-percent discount for those trading other machine brands.
Meanwhile, customers trading either Brother or non-Brother machines in can get a 20-percent off on MFC-J2330DW and MFC-J3530DW A3 Colour Inkjet Multifunction Centers. They can also get a discounted MFC-L2740DW Monochrome Laser MFC, available in Metro Manila only.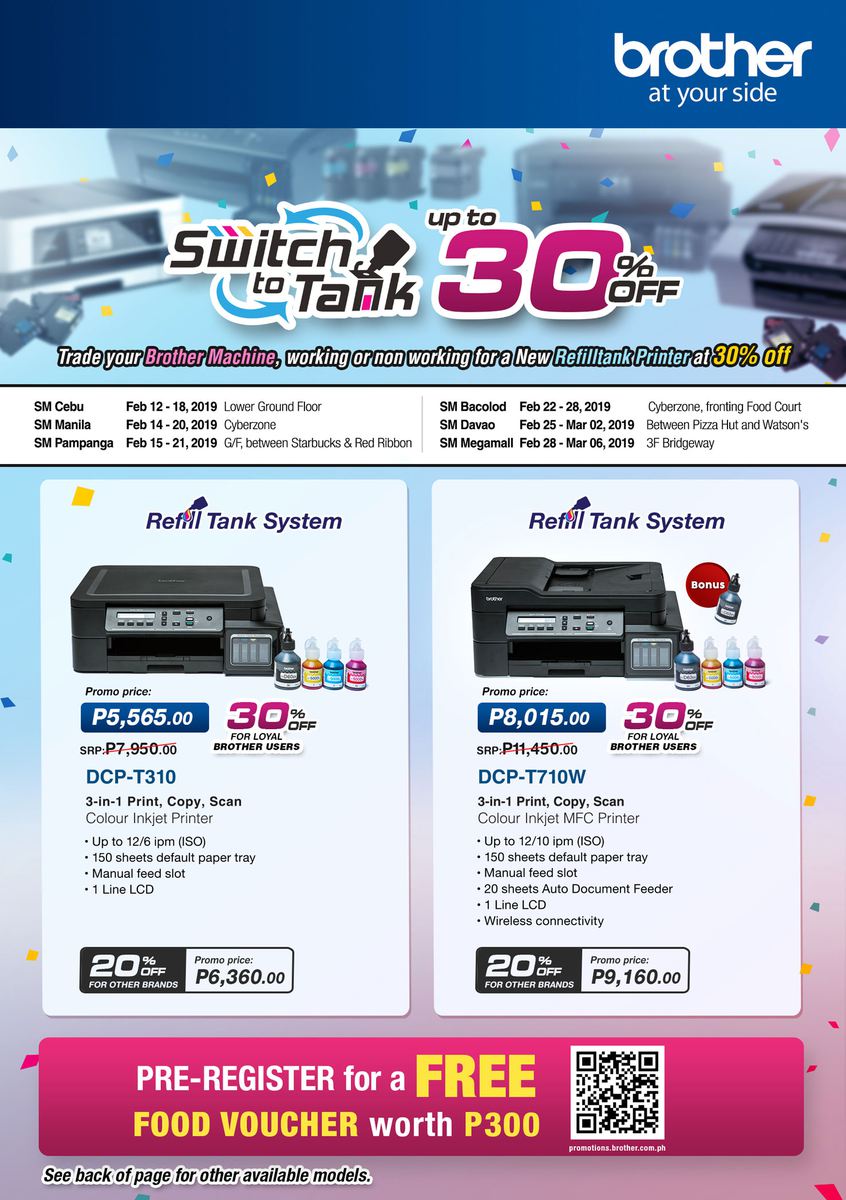 The Switch to Tank Roadshow is set to come to SM Cebu (Lower Ground Floor); SM Manila (Cyberzone); SM Pampanga (Ground Floor, between Starbucks and Red Ribbon); SM Bacolod (Cyberzone, fronting Foodcourt); SM Davao (between Pizza Hut and Watson's); and SM Megamall (3F Bridgeway).
Customers can also avail of additional freebies by scanning the QR code on Switch to Tank promotional materials like flyers, digital posters, and billboards, and pre-registering at promotions.brother.com.ph.   
For more information on these roadshows, visit Brother Philippines' official Facebook page.