Huawei has just launched its newest bet in the wearable sphere, the Huawei Band. This all-rounder highlights its durability, performance, and style through its many features that perfectly fits the everyday man.
Sporting a minimalist, ergonomic design paired to a water- and scratch-resistant steel frame, this arm gear is suited for tracking daily activities which range from walking, running, to even calculating calorie burn.
Akin to a watch face, the Huawei Band is topped by an OLED touch- display with 128-by-128 pixel resolution. It also comes with a durable yet comfortable to wear diamond-patterned strap available in colors black, cream, and white.
The Huawei Band has an IP68 rating, making it usable even under the rain and moist conditions. It is powered by A-Sensor technology, giving the user accurate and intelligent tracking results. The Band also runs on advanced Huawei algorithms that allow it to tell if the user is walking or running without the need to preset. Meanwhile, its built-in Cap Sensor can distinguish between users' idle and sleep states.
Working as an extension of the device connected to it, the user is notified when there are incoming calls and smart alarms directly on their wrist. The Band has a built-in magnetic-charging design which makes for easy charging and is compatible with devices running Android 4.4.4 or above and iOS 7.0 or above.
The Huawei Band is priced PHP 2990 and is available in all Huawei and partner stores nationwide.
Huawei Band Helps Create Good Sleep Patterns
"Now a global epidemic, sleep problems constitute up to 45% of the world's population and threaten health and quality of life," said Keith Aguilera, sleep medicine physician and fellow of Philippine Society of Sleep Medicine, Inc. (PSSMI).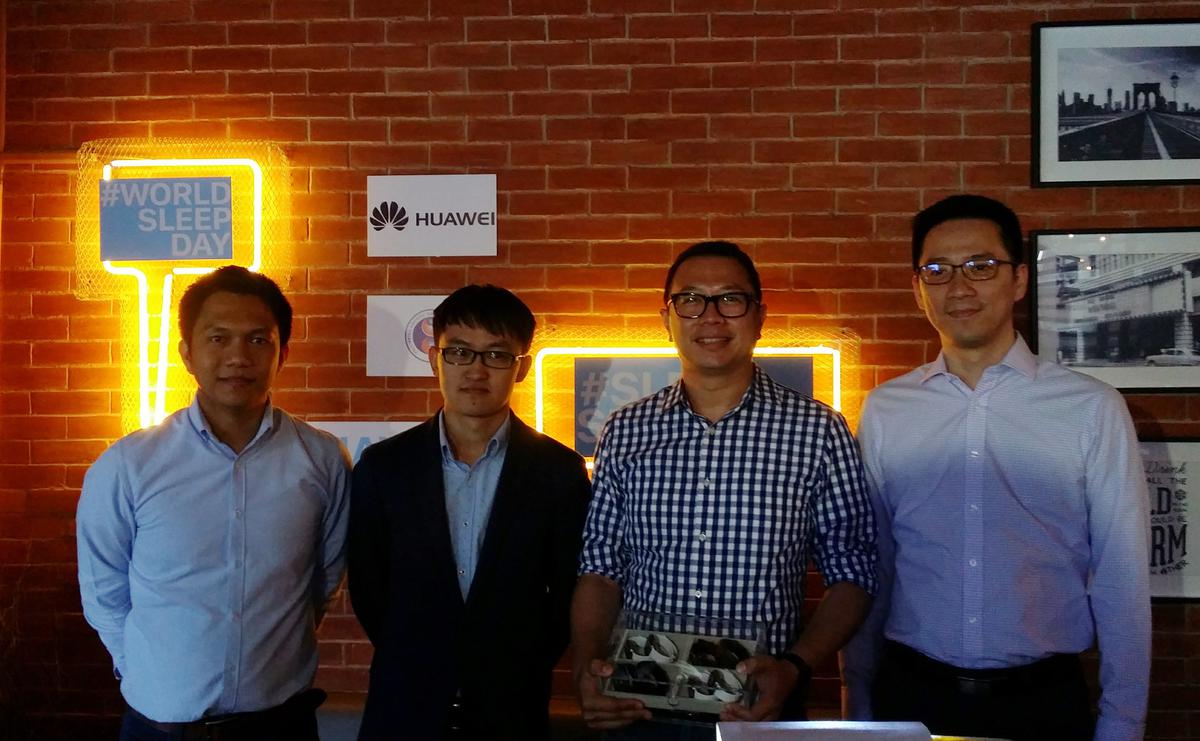 PSSMI together with Huawei launched #SleepSecretsinitiative as part of the World Sleep Day 2016 celebration with the theme. In lieu of the theme "Good Sleep is a Reachable Dream," the initiative aims to celebrate the power of sleep by encouraging people to share their secrets to having a good quality sleep.
"Sleep quality rather than quantity has a greater impact on quality of life and daytime performance," Dr. Aguilera noted.
According to Aguilera, there are three elements of quality sleep: 1) Duration – the length of sleep should be sufficient for the sleeper to be rested and alert the following day; 2) Continuity –  sleep periods should be seamless without fragmentation; and 3) Depth – sleep should be deep enough to be restorative.
The Huawei Band is an activity tracker that also functions as a sleep monitor. Through it, users are able to document and observe their resting patterns, and make needed lifestyle adjustments.
Dr. Aguilera enthused, "Having good sleep night after night is a dream for many people but may be achievable with proper help."