Affinity for art isn't rare. In the cyclical world of routine, it's always nice to be exposed to something new and fresh. And because people find themselves either glued to their devices or too preoccupied with school or work, artists are finding new ways to bring art to the public. Here, we take a look at Poetic Kinetics, an art group that is bringing in bigger and better artworks for the public to see.
The creators
Poetic Kinetics is in an art group based in Los Angeles. Although their line of work expands to different areas of expertise which range from aerial performance to animatronics, their most famous artworks deal with a lot of design and fabrication. They brand themselves as dreamers and creators of audience-engaging art, and so much of their creations are either unusually gigantic, or feature experimental design and  movement. 
Collaboration is at the heart of Poetic Kinetics as  they are a group whose people originate  from different industries. Originating from the industries of film, concert and live events, and the circus, the artists of the group work hand-in-hand from artwork conceptualization all the way to execution. After a series of collaborations, Poetic Kinetics was born. The desire to seek new creative expressions is what drives the group and is what seals their bond.
Philosophy
As a group, Poetic Kinetics believes that everything and anything that is made by man was done so with design in mind. And because they believe that everything is a creative choice (although varying in different levels), they choose to stay within the better side of the spectrum. As so, each Poetic Kinetics artwork is aimed at being as enriching and as stimulating  as possible. Following this, the group's artists focus on creating interactive and experiential art installations which are, as they say, "sustainable, and specifically tailored for the immediate community where art will live."
Inspired by diversity
As a group, Poetic Kinetics value their diversity. Coming from different industries, and carrying with them collective experience, the artists infuse their talent into their creative process. Recognizing different strengths, the group learns from each other as well as encourage each one to solve problems encountered in the most creative and unconventional ways. With the type of work dynamic they have, it isn't surprising how they're able to come up with the some of the world's most interesting and head-turning artworks.
From public art installations, all the way to music festival creations, the group hopes that their art produces a similar effect to communities—that they recognize the value of diverse teams, and encourage each other to grow collectively.
Artworks That Inspire
Their most famous artworks
By embracing challenges  and working hand-in-hand in providing innovative solutions, Poetic Kinetics is able approach each creation with open minded collaboration. The results of their creative process are simply stunning. They emanate an aura of grand creativity and bring a flavor of enthusiastic and adventurous spirit. Each artwork is done so with primarily two things: deep commitment to top-notch production value and the use of diverse materials and technology.
Here are some of their most excellent artworks:
Nimbus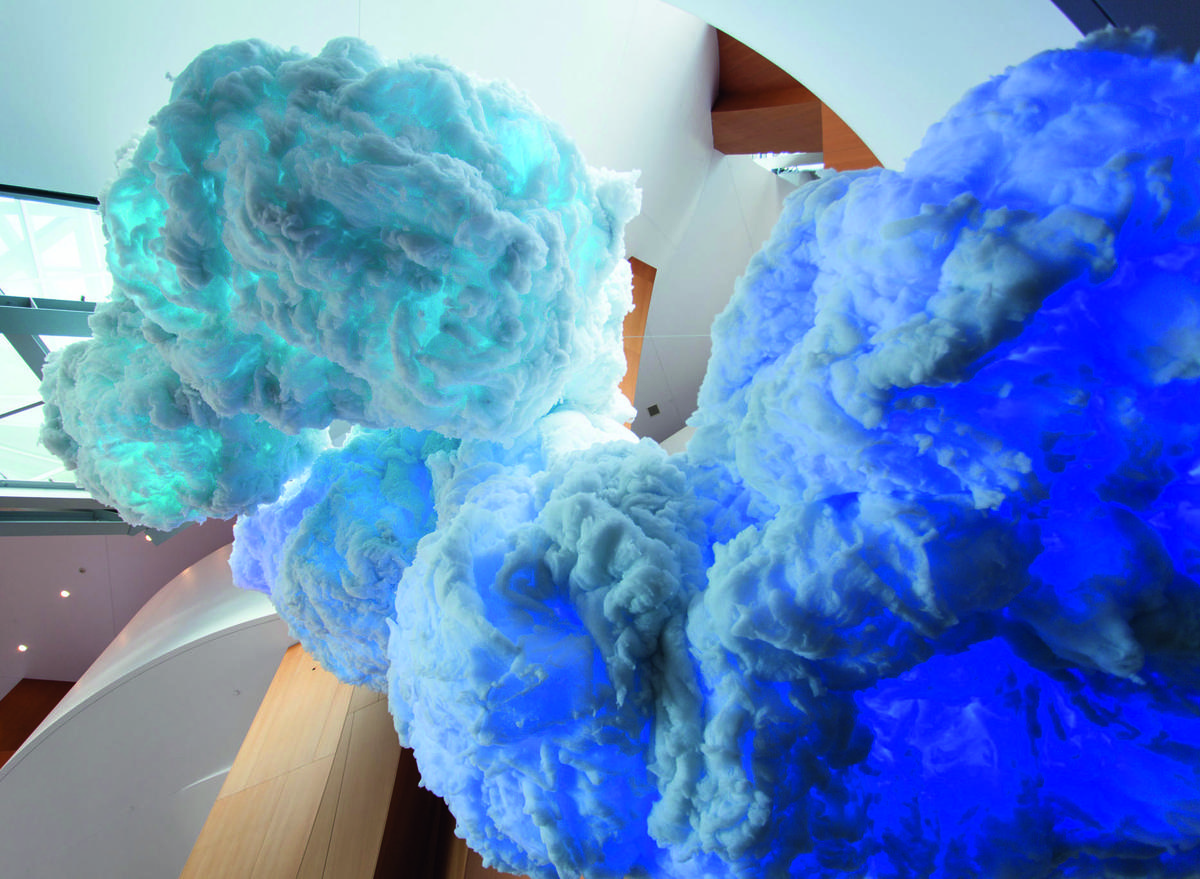 Nimbus is an artwork that affirms the group's pride in its diversity and talent. Done by Patrick Shearn of Poetic Kinetics in collaboration with the Los Angeles Philharmonic's artist-collaborator Yuval Sharon and composer Rand Steiger, Nimbus is able to transform an ordinary space into a performance site. Located at the Walt Disney Concert Hall, Nimbus, a storm of colorful clouds suspended 40 feet mid-air, float above spectators. Coupled with Rand Teiger's commissioned music, the clouds change in color during the course of the day while the music shifts from computer musical generated atmospheres to compositions performed by soloists from the Los Angeles Philharmonic.
The Warrior and the Girl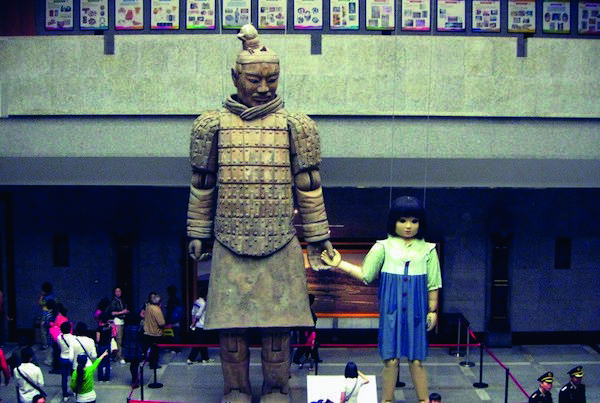 The Warrior and the Girl was part of an art performance that was executed daily during the Beijing Olympics. The performance featured a story and a theme that focused on the value of peace and friendship and was told through a mixture of different mediums—giant puppetry, aerial performance, animatronics, and modern dance, and was all backed up by heavy yet hi-tech equipment. The Warrior and the Girl installation, now viewable at the Terracotta Warrior Museum in Xi'an China, consists of a 22-foot tall terracotta warrior that is suspended from an 80-ton construction crane. Alongside it is a 15-foot tall Chinese girl that's attached to a 40-foot book forklift. Both the figures are capable of movement and was backed up by 40 dancers and puppeteers during the Olympics performance.
Escape Velocity
If you're an art fanatic then you've probably heard of this one as it is one of the most photographed artworks. Escape Velocity, an interactive large-scale kinetic art piece, features a floating 36ft x 57ft x 40ft mobile astronaut. Made its debut during the Coachella Music and Arts Festival held in 2014, the floating astronaut marveled concertgoers with its size and radio-controlled animatronics. Adding to this was the iconic video projection that allowed the spectators to project their face to the helmet visor.
Also published in GADGETS MAGAZINE October 2017 Issue
Words by Gerry Gaviola