I have carried a LOT of lights over the years, from incandescent double 123A deals, to tiny keychain lights, AA primary cell ones, and even 21700 monsters. Last year though, I pulled the trigger on an FW3A, a community-developed light brought to life by Lumintop. It combines great open-source firmware with unobtrusive looks, and 18650 convenience, as well as a wonderful digital switch. I've carried it exclusively for more than half a year now, so it's about time to come up with an in-depth review for anyone who is considering it for EDC.
The FW3A is a gorgeous, single 18650 light with three high-power LEDs in the emitter head. It's barely larger than some of my older 1AA EDC lights, and, while it does have a wider head to accommodate three LEDs, this helps further reduce the appearance of its overall length. The unit I got came in a bluish-grey anodization with a shiny stainless steel clip, and machined steel power button at the tailcap. There's some shallow, but grippy knurling near the head of the light, as well as on the tailcap that's the perfect point between pants-ripping aggressive, and purely cosmetic. It looks quite plain, and certainly not tactical, which is another plus in my book. The pocket clip isn't particularly deep-carry, which is fine, though this did lead to one instance when it snagged and fell out of my pocket, so be careful should you decide to EDC this in anything other than denim.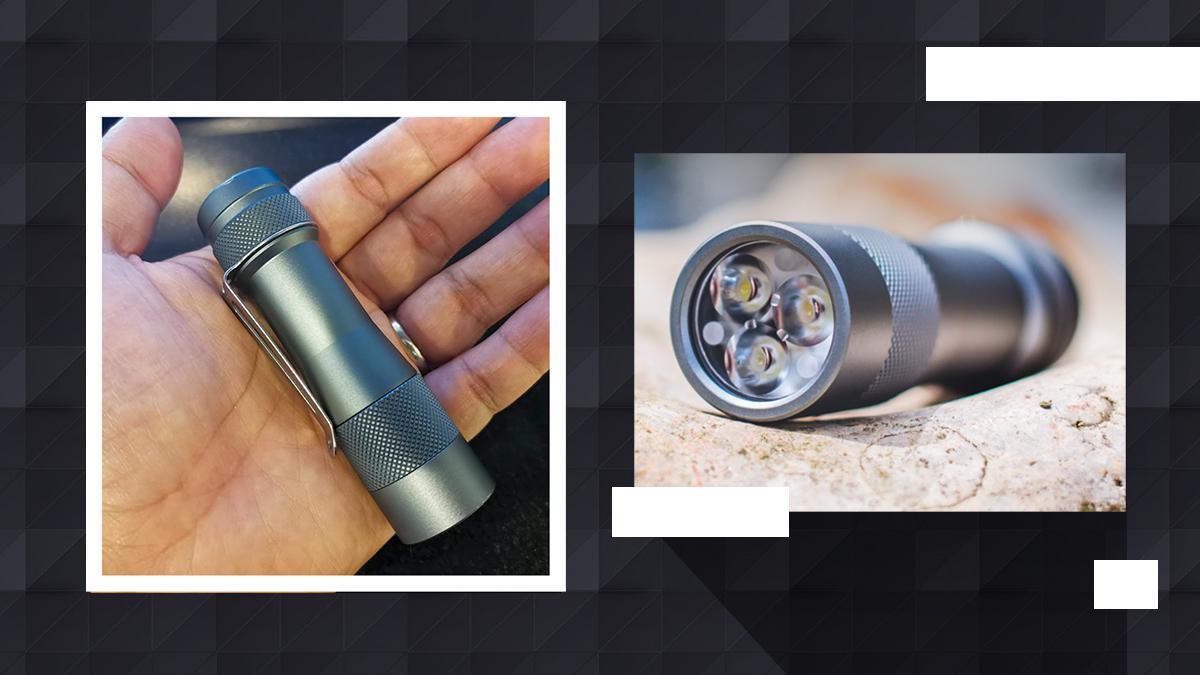 Let's dig into the hardware. The emitter has three Cree LEDs (though other variants are available), that can pump out a staggering 2800 lumens in turbo mode. To get that, you're going to need an unregulated 18650 cell, such as the Samsung 30Q which I personally use. One of the cooler things about the light though, is that it has an electronic clicky tail switch, not a mechanical one. That gives it a very shallow, light, and still tactile feel, and is the main way the user goes through the incredibly feature-rich, open-source firmware.
That firmware is both the best and worst thing about the light. It does offer a whole host of features, which is pretty awesome—I mean, it has a lightning storm mode, which is exactly what it sounds like—but it's also quite confusing until you spend a good amount of time with it. There's a whole instructional flowchart included in the box, so I won't go into all the features in detail, though it does of course give you the basics such as voltage checking, quick access to turbo mode, low-voltage and thermal cutoff, and a "muggle mode" that has basic settings for if you want to hand the light over to a normie.
In daily use, this UI is a bit of a handful, so I just set it to a brightness level, and keep it locked to momentary mode, which works great for my use cases, since the button is so shallow and light, it's no matter at all to hold it down for illumination. The 2800 lumen mode should be pretty accurate, at least based on the measurements taken by those with the measuring tools for it, but it doesn't last but a few seconds due to thermal throttling. To be honest, it's more for show or some other niche use, but it's nice to have anyway. In any case, high mode is extremely bright with quite a decent throw, so you're not likely to really want much more than that for daily use.
There are some things to be aware of though. Unlike most lights, you're going to want to remove the head to install a battery, as there's a small plastic nubbin at the tail end which can get lost easily should you open it up from that end. It's probably nothing to worry about as the owner of the light, but try to stay watchful should you hand the light over to someone who doesn't know it very well.
Overall, I'm quite pleased with the FW3A. It offers a lot of punch in a reasonably small package, and doesn't scream "mall ninja" when you take it out of your pocket. There's a feature-rich UI that is a lot of fun to play with, though it does complicate things quite a bit. Fortunately, you can get around that by choosing the correct mode. It's powered by the very common 18650 cell, and looks great to boot. It should be a great option for EDC, though if you're looking for a "tactical" light, this might not be your cup of tea.
Also published in GADGETS MAGAZINE June 2020
Words by Ren Alcantara