The Junior Confederation of Finance Associations-Philippines (Central Luzon Chapter) is launching an exciting Marvel-themed event entitled "Stock-verse: Avengers Assemble Through Game-Changing Stock Market Exploration" to be held on July 2-3, 2022. The event is expected to be filled with various intensive and interactive discussions with the industry experts coming from COL Financial Group Inc., First Metro Securities, and Investa.
Are you the kind of individual who is highly interested in improving your stock investing and trading skills? Do you worry about the current status of the market and how you will be able to bounce back with the bloody condition of your portfolio? Do you want to know how to successfully make a lot of investing decisions based on the current market, economic and political conditions here in our country? Then this event would just be right for you!
Through this event, the commitment of JCFAP-CLC to adhere to its purpose and vision of bringing every financial management organizations into the right mindset and path of pursuing financial literacy, in terms of investing, will now be possible and remarkable. The prepared topics for Day 1 and Day 2 of the event seek to address the timely need of every student investor and trader to plan and execute their stock investment plans with the appropriate and winning strategies. This event really aims to explore the technical side of stock investing  by trying to not just learn how to read but understand the charts, patterns, numbers and external factors that affect it all. Other than these are the importance of knowing the implications of the current economic and political events to the movements of the index and individual stocks, and how investors and traders should respond, react and decide according to the volatility of the market.
Participants will also be given a chance to engage with them and ask any thought-provoking questions related to stock investing and trading. Indeed, this is a once in a lifetime opportunity, to be part of a worthwhile discussion with the professionals who have a wide-range of experience in the industry. This is such a great chance for any students planning to be on the top of this field.
More than these exciting topics are competitions they have prepared for their local organizations to foster creativity, camaraderie and academic excellence. The said competitions are Yell Competition and Finance Quiz Bee. And what makes them really amazing are the big prizes that await each participating organization, which are sponsored by a lot of different companies and small businesses who believe in the meaningful and purposeful goal of the event.
To anyone who wants to join, Stock-Verse is open to all and they may register to either their Bulk (for any organization or schools inside or outside Central Luzon) or Individual Registration Forms. (The payment procedures are in the image below and the process of admission to the Private Facebook Group is posted on the registration forms).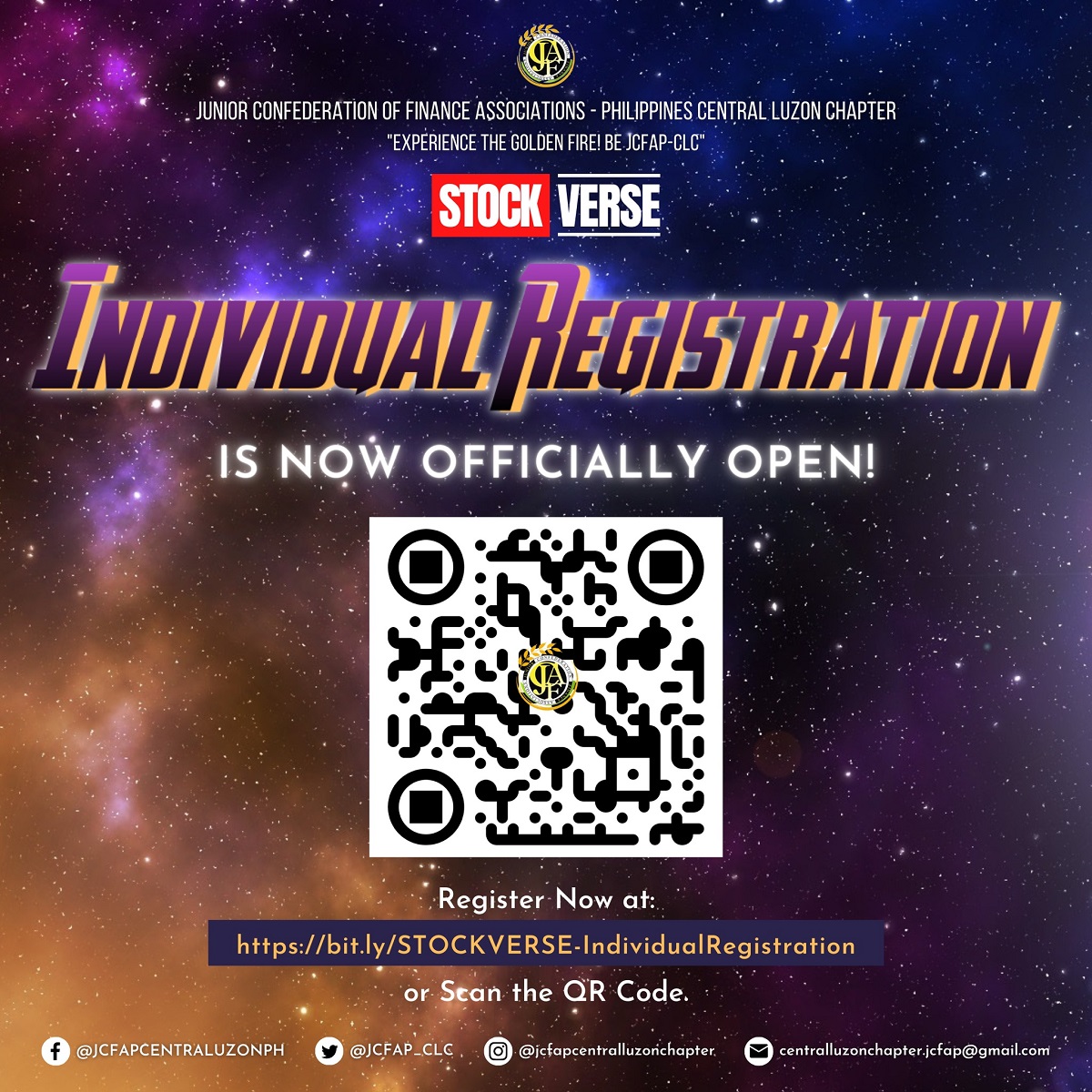 What are you waiting for? Get your boarding pass and be ready for an extraordinary stock market exploration!