In the blink-and-you'll-miss-it corner along Congressional Avenue Extension lies a simple French restaurant that has a deep sentimental history. Although the establishment acquired its popularity from its remarkable pastries and dishes, by symbolizing humility and selfless love, Agape Pastries and Tartines has captured not only hearts but also the taste buds of both millennials and "Titas of Manila."
Tracing back its humble beginnings, the restaurant was inspired from a French bakery in Manhattan. With a concept of sharing good food and meaningful conversations on communal tables, the matriarch of Uvero family decided to add another gem to her crown four years ago when she debuted in the food industry–which is very far from the health and beauty establishments the family previously owned.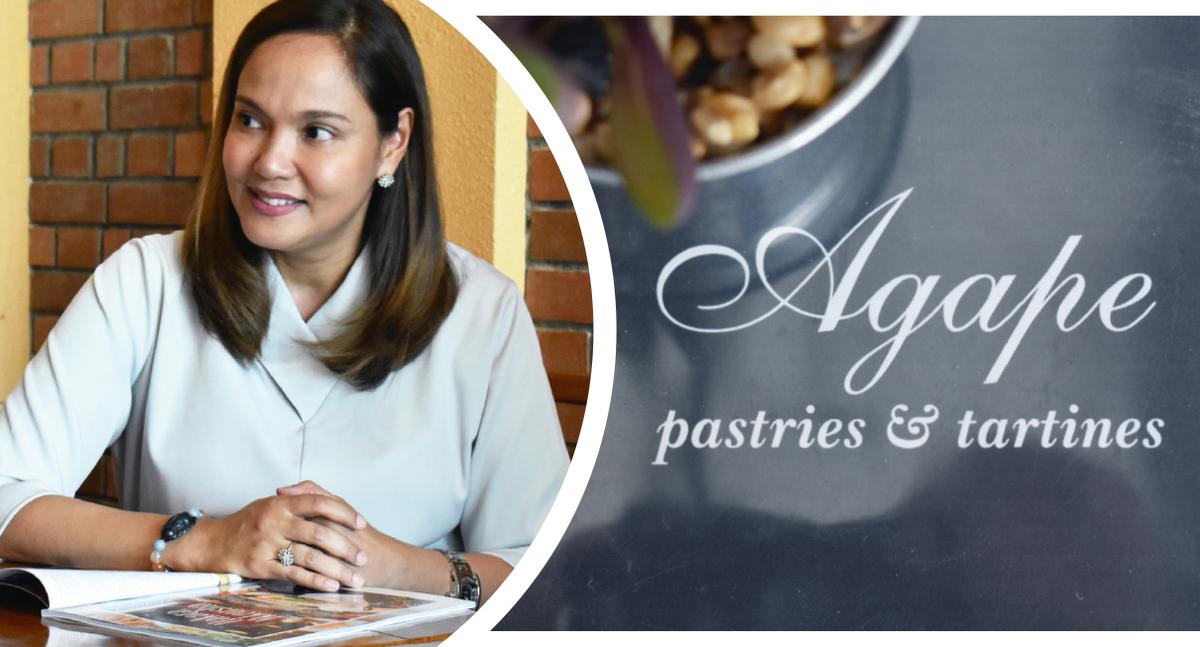 "Agape is a reminder of our family's experience. It's a selfless giving and I wanted to be reminded of that beautiful journey we had in Manhattan," shared by Agape's owner, Jean Uvero. Named after a Greek term that signifies the highest form of love, the food hub has become a go-to place for solemn meetings of various organizations, including religious ones. The whole restaurant gives you a cozy vibe with its vintage French interiors, dramatic lighting, and wooden furnitures that make you feel the warmth of a mother's love. It's also surprising to know that Jean conceptualized everything from scratch.
Wanting to stand out among the rest, Jean decided to bring open-faced tartines in the country through her restaurant. With the help of her talented and hardworking chef, they were able to fix and expand their menu according to their customer's palate. Rice meals, pastas, and pizzas were eventually added to attract other people living within the subdivision. Little did she know that it will be the start of her career from a professional nurse to a full-time businesswoman in the food industry.
"At first, yung food talaga yung pinerfect ko. We do everything from scratch. I invited some of my co-parents from Poveda to try our menu. I made a feedback form to know their satisfaction on our products," Uvero enthusiastically tells us about polishing their restaurant's menu.
Jean's simple patisserie has grown tremendously into a full-time restaurant as she continuously discover new dishes to add in to their menu. Ensuring that the ingredients they use are fresh and in tiptop shape, the restaurant's head chef trains every staff to handle each of their branches' commissary.
Her efforts paved the way to the birth of Les Petites Tartines, one of Agape's best-selling appetizers, which is a baguette topped with fresh ingredients of smoked salmon and caviar, tomato and basil with parmesan cheese, five kinds of cheese drizzled with olive oil, and spicy prosciutto. The Black Truffle Pasta is a must-try for beginners who are a fan of white sauce, only with a twist. If you're a little more adventurous, the best-selling seafood Squid Ink Pasta is a comfort food that you definitely cannot resist. Just remember to drink a lot of water or the sauce will get stuck on your teeth! Available for a limited time, the mouth-watering Chef's Special Baked Salmon on Crusted Nuts offers a bursting flavors of almond nuts, caramelized shallots, potatoes, and mushrooms. Lastly, don't forget to sink your sweet tooth in to the sinful Chocolate Mousse Cake and the delightful Chocolate Strawberry Moist Cake that are well-loved by foodies. Agape's own version of healthy juices, which are called "Remedies," are refreshing beverages you also shouldn't miss once you visit this inspiring place.
She also believes that the growth of her staff is vital for the success of her enterprise. "Agape is all about sharing of ideas. The success of this restaurant is also because of the team. Maganda yung meeting namin, how to go about the dishes. The passion is there kaya parang everything comes out naturally. I believe that there should be continuous learning within our organization."
At present, Agape continues to flourish with their mall branches at SM Megamall and Ayala the 30th.
Facebook: https://www.facebook.com/agapepastriesandtartines/
Instagram: @agapepastriesandtartines
Store Hours:
Mondays -10 AM to 10 PM
Tuesdays, Thursdays, and Sundays – 6:30 AM to 10 PM
Fridays and Saturdays – 6:30 AM to 11:00 PM
Also published in GADGETS MAGAZINE April 2018 Issue
Words by Jewel Sta. Ana
Photos by Ronel Bautista