A long road trip with our friends and family over the break is always something to look forward to. However, planning one takes a lot of time and executing it requires a long weekend at the very least. Rather than wait for conditions to be perfect, why not consider going on a food trip instead? With a little time, a bit of cash, and an empty stomach, we can experience gastronomic adventures without leaving Manila.
Food parks seem to be popping up all over the Metro, and one of the newest of them just happens to be in the heart of Quezon City—Food Hive. Taking its name the the many busy bees who are the many chefs and patrons of the venue. It even has a hip restaurant tucked inside!
1. Po-Bo – stands for "potato bomb".
Celebrity Chef: Rosebud Benitez
On the menu: Potato bomb and sisig fries.
I loved their innovative version of potato balls because of its enormous size. Stuffed with ground beef, corn, caramelized onions, and a gooey cheese sauce, it was the perfect to-go meal for hungry kids, or a superb way to start a night of feasting! Their sisig fries were also excellent, and a brilliant mix of two of everyone's favorite foods. It keeps the rich flavor of the sisig, and balances out with the starchy goodness of the fries.
2. Blaze Flaming Sizzlers – serves sizzling meals perfect with a plate of rice.
Celebrity Chef: Edward Bugia
On the menu: Regular Sisig and Seafood Gambas
Large serving sizes, and a reasonable price will leave you (and your wallet) satisfied.
3. Cool Juans – reinvents Filipino dessert in a new and exciting way.
Celebrity Chef: Wado Siman
On the menu: Juan Last Breath (Iced Gems) and Why Nut? (Banana Peanut Ice Cream)
The combination of sweet peanut butter and more neutral bananas is hard to put down—it's like tricking you that you are eating an indulgent yet healthy dessert. The Everyone's favorite childhood snack, Iced Gems, gets an interesting new twist with the addition of liquid nitrogen, making it a tongue-tingling treat that you have to experience for yourself.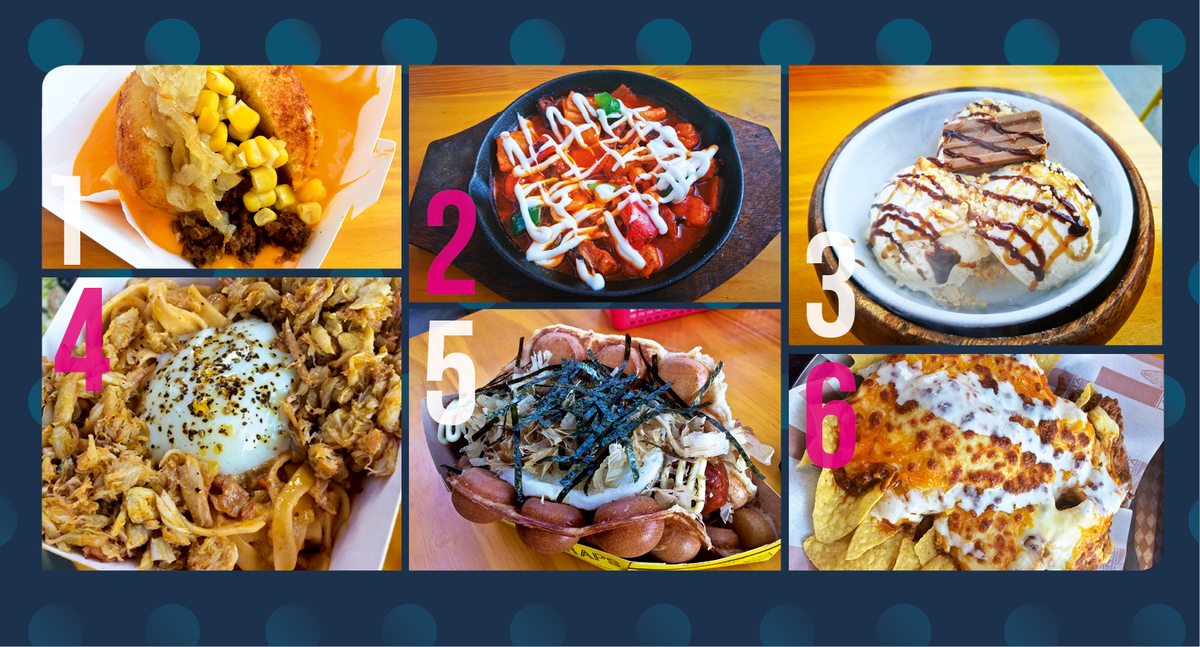 4. Pappare Ristoranti – ever saw pasta served inside a huge cone?
Celebrity Chef: Jarina Tee
On the menu: Crabonara and The Hive Special Pizza
The Crabonara was the winner of the night for us! Rich, without being overdone, and very filling, I actually took some home for later consumption.
5. Bubble Wraps – uniquely served savory and dessert items wrap in an egg waffle.
On the menu: Sausage Bubble Wraps and Dessert Bubble Wraps
A different take on the general waffledog concept, the whole combination of nori, mayo, and hotdog was an unforgettable flavor explosion!
6. La Carnita Modern Mexican Cantina – creator of PH's first grilled nachos
On the menu: Grilled Nachos Ala Bomba
Witnessing the thick grilled cheese being poured on top of the nacho chips was life-changing! You can hardly go wrong with melted cheese and nachos, but this is something else.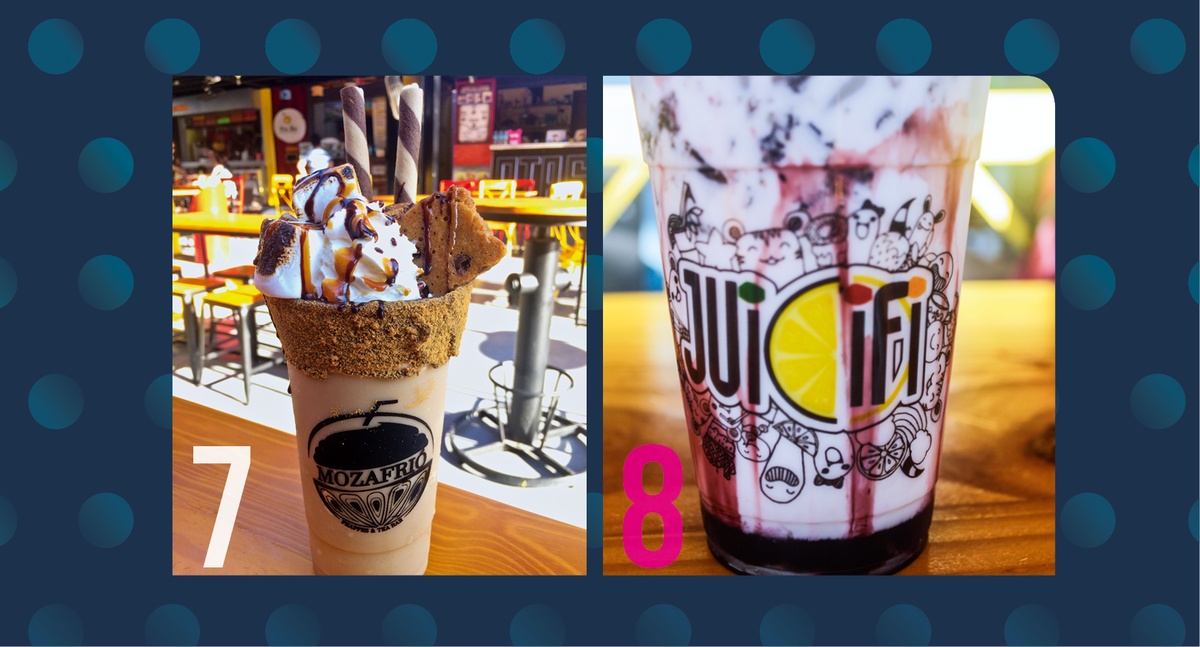 7. Mozafrio Frappes and Milktea – over-the-top drinks that will let you experience sugar rush!
On the menu: Juanita (Java Chip Blended Drink) and Carita de Macaria (Matcha & Coffee Blended)
I'm a fan of desserts and drinks no matter how sweet it is. This is something that can be considered as both. Great for kids, and those who just haven't quite outgrown their sweet tooth, it's great for someone looking for a quick sugar rush.
8. Juicifi – perfect refrehments during this hot season.
On the menu: Brazilian Lemonade and Blueberry Fresh Milk
The ultra-tangy flavor of the lemonade will surely wake you up! Plus, what we got was one of the secret items in their menu. As a bonus, they even have a secret resto tucked away inside! Let's take a look!
And did I mention they also have a separate resto tucked inside? Let's check it out!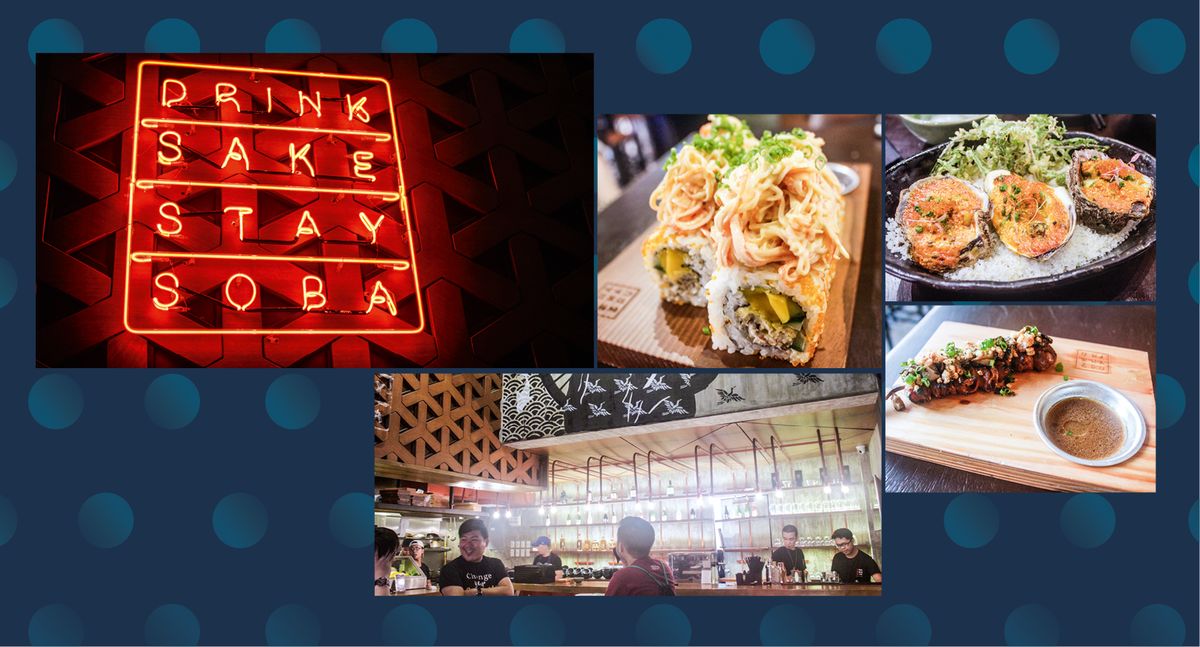 Hamaru Yakitori and Sushi
The name "Hamaru" translates to "go crazy over" —perfectly describing the two millennials, Tadeo Chua and Therese Larroza, who retired early to pursue their dream of having their own cool and hip resto in Quezon City. The ambiance of place resembles to an underground bar where you can chill out. With the help of the renowned chef, Nino Laus, they were able to attain just that.
On the menu: US Beef Intestine, New-style sashimi, Hamaru Soft Shell Crab Roll, Oyster Motoyaki, Butabara (pork belly), Tofu Pocket, Japanese Highball and Hamaru Rising Sun.
I'm never a fan of offal, but, the US Beef intestine changed my mind. The addition of truffle oil gives the dish the depth of flavor that makes the dish so appetizing. The slightly cooked new-style sashimi is a compromise for people who don't like raw dishes, but appreciate ocean-fresh fish. My favorite dish is the tofu pocket because there so many elements is inside that tofu skin that go so well together. It was like a complete meal in every bite.
Writer's tip:
This upscale spot will be your next hangout destination!
Location:
82 Visayas Ave, Quezon City
Also published in GAGDETS MAGAZINE April 2017 issue
Words and Photos by Jonah Mendoza