More than its historical sites and pristine beaches, the province of Bataan is also a home to many local artists. Thanks to the establishments that place the spotlight on talented Filipinos, the local art scene is now receiving the recognition it deserves. Besides from its Instagram-worthy interiors, this cafe in Bataan is notable for being the first-ever art cafe dedicated to exhibiting and selling artworks.
Exhibit C is a culmination of the things that the Umagtang siblings love: comfort food, cheese, customized cakes, and creative arts. Cecilia, Cipriano, and Sheryll—an architect, certified public accountant, and chemical engineer by
profession—decided to take a detour from their careers and pursue their passion in baking, cooking, and in the arts. Their sister Shirley serves as the restaurant's manager. Established in May of last year, the cafe's primary goal is to boost artistic awareness and offer great dining at an affordable price.
A gallery of Sheryll's works, the cafe's resident visual artist, greets the customers upon entering the door. There's a loveseat filled with pillows and teddy bears, a rustic wooden swing, and a soft family couch for your Instagram feed goals. To complete the artsy ambiance of the cafe, you can hear OPM coming in through the speakers.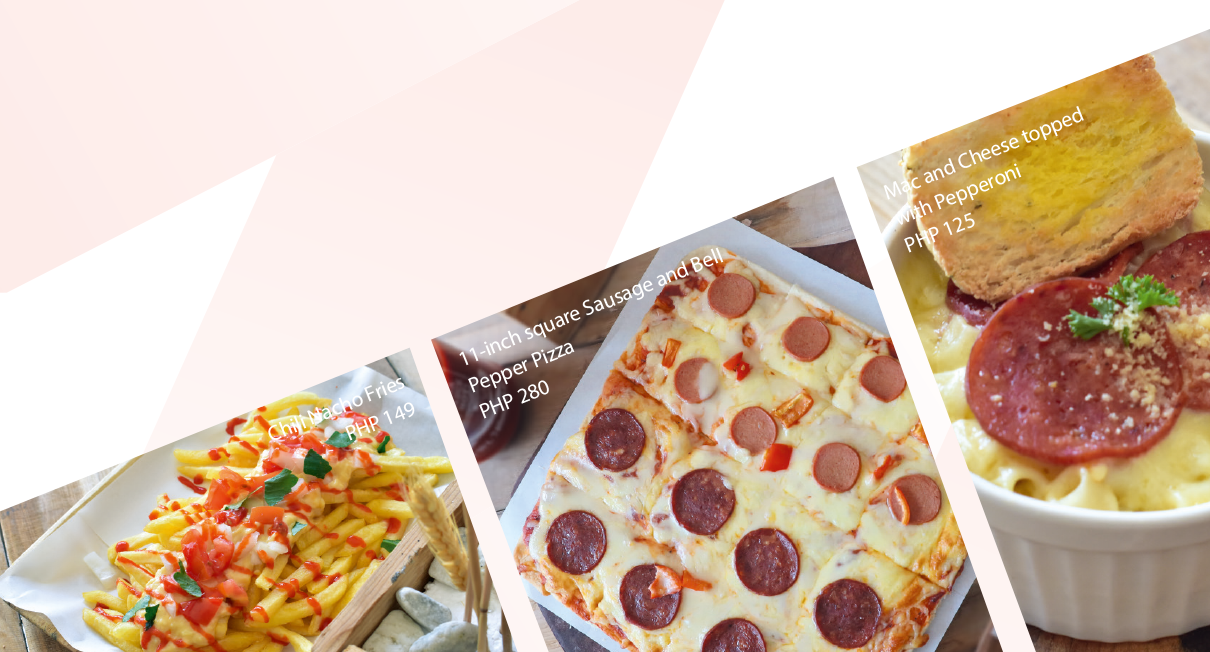 Exhibit C's menu offers a variety of food offerings, and are either for a la carte serving or good for sharing. According to Cecilia, their 11-inch square Sausage and Bell Pepper Pizza topped with cheese and Chili Nacho Fries with freshly chopped tomatoes and onions is a popular choice for large groups. Their signature Pastas are definitely a must-try, starting with the flavorful Creamy Pesto Sardines Linguine. For cheese lovers, there's the baked Mac and Cheese topped with Pepperoni and creamy Chicken, and Cream Cheese Carbonara. Should your palate crave more Western dishes, the cafe also offers Cheese Overload Burger with chips on the side, Hungarian Sausage Platter with ketchup, mayonnaise, and mustard, savory Chicken Quesadilla with tomato salsa, and spicy Buffalo Wings with Tartar Sauce. The special Adobo Flakes Platter, which is the star of their Clique Meals, is actually from a recipe that has been a part of their family for generations, and best when paired with steamed rice.
Apart from their sumptuous snacks and student-friendly rice meals, Exhibit C accepts visual artwork submissions from traditional to digital ones. Every month, they give recognition to artists by featuring them in their mini-gallery, provided that the artworks hit all the checks in the cafe's established set of criteria. Most of the artworks exhibited get sold to some of the customers. This truly helps local artists to get the recognition they deserve, as well as earn an income. It has also been a home for art-related events in the province such as workshops, and open mic sessions that are being held every Friday.
Operating Hours:
10 AM to 12 MN
Monday, Wednesday to Sunday
Facebook:
facebook.com Exhibit-C
Gmail:
[email protected]
Words by Jewel Sta. Ana

Also published in GADGETS MAGAZINE April 2019