In the culinary world, there are good nachos, then there are the best nachos anyone could ever ask for. Fiery Style claims to have "the best nachos in town" and they'll prove naysayers wrong in the best possible way.
A towering serving of colored crispy tortilla chips, barbecued beef or pork, grated and melted cheese, fresh salsa, and other ingredients layered to perfection is revealed upon lifting the cover that conceals it. It's a presentation you won't see elsewhere, at least in the Philippines. And the taste? An excellent burst of savory, crispy goodness with every mouthful. Is it indeed the best-tasting nachos in town? We'll reserve judgement and have you taste it for yourself, but we're inclined to agree.
The Fiery Nachos is just one of the many dishes available at Fiery Style, a Southwestern cuisine restaurant taking the South by storm. Established in 2016, Fiery Style puts a twist on tex-mex favorites, flavorizing them to suit both local palates.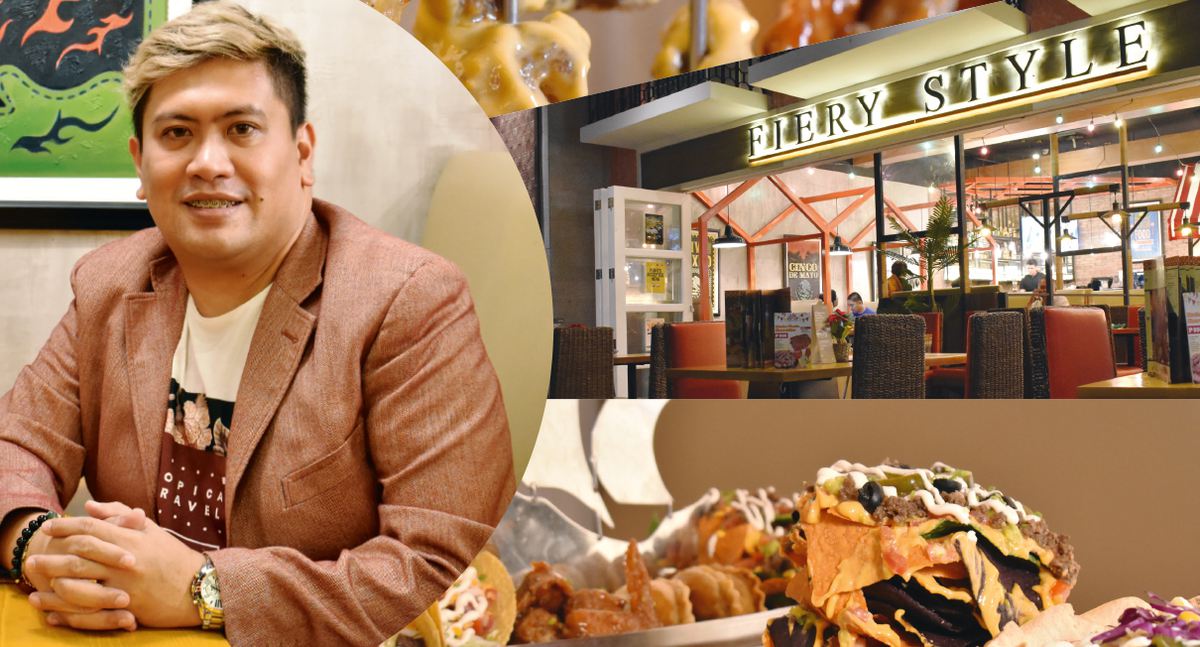 The restaurant takes pride in its wide variety and modern presentation of culinary delights. Fiery Style president and managing director Mat Tee says that "as eating Mexican food has become an everyday affair for a lot of Filipinos, we at Fiery Style innovate the way we present and serve items in our menu." Customers get a fiery culinary experience with big servings, and food fashioned to please visually and gastronomically.
From appetizers, burgers, main dishes, and shareable meals, to drinks and cocktails, Fiery Style has something that will make you come back for more. One of its in-demand menu items is its sizzling steak by the kilo. Served with gravy, the tender meat is finely textured and juicy, bursting with flavor as you chew. But it doesn't end there, the most appealing of all is its price. At only PHP 1,198 for the Steak Ala Familia, you'll be coming home with a full belly and a full wallet.
Beyond this, Mat Tee also highlights the restaurant's well-designed interiors. Designed with customers in mind, Tee stressed the importance of good lighting so as to create a more inviting ambiance that will draw in crowds. Fiery Style is decorated with a Mexican theme, and colors that speaks of what they offer. There are brick walls, fixtures, and lights that encourage photo documentation. The staff is very accommodating as well. All these explain the great response the restaurant has been getting. Mat further shares that their Festival Mall branch is constantly fully-booked, with customers willing to wait to get seated.
With the hot reception it has been getting, Mat details that his goal is to have seven branches fully operational by the end of the year. As of this writing, there are now three branches you can visit: the first is at the SM Mall of Asia, the Festival Mall Alabang Branch, and another one in Newport Mall, Resorts World. Banking on this momentum, Mat will also be opening the restaurant for franchising sometime in 2019.
Looking to satisfy your tex-mex cravings? Give Fiery Style a try.
For more details and reservations, please visit our facebook at: facebook.com/fierystyleSouthwesternGrill and Instagram @fierystyle.
Also published in GADGETS MAGAZINE June 2018 Issue.
Words by Mia Carisse Barrientos
Photos by Ronel Bautista