This holiday season, California Raisins rekindle the spirit of meaningful giving by coming up with delectable recipes that people can personally prepare as gifts for their loved ones. Deliciously made and wholesomely nutritious, these California Raisins creations are the perfect edible gifts this Christmas.
In collaboration with Chef Michael Aspiras of Le Petit Souffle and Scout Honor, California Raisins inspire a healthful feast on Noche Buena and Christmas parties with hearty bread and dessert dishes, proving that food can be delicious and nourishing at the same time. California Raisins are fat- and cholesterol-free, low in sodium, and naturally sweet, so you can reduce the amount of refined sugar that you would otherwise need to use in your breads and cakes.
Discover how baking with love and California Raisins makes for a more special gift by trying out these chef creations and revive the essence of meaningful sharing this Christmas.
Bread Recipe: California Raisins Bomboloni with California Raisin Rum Chantilly and Crispy Topping
By Chef Michael Aspiras, Le Petit Souffle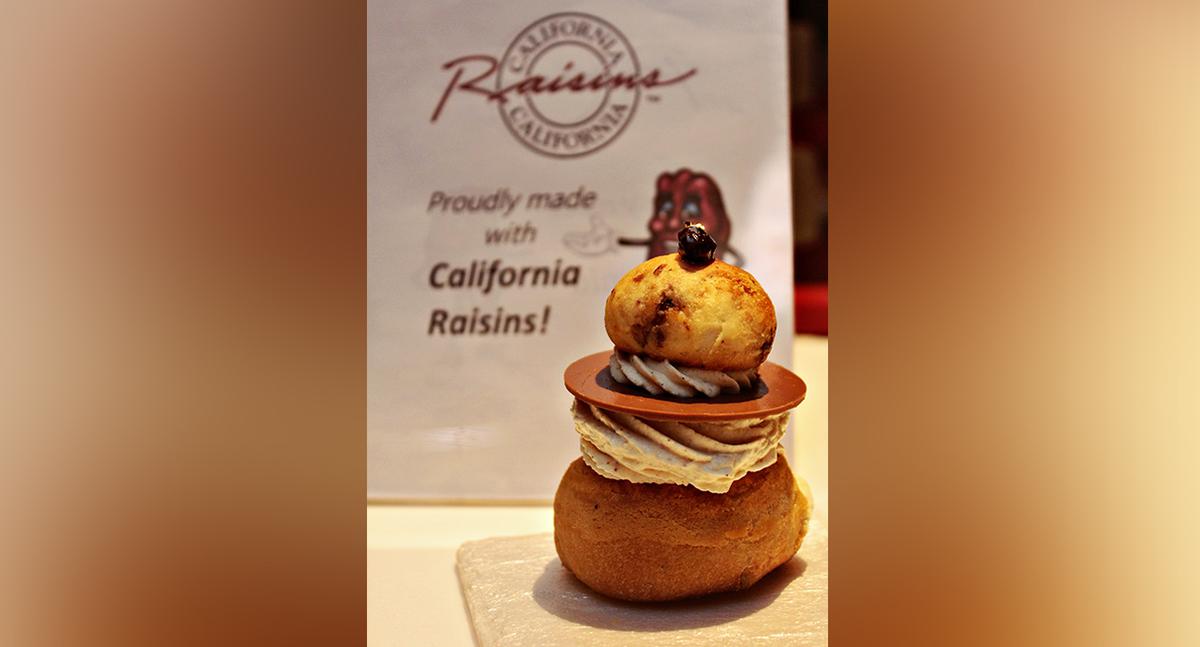 For the brioche
Dough #1:

86g Stiff levain
366g Hard levain
55g White sugar
176g Water
116g Whole egg
With hook attachment, mix all ingredients until well blended.

Cover with a cling wrap and let rest for 30 minutes.
Dough #2:

250g California Raisins (pureed chunks)*
936g Hard flour
55g White sugar
24g Yeast
486g Whole egg
590g Butter (softened)
18g Salt

Combine all dry ingredients and egg on rested dough, mix until the dough sticks on the hook.

Slowly add small amount of butter, mix until butter is combined.

Continue adding butter until completely incorporated, then add raisin puree.

Keep the dough in an oil coated container, transfer the dough, fold four sides, cover with cling film, chill overnight before using.
*For the California Raisins

310g California Raisins
70ml Rum
160ml Water
45g White sugar

Cook sugar in water until it turns into light syrup; add in rum remove from heat.

Soak raisins in rum, soak overnight.
Dividing the dough
Remove cling film, flour working table and top of the dough, turn the container upside down, slowly lift the container until the dough falls down.

Lightly flour the dough again, divide the dough in a form according to desired weight.
Shaping
Pinch the sides of the square dough like a dumpling, then seal.

Place the seam side on the working table, place your palm on the top of the dough and shape into a ball doing a circular motion.

Place rounded dough in a baking tray seam side down, cover and let rest for 45 minutes.

Pipe top with crisp topping batter**.
Baking
Preheat oven at 200°C.

Bake for 12-15 minutes.
**Crisp topping batter

200g All purpose flour
4g Baking powder
4g Salt
200g Unsalted butter  (softened)
100g Confectioner's sugar
4 large eggs (beaten)
15g Vanilla extract
Sift flour, baking powder, and salt together in small bowl.

Using clean, dry mixer bowl and paddle, beat butter and confectioners' sugar on medium-high speed until light, pale, and fluffy, about 3 minutes.

With mixer running, gradually add eggs, then vanilla; mix until smooth, scraping down bowl as needed, about 2 minutes.

Add flour mixture and mix on low speed until combined, about 30 seconds. Scrape down bowl, and then fold ingredients by hand to mix fully. Transfer mixture to piping bag with a round piping tip, do not refrigerate.
Assembly:
Make a 1 inch incision at the bottom of each cooled buns, fill with Chantilly.

Dust with powdered sugar
California Raisin Rum Chantilly Cream
400g Dairy whipping cream
400g Non-dairy whipping cream
100g Raisin puree
Vanilla beans
Whip all ingredients together until stiff.
Pastry Recipe: California Raisin Modern Christmas Cake
By Chef Michael Aspiras, Le Petit Souffle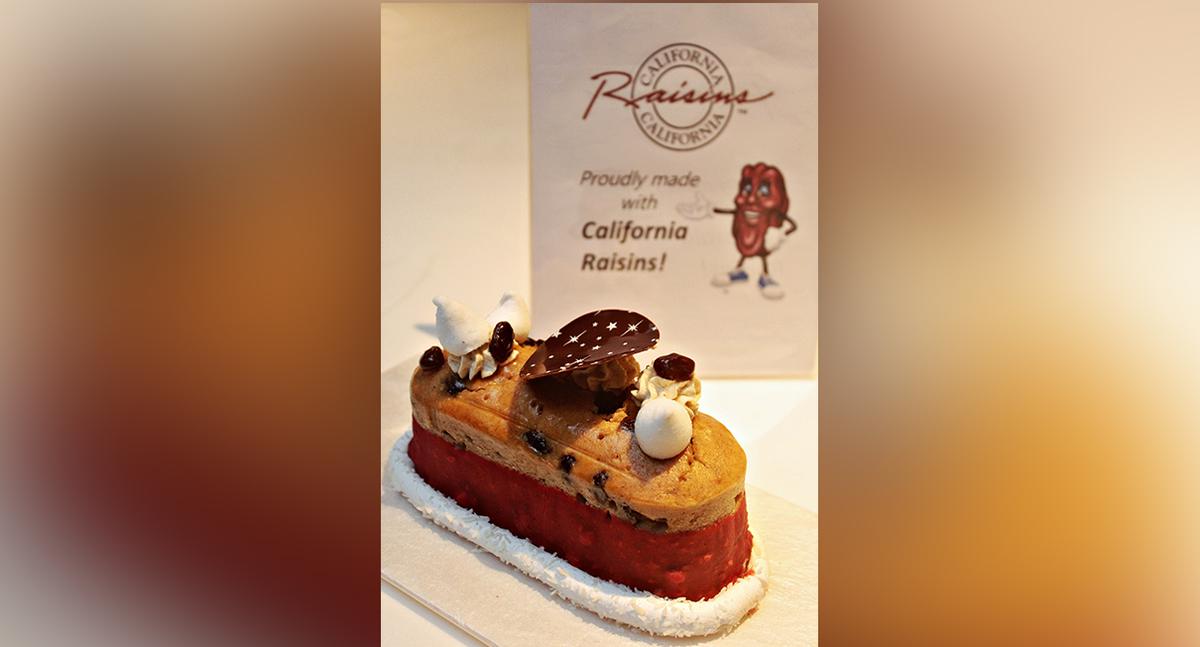 For the cake:
240g California Raisins*
330g Good quality unsalted butter
125g Caster sugar.
300g Eggs (or 6 medium-size eggs)
45ml Fresh milk
350g Cake flour
3g Salt
3g Baking powder
3g Cinnamon powder
3g Garam masala
5g Lemon zest
5g Orange zest
45ml Orange juice

*For the California Raisins:
200g California Raisins
35ml Rum
100ml water
25g White sugar

Cook sugar in water until it turns into a light syrup, add in rum remove from heat.

Soak raisins in rum, soak overnight.
Procedure:
Grease, line with parchment paper, grease again and flour 4 6 by 3 by 2.5 height loaf pans.

Preheat oven to 160°C.

 Sift all dry ingredients together.

Strain and remove excess syrup from raisins, set aside, save the syrup.

Using a planetary mixer with paddle attachment, cream butter, and sugar until light and fluffy.

Add in eggs one at a time.

Add in milk, then the orange juice.

Fold in dry ingredients, then the raisins.

Pour or pipe into the prepared loaf pans.

Bake for 35 minutes or until baked through.

Remove from oven, pour in excess syrup from soaked raisins.

Cool down to room temp, and then freeze.
For the Crispy California Raisin and Chocolate Dip coating
55g California Raisins (chopped)
55g Toasted walnuts (chopped roughly)
200g White chocolate
40g Red cocoa butter
40ml Vegetable oil
Melt the chocolate, temper, add color, temper again, and then add the oil.

Fold in raisins and walnuts.

Dip the frozen cakes until fully covered.

Finish by decorating with Christmas ornaments and marshmallows.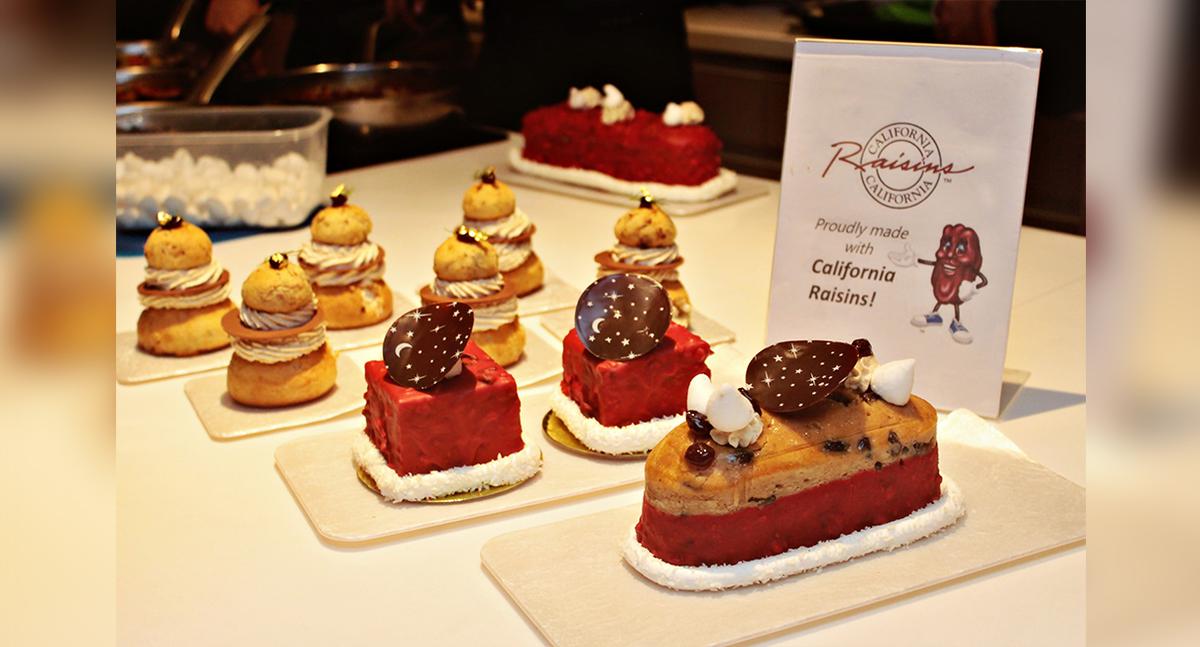 California Raisins are available in leading supermarkets nationwide. Learn more about California Raisins and recipes by visiting http://calraisins.org/ and www.caraisins.com or checking out their official Facebook Page at www.facebook.com/RACASEAN/.