In the children's novel The Secret Garden, young girl Mary discovers a paradise just beyond the garden walls: a place where everything flourishes and wonders present themselves. This is the experience Mecca Aesthetic Clinic and Spa aims to replicate.
There's a huge contrast between Mecca's facade and what's inside. Outside is an inconspicuous commercial building, but enter through its doors, and you find yourself in an oasis. The steps leading up to the entrance are marked with words that hint at the experience that awaits customers. The reception area is bright, and decorated with typography pieces and comfortable, current furniture. It serves as the starting point of a garden, if you will, and one that you'd be willingly get lost in.
The wellness center has services categorized into facials, non-invasive treatments, and massages. In the same way, Mecca is divided into parts: ascend a short flight of stairs from the reception area and be escorted to an extensive corridor lined with rooms for aesthetic treatments; walk through the other side of the reception and find a hidden staircase that leads to rooms for body treatments. Just when you think you've seen it all, a few steps from the massage rooms reveals a private theater where you can enjoy a movie, a refreshing drink, and a blissful foot massage.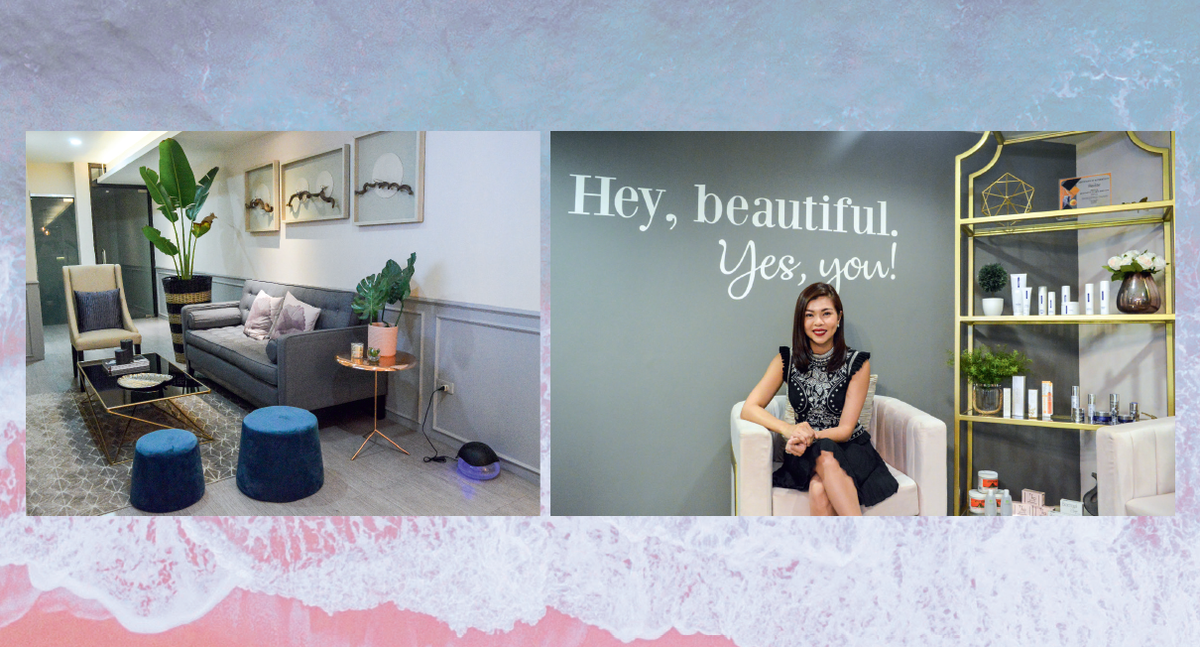 Mars Abesamis-Balajadia, owner of Mecca, wants the center to reflect its name: a beauty paradise for wellness and aesthetics. The names of the services at Mecca are trendy and far less intimidating than traditional, clinical terms. While its services are what keep customers coming, the center's photogenic interiors play an essential role in attracting patrons, particularly millennials. Balajadia worked with interior designers to create a haven in the concrete jungle, making a trip to Mecca Spa akin to vacationing at a resort, with its tropical design and relaxing elements.
Mecca has a number of services available including its popular facial and body peels, but one of its more advanced treatments is its Aqua Peel Facial. This treatment clears the skin of blackheads, whiteheads, and unclogs pores through a suction system that vacuums out debris and hydrates the face at the same time. As opposed to manual extraction, this procedure is less painful and more gentle on the skin. The center also prides in its Eximia Lipolifting Treatment which is done through its cutting-edge "sexy in seven days" machine. This has mechanisms that target body fat to tone, contour, tighten, and restore elasticity of the skin. There are also massages and spa treatments for couples and kids, as well as event packages for parties, making Mecca the perfect place for bonding with family and friends.
Of their services, Balajadia shares that she wants customers to come in, be comfortable no matter what their skin issue is, and come out a more confident, relaxed version of themselves.
Opened July just this year, Mecca Aesthetic Clinic and Spa is located at #238 Scout Bayoran st. Tomas Morato Ext., Quezon City.
Also published in GADGETS MAGAZINE November 2018 Issue.
Words by Mia Carisse Barrientos
Photos by Paula Candoy