A day in the life of an office worker involves plenty of sitting time—remaining stationary at the workstation typing away on the computer, being seated for hours in a vehicle waiting on the traffic to ease up, and lounging on the couch at home catching up on news and entertainment content. These habits may seem harmless, relaxing even, but in the long run these can cause the body aches and pains, and possibly lead to something more serious like nerve damage if not addressed.
Just recently, Neurobion kickstarted a campaign that acknowledges the Filipino workforce as "True Heroes:" working hard and often suffering the effects in silence. Neurobion Philippines is committed to raising awareness on nerve health and empowering people with neuropathy. To drive this mission forward, Neuromotion "moves to love your nerves" was developed.
The main target of this campaign are those working hours behind a desk–a demographic susceptible to nerve damage. Neuromotion is a mix of basic moves that can help alleviate numbness or loss of sensation, muscle weakness, tingling or pins and needles sensation, burning sensation, and muscle cramps, all of which can be associated with neuropathy or nerve damage.
The new Neuromotion was developed by Neurobion in partnership with fitness and health personality Coach Jules Aquino and was based on fundamental nerve exercises. It features quick, simple, fun, and easy moves you can do in the office, at home, during a commute, and anywhere you find yourself on a break.
Our bodies were designed to move, and working a 9 AM to 5 PM schedule is no excuse to skip exercising. The Neuromotion includes simple moves to help your nerves relax even while seated and only takes 2 minutes away from your day.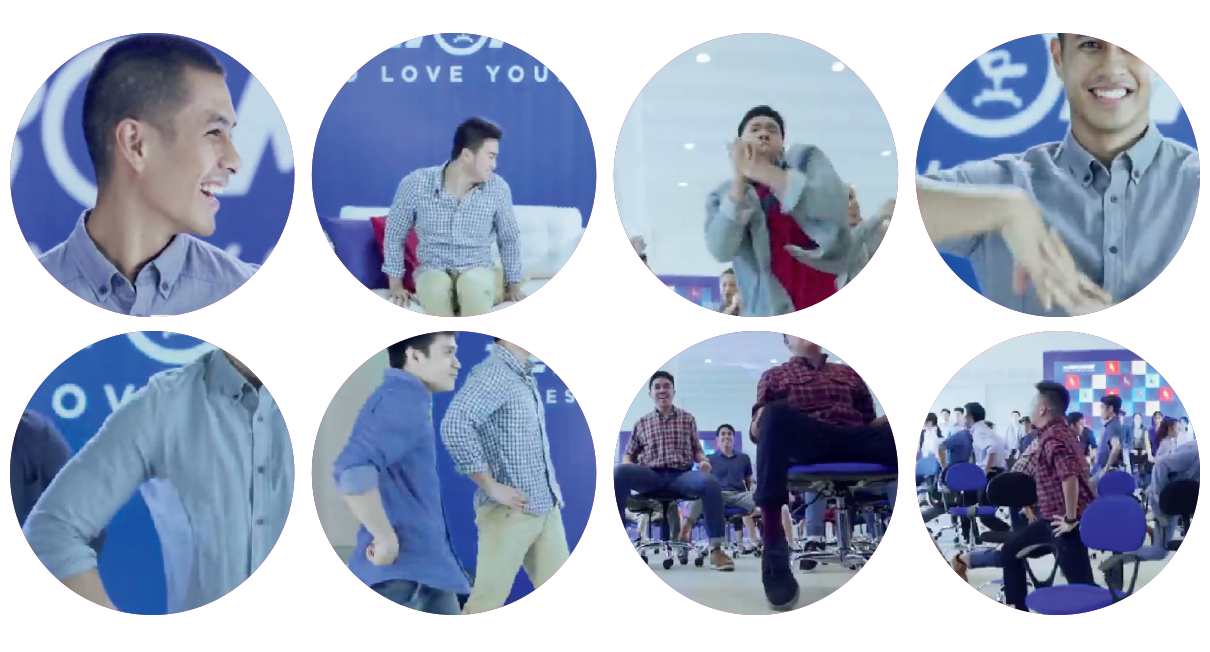 Head bobs – look to your side and push your chin forward until you feel your throat stretch. Do the same on the other side.
Head Swings – while looking to the front, have your chin face downwards and slowly swing your head all the way to one side and to the other side.
Palm twists – bring your palms together, hands clasped, and rotate repeatedly as if making an 8 figure.
Wrist waves – lock your fingers together and create a straight line with your hands, palms facing downwards, in front of you. Bring either of your elbow up and begin the waving motion from one side to the other.
Shoulder rolls – facing front, bring both your shoulders up until you feel your abdomen stretch, and slowly bring them forward, down, then back in a circular motion. Do the same clockwise.
Hip twists – facing front, bring your hands to your hips and twist your body to the side so that you are facing either left or right, then front, and to the other side.
Knee rolls – standing up, with either foot, point your toes so that your knee is bent up and slowly make a circular motion. Do the same on the other leg.
Forward lunges – standing tall, legs apart, bring one of your leg forward with a big step, and shift your weight forward. Do the same on the other leg.
"Work schedules can give us little time to care for our health. Knowing this, Neurobion developed The Neuromotion moves for the workforce that anyone can do, in the office or at home, that can give our nerves a break in a fun, exciting and memorable way," said Ming Arroyo-Cunanan, marketing head of Merck Inc. "The Neuromotion moves can help us worry less about our nerves and give us more time to do other things" she added.
"We wanted as many people as possible to be familiar with The Neuromotion moves so we collaborated with a recognized fitness personality and top visual performers to create an unforgettable show." Loy Dy-Buncio, Neurobion's brand manager said. "People who watch the performance will definitely remember The Neuromotion nerve care moves. It's only 2 minutes long and can be done by anyone anywhere."
Neurobion is a specially formulated selection of B vitamins by Merck Consumer Health that helps improve nerve function and health.
Also published in GADGETS MAGAZINE November 2018 Issue.
Words by Mia Carisse Barrientos