AC Motors, the automotive and motorcycle arm of AC Industrials, the industrial unit of Ayala Corporation, has recently introduced its online aftersales consultation platform the Master Mechanics.
The Master Mechanics online platform is AC Motors' response to keep in step with extraordinary times, and highlights its priority to protect the health and safety of its valued customers while at the same time keeping true to its commitment to provide quality products and aftersales services.
The Masters Mechanic, available online through email, Facebook, and mobile through SMS, makes AC Motors' six automotive and motorcycle brands (Honda, Isuzu, Volkswagen, KTM, Kia, and Maxus) and its pool of around 40 veteran aftersales managers and advisors available for their customers seven days a weeks from 7 am to 7 pm.
The Master Mechanics helpdesk online services cover the following general concerns: vehicles care (battery maintenance, proper vehicle storage, among other); do-it-yourself maintenance advisory; basic warranty policies; inquiries on car and motorcycle features; dealer information and services; accessories; product and brand-specific question; and guided basic checks.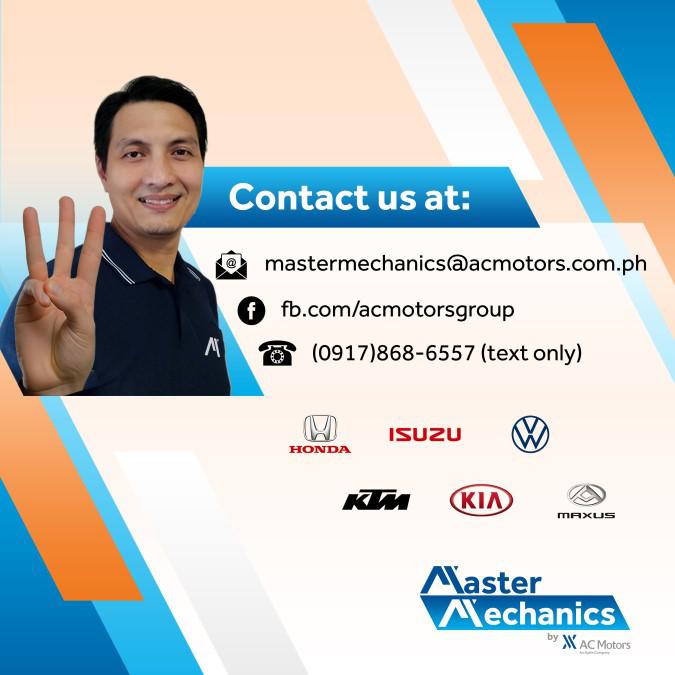 Apart from preventing unnecessary trips to the dealerships of the different brands, the Master Mechanics platform also make possible for customers who need the actual trips t the dealerships to make the actual trips to the dealerships to make their face-to-face transactions faster and more efficient, as the Master Mechanics arranged all the needed processes for the customers visit beforehand. The Master Mechanics advisors can also help facilitate between customers and emergency responders, such as towing services and hospitals in the event of road accidents or vehicle breakdowns. Best of all, the Master Mechanics services is the motorists' best tool to achieve a confident, worry-free driving, knowing that expert assistance Is readily available at the palm of their hand.
The Master Mechanics online aftersales consultation services are free of charge and available to vehicle owners of the six AC Motors' brands. Customers may send their queries via email ([email protected]), SMS (0917-868-6557), or at the official Facebook page of AC Motors any day of the week, within 7 am to 7 pm. The prompt response from the Master Mechanics will directly address the customers query.