As the government's vaccination rollout program gains more momentum across the country, Hyundai Asia Resources, Inc. (HARI), the official distributor of Hyundai trucks and buses in the Philippines, is determined to help accelerate this and encourage the business community to mobilize for recovery. Enter HARI's vaccine transport campaign: #HyundaiJabSecurity aimed at making vaccines and vaccine-administering-related activities accessible through secure and reliable mobility platforms. And for HARI, their answer is in its vaccine trucks branded as the Hyundai MedTRX Series.
Utilizing Hyundai's hard-working truck platforms and locally developed in partnership with accredited and established bodybuilders, the Hyundai MedTRX (pronounced med trucks) Series is a fleet of refrigerated vans that can cater to local governments, health sectors, and cold chain solutions providers in need of transport solutions to fast track the delivery of COVID-19 vaccines as aligned with the government's nationwide vaccination program.
The move to develop this new fleet of trucks is HARI's response to the government's call for collective action to protect the health of the country's citizens, especially those at the frontlines and the most vulnerable sectors exposed to the virus.  "Every jab counts, and so, to us at Hyundai, we feel that it's our responsibility to be part of the solution by providing vehicles that can reliably and efficiently keep vaccines secure so that they can be safely administered by health professionals to the public at large," explained HARI president and CEO Ma. Fe Perez-Agudo on the idea behind HARI's #HyundaiJabSecurity campaign. 
"With every jab secured, Filipinos can have a shot at keeping their health protected, and therefore, their livelihood and jobs protected as well because they can take part in supporting commercial activities, and ultimately, economic recovery.  And how do we bring to life #HyundaiJabSecurity?  That's where our Hyundai MedTRX Series comes in, which come fully equipped with the pre-requisites and standards necessary in assisting various sectors in mobilizing safe, systematic, and timely delivery of vaccines wherever they may be needed," added Agudo.
For the starting line-up of the Hyundai MedTRX Series, there are two key commercial vehicle platforms to choose from, specifically from the HD line: the HD36L and HD65. HARI's selection of trucks as vaccine transport has been decided on the basis of durability, efficiency, and capability to deliver vaccines in various quantities, as well as stability in navigating various roads or areas where the said goods may be brought.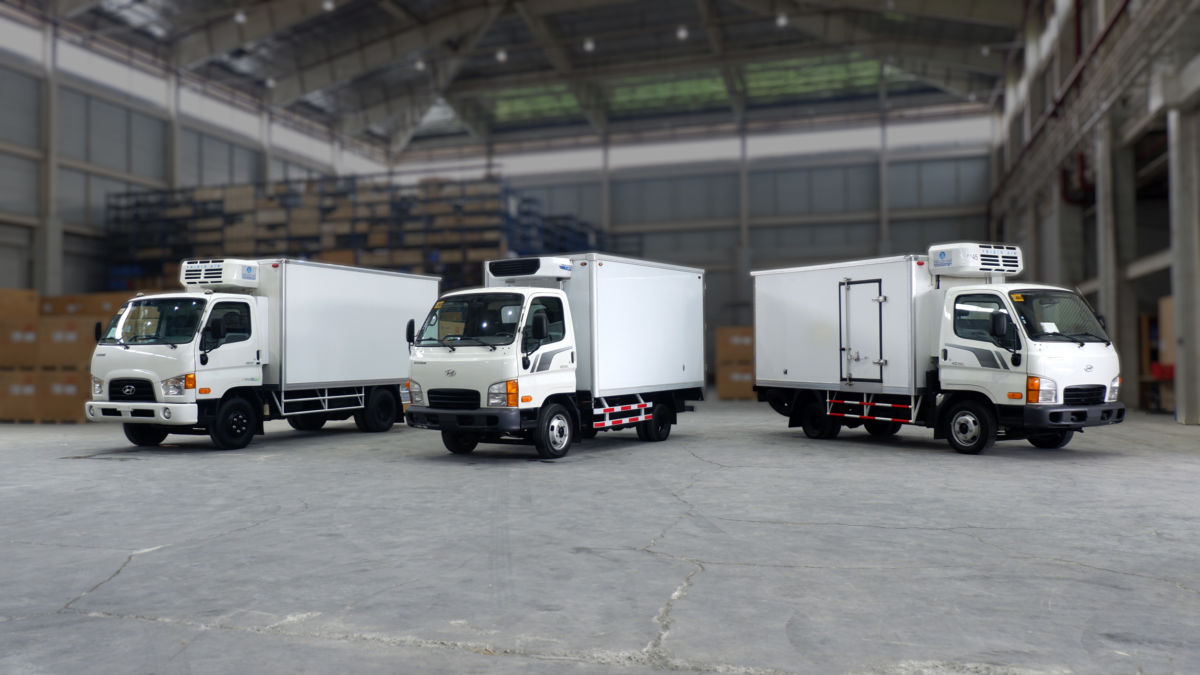 HD36L MedTRX Refrigerated Van
A 6-wheeler, light-duty truck platform built with Hyundai's high-strength steel, the HD36L is equipped with features that highlight the vehicle's dependable performance, efficiency and safety.  Its cab & chassis dimensions of 5,310mm in length, 1,760mm in width, 2,200mm in height, and wheelbase of 2,810mm add up to the suitability of the HD36L in delivering large quantities of medical supplies, such as COVID-19 vaccines.
The HD36L is powered by a 2.5-liter turbocharged intercooler direct injection diesel engine that produces high torque and speed. Paired with a 6-speed manual transmission, the truck is able to achieve sufficient fuel efficiency, as rpm is kept at a minimum during high speed, which helps during demanding delivery loads.
Safety can also be counted on in the HD36L with its host of features like the Load-sensing Proportioning Valve that allows the vehicle to adapt braking force depending on the load for reassuring braking performance, strong tires that grip the road well, and a reverse warning buzzer that helps to alert bystanders when the vehicle is backing up.
Maintenance service is also easy in the HD36L, thanks to its 45-degree tilt angle to help you conveniently check important vehicle components.
For the HD36L MedTRX Refrigerated Van, Hyundai provides two choices.  The first is the HD36L refrigerated van built with Cooltech by Centro.  Its refrigerated van body has a sturdy fit and finish with stainless lock rod and hinges.  The body is also designed with 4-inch polystyrene foam insulation to keep temperature cool, and uses the Thermal Master T-1600 refrigeration which can produce attainable temperature of negative 20 degrees Celsius.
Next is the HD36L refrigerated van developed by HK Climate Controls Inc. (HKCCI).  Its body is likewise durable and strong to capably deliver a huge load of vaccines and other medical supplies.  Outside, it has stainless lock rod and hinges, as well as side door access for added convenience.  On the inside, the refrigeration system is powered by Frigid Air 45, with attainable temperature of negative 25 degrees, and uses a 4-inch polyurethane foam insulation.
HD65 MedTRX Refrigerated Van
Built strong with a heat-treated steel frame reinforced with crossmembers and bolt-type fasteners, the HD65 is another viable truck option for your vaccine transport needs.  Cab and chassis dimensions of 6,170mm in length, 2,000mm in width, 2,250mm in height, and wheelbase of 3,415mm give it a commanding and balanced presence on the road.
Its power comes from a 3.9-liter turbocharged intercooler direct injection diesel engine paired with a 5-speed manual transmission that capably churns out high torque and speed. 
When it comes to safety, you're in good hands with the HD65, as it's equipped with a variety of active and passive safety features. Beginning at the windshield, you're afforded with excellent field of vision and clear forward lines of sight. Tires are also fitted with large brake drum linings for reliable stopping power. On active safety, the HD65 has Anti-lock Braking System integrated with Electronic Brake Force Distribution to help you keep control of the vehicle when navigating slippery or challenging terrain.
The HD65 also has a 50-degree tilt angle for easy maintenance.
Moving to the design of its refrigerated van body developed by HK Climate Controls Inc., it has 4-inch polyurethane foam insulation, stainless lock rod and hinges, and side door access.  Its Frigid Air refrigeration system allows for an attainable temperature of negative 25 degrees Celsius and comes ready with Electric Standby Unit and Automated Thermoregister to help maintain and monitor the van's temperature.  With these features, the HD65 MedTRX refrigerated van complies with World Health Organization or WHO, United States Centers for Disease Control and Prevention or US CDC, and United States Food and Drug Administration or US FDA guidelines, and WHO recommended vaccine storage temperature range of +10 degrees Celsius to negative 25 degrees Celsius.
The Hyundai HD36L and HD65 are just the first in a series of MedTRX refrigerated vans. 
Consult your authorized Hyundai dealer on the truck options available.  Log on to www.hyundai.ph to find out more about Hyundai MedTRX and check out the contact details of a Hyundai Trucks and Buses dealer nearest you.  You may also request a quote by logging on at www.hyundai.ph/shop/eb2B or email Hyundai CARES at [email protected].