After a grueling 4-day online skills and knowledge testing from June 7 to 10, Isuzu's lone dealership in MIMAROPA, Isuzu Calapan, took home the highest rank and was awarded this year's Dealer Grand Champion, besting 26 other dealerships who joined the 17th Isuzu Service Skills Olympics (ISSO).
Now on its 17th year, the ISSO is the annual service skills and knowledge competition of Isuzu Philippines Corporation (IPC). It is open to all Isuzu dealerships nationwide. Since the pandemic, IPC has shifted the competition virtually and has been remotely assessing the skills of their dealer aftersales representatives covering three categories — Parts Staff, Service Advisor, and Service Technician.
"The annual ISSO competition is a showcase of the exceptional skills and knowledge of our aftersales representatives nationwide. Isuzu Philippines takes pride in the Filipino talent as we continue to receive Isuzu Motors Limited's Triple Star Award for Distributor & Dealer Aftersales, their dedication and resilience even in the current situation are truly commendable. Every year, this competition highlights that the quality of service our dealer network provides to our customers nationwide is at par with the global standards," said IPC president Noboru Murakami.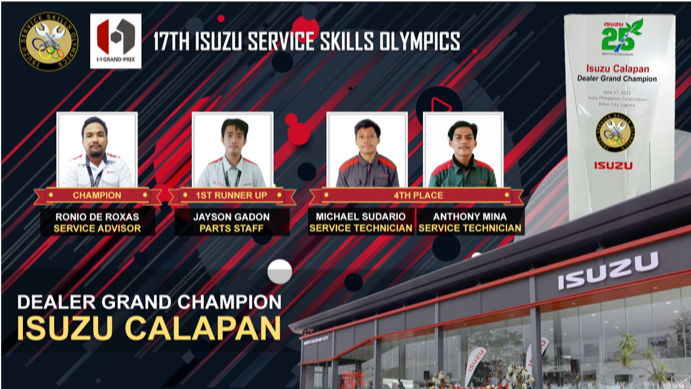 "We are very happy to receive this award. Our dealership is constantly trying to improve our skills with the help and assistance of IPC, so that we can continue to provide excellent aftersales service to our customers in the region," said Isuzu Calapan president Daniel Uy.
For the Parts Staff category, participants were tested on their understanding and correct identification of Isuzu parts products using a web-based parts search system. The winners were Alkaid Dellomes of Isuzu Pangasinan, champion; Jayson Gadon of Isuzu Calapan, 1st runner-up; and John Kenneth Basierto of Isuzu Makati, 2nd runner-up.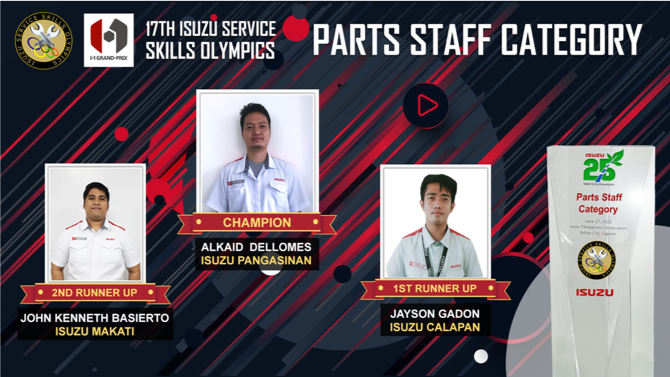 In the competition for the Service Advisor category, participants were tested on their correct interpretation and understanding of Isuzu Health Report data as well as the ongoing aftersales programs and initiatives. The winners were: champion – Ronio de Roxas of Isuzu Calapan; 1st runner-up – Lidden Patting of Isuzu Pampanga; and 2nd runner-up – Jonel Barrientos of Isuzu Iloilo.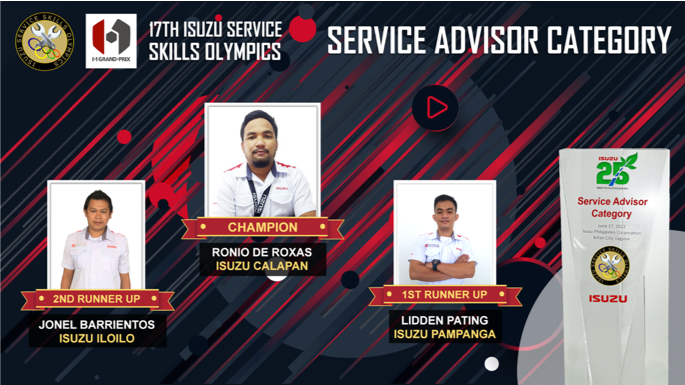 Lastly, for the Service Technician category, participants were assessed on their technical skills, including the accurate and effective inspection and diagnosis for vehicle troubleshooting and servicing. The winners were as follows: champion – Isuzu Alabang represented by Vicente Collantes and Reynaldo Gepulle; 1st runner-up – Isuzu Cabanatuan represented by Jefferson Fajardo and Jodel Amistoso; and 2nd runner-up – Arjay Ang-angan and Helbert Ruiz of Isuzu Pasig.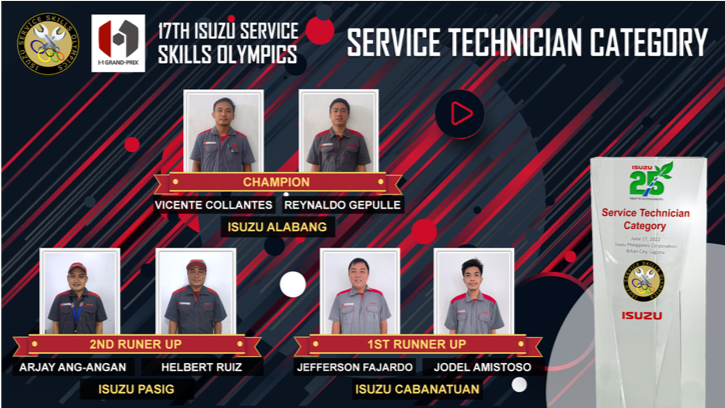 The winners of the Service Technician category will get a chance to represent IPC at the I-1 Grand Prix Isuzu World Technical Competition to be held in November, competing against other Isuzu distributors worldwide.
Visit Isuzu Philippines' promo page to get the latest offers on Isuzu aftersales or check out their owner's guide to learn more about the expert care given to Isuzu vehicles nationwide.