Isuzu Philippines Corporation (IPC) is one of the exhibitors at the much-awaited 8th Philippine International Motor Show (PIMS). The World Trade Center in Pasay City is filled once again with different types of automobiles from different brands to showcase this year's theme, Mobility + Humanity: Innovating for the Common Good.
Isuzu Philippines' take on this year's theme is an extension of their recently announced Road To Progress vision on their 25th Inaugural Anniversary last July. With sustainability and responsible partnership as their core concept, Isuzu Philippines designed a booth that encompasses the benefits of Isuzu products and services to society. More than the durable and reliable vehicles, providing mobility and transport solutions have been Isuzu's vital role in Filipino's lives which enables them to take hold of the title "Number 1 Truck Brand in the Philippines" for 22 consecutive years.  
Inside the main hall, Isuzu boasts one of their best-selling trucks, the Isuzu Traviz. With its big cargo capacity and excellent fuel economy that can reach up to 1,063km in just one full tank, the Traviz easily captured the heart of SMEs and Fleet customers alike, selling more than 10,000 units in its first 2 years in the market.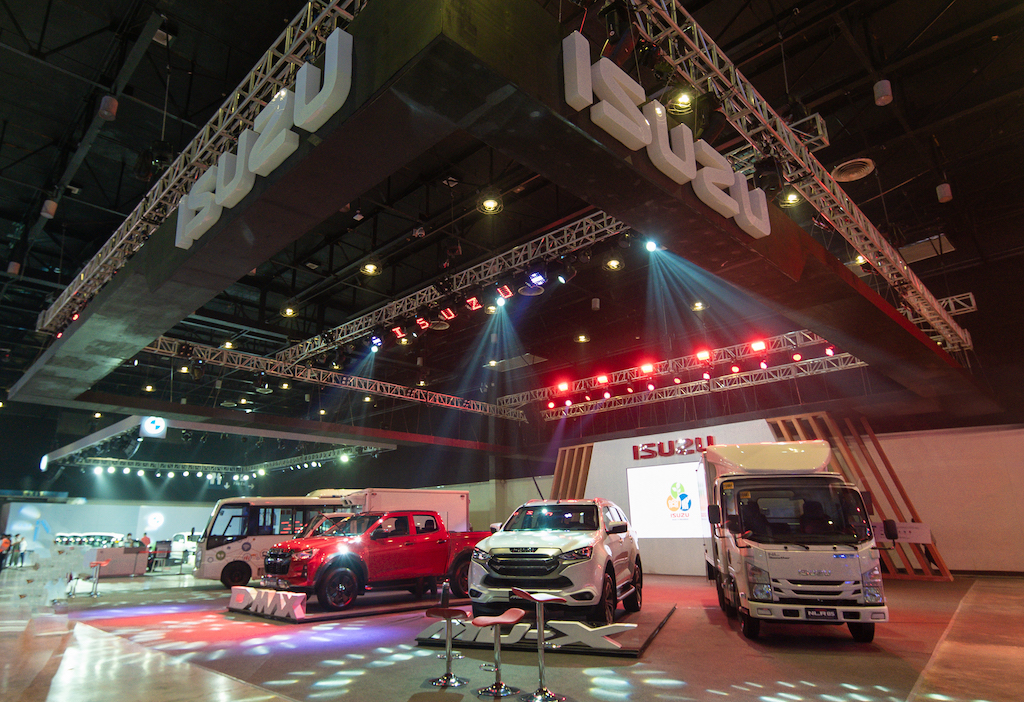 The N-Series Smoother, a first in its class with Automated Manual Transmission, also takes a spot inside the Isuzu booth. Ease in operation and fuel efficiency make it easier for drivers and even business owners themselves to drive this truck around the bustling roads of the metro.
Aiming to provide a modern and safe mass transport solution, Isuzu also displays the NLR PUV equipped with an array of safety and convenience features to elevate the commuting experience of Filipinos.
Along with the trucks, the D-Max and mu-X are the forefront of the line-up, showcasing powerful yet fuel-efficient performance, spacious interior, luxurious details, and 5-star safety features, making them an excellent choice for Filipino families nationwide.
At the outdoor display area, Isuzu publicly displays for the first time the latest addition to their heavy-duty line-up – the All-New GXZ. This 10-wheeler tractor head is equipped with the latest safety features like the Electronic Vehicle Stability Control and the Anti-lock Braking System, adding to the list of 'solutions' that Isuzu offers to meet the growing demand for safety in the trucking industry.
Together with the All-New GXZ, Isuzu also flaunts a custom-made Traviz Ambulance and NPR Double Cab to show that Isuzu trucks are not just durable and reliable, but also customizable to fit the various requirements of customers.
As part of being a responsible partner, Isuzu also offers a solution to customer concerns regarding increasing fuel prices. Isuzu Philippines recently conducted a One Full Tank Challenge for the D-max and mu-X verified by the Automobile Association Philippines (AAP).
The team embarked on a 5-day road trip with both models driven normally, traversing different road, traffic and weather conditions from Subic up to Ilocos then down to Bicol. The Isuzu D-max was able to travel around 1,564 kilometers or 20.58 km/l in just one full tank while the result for Isuzu mu-X is at 1,675 kilometers or 20.94km/l in one full tank.
With the outstanding fuel efficiency that these two light commercial vehicles exhibit in normal driving and road conditions, Isuzu proves that Isuzu D-max and Isuzu mu-X are not just comfortable and safe, but also economical and environment-friendly, providing Filipino families more savings and opportunity to travel and spend more time on the road.
And to give customers a first-hand experience of these features, test drive units are available during the 4-day event for those who will register at the Isuzu booth.
Apart from the exciting vehicle line-up, Isuzu also gives guests a glimpse of the advantages of being part of the Isuzu Family with their equally extensive aftersales programs. In their Customer Lounge area, Isuzu reiterates that they are offering not just products, but rather their 'business solution' to customers with their extensive Aftersales service. During the show, Isuzu demonstrates the exclusive Isuzu Vehicle Health Report, Fleet Programs, Parts Support, and Eco-Drive Trainings to convey that the customer journey with Isuzu does not end on vehicle purchase. The continuous partnership between Isuzu Philippines Corporation, Isuzu dealers, and customers lasts all throughout the customer's lifetime journey with Isuzu products.