Based on the available statistical data, Maxim service specialists have discovered the gender, age, operating system, and smartphone brand of an average food and goods delivery app user.
As it turns out, women in the Philippines order a delivery more often than men. Female users make up 57% of all clients. Men hold 43%.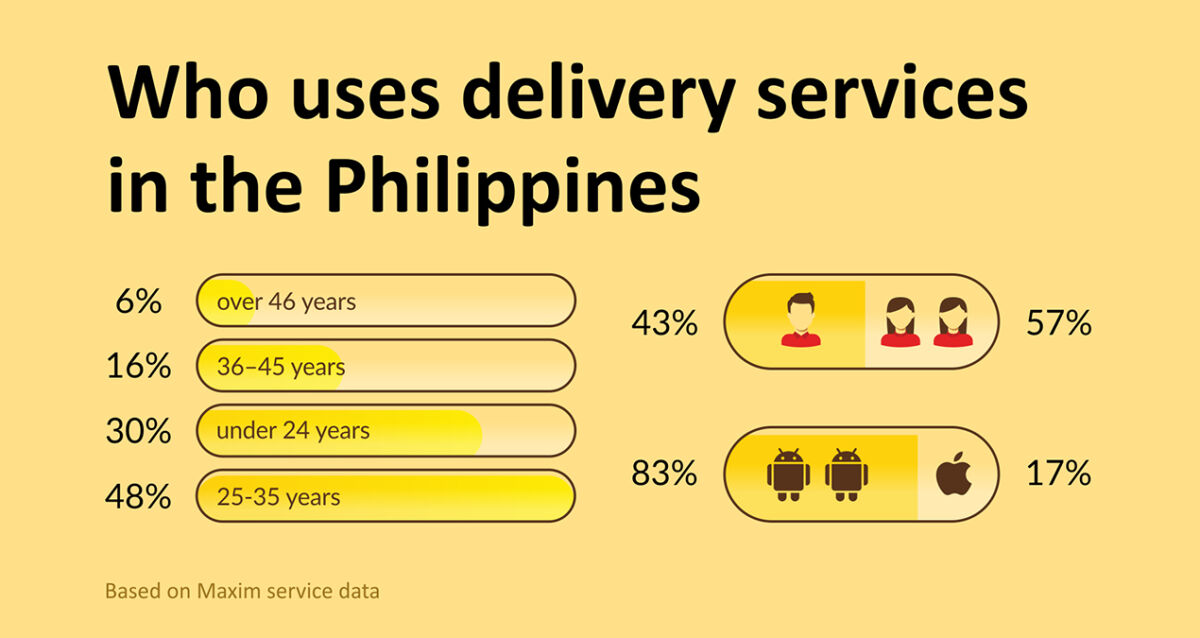 25–35-year-olds make the most orders: this age group makes up 48% of our users. People younger than 24 hold second place with 30% of our users. Clients aged 36–45 take third place with 16%. Passengers older than 46 take fourth place with 6% of all the clients.
Considering smartphone operating systems, 83% of our app installations happen on Android devices. iOS installations make up 17%. These numbers show that Android is five times more popular than Apple's operating system. However, users of both systems are equally loyal and often give high rates to the apps: the average Maxim rating on markets is 4.8.
The most popular smartphone brand among the clients is iPhone by the American company Apple whose owners make up 17% of all the clients. Slightly less popular are the smartphones by the Korean company Samsung (15%) and two Chinese brands: OPPO (15%) and Vivo (14%). Chinese Realme holds third place (12%). Xiaomi and Huawei share fourth place with 10% and 8% of the total number, respectively.
So what does a typical user of the food and goods delivery app look like? Most likely, it's a woman of 25–35 with an iPhone.
"The Maxim app in the Philippines has already been installed several million times. Our users can order goods delivery by moto or car. Clients can also use our app to hire a mover, to get a courier to buy or delivery goods or order laundry services. In today's world, it's a versatile tool that can help people in a variety of situations. Ordering a dinner for the whole family, moving to another apartment, sending a gift to your loved one… The list can go on and on. We're glad we've managed to create a service that is now used by millions of people in 18 Philippine cities," says Christopher Landong Poliran, head of a Maxim service subdivision.