Honda Safety Driving Center now offers the Motorcycle Gymkhana course to enhance precision riding through an obstacle course under time pressure. Students are challenged to weave through an assortment of obstacles to test the student's throttle control, balance, and weight transfer abilities around tight corners under low range speed. Challengers run their bikes as quickly and as precisely as they can in the shortest amount of time possible following prescribed conditions. Riders are generally required to wear complete protective gear consisting of a full-face helmet, gloves, knee and elbow pads, and closed shoes.
All kinds of bikes can be used in the Motorcycle Gymkhana course, whether it is a feisty underbone or a tough sports bike with a larger engine. Either way, students can expect the same quality of training regardless of engine displacement.
The Motorcycle Gymkhana is not an unfamiliar motorsport for many. Its roots can be traced back to Japan, from where it quickly made its way to Asia and Europe as well as certain places in North America. While similar activities are offered elsewhere, HSDC students are guided by top-class and highly-skilled instructors ready to impart their knowledge in this unique motorsport.
Alex Gregorio, the research and development leader for small motorbikes, recalls that the incorporation of the Motorcycle Gymkhana program into HSDC's current course line-up was "NECESSARY" as there is an ever-growing local motorsports fanbase. The entire HSDC team believes that the inclusion of this course will not only add to the school's growing list of available courses but also add value and serve the students in a more unique manner.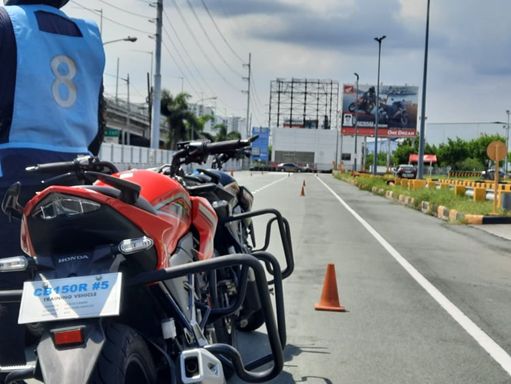 Without compromising safety, Honda Safety Driving Center guarantees that learners of this course will truly harness the full capabilities not only of their motorbikes but also their skills in precision riding for safer roads for everyone.
Honda Safety Driving Center is the road safety advocacy arm of Honda Philippines Inc. and offers a vast array of training courses for both 4-wheeled and 2-wheeled vehicles depending on the needs of the customers. Over the years, HSDC has developed courses for basic training, defensive driving, big bike training, and various courses for fleet accounts, among many others. The company thrives by providing what a learner needs and imparts only the highest quality of education with regard to road safety discipline because the company believes that everyone must respect all road users.