From delicious cuisine, an enchanting coastline, to relaxing lodging, Aureo La Union has elevated itself from the pack by focusing on what travellers want to get out of travelling: R & R.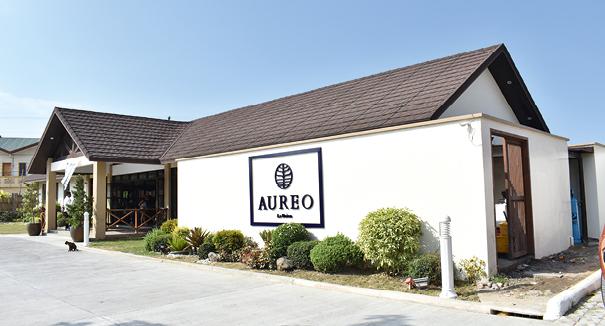 This resort and hotel sits on an expansive lot by azure waters. Entering its gates, guests are welcomed to an enchanting villa where they can rest and reconnect with nature. Duplex, island-style rooms are spread across the property, while shaded sitting areas with native furniture and adornments can be found all over the resort's vast grounds. While lounging in its open areas, guests can relax to the cool wind from the West Philippine Sea.
Constructed in 2016, it was only early this year that the resort officially opened to the public. From the reception to the rooms, Aureo La Union exudes the kind of calm city-dwellers crave. Wood, stone, and earthy colors, along with greens and cool hues, are used copiously, all of which calm and soothe the mind. As a nod to its name Aureo, which is Spanish for gold, the resort is filled with premium furniture arranged to fit right into its tropical paradise aesthetic.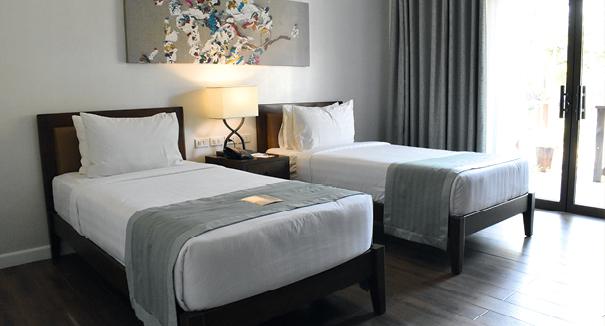 At Aureo, there are two lodging options travellers can choose between. Superior rooms can have either a king-sized bed, or two single beds, with a patio that leads to a beautiful garden or an infinity pool. Deluxe rooms, on the other hand, face the beach for viewing sunrise and sunsets. These rooms are complete with grooming necessities, Wi-Fi access, television, and everything else that contribute to a comfortable stay.
After fully taking in the beauty of the sea, you can enjoy the water activities offered at the resort. If you're feeling extra adventurous, you can explore the wavy ocean on a paddle board or a kayak. While the sea is great, Aureo also has two infinity pools guests can cool themselves into with one overlooking the ocean. This lagoon-like pool sits by the Aureo cafe which serves drinks and also rents out fun floaters for summer-themed photo sessions.
Aureo La Union is not without delicacies that will satisfy the palate and please eyes and bellies that hunger for good food. Guests can choose food that is to their liking at the buffet, or order local favorites fashioned to Aureo's standard to satisfy their cravings.
Travellers looking to visit the north should make Aureo La Union their destination for a vacation.
Tariff Rates
Weekdays (Sunday-Thursday)
Superior-PHP 6,850
Deluxe-PHP 7,500
Weekends (Friday-Saturday)
Superior-PHP 8,100
Deluxe-PHP 8,700
Also published in GADGETS MAGAZINE April 2018
Words by Mia Carisse Barrientos | Photos by Gadgets Team