Continuing its winning streak as the world's best in service skills and technical knowledge, Team Isuzu Philippines' technicians was hailed as the grand champion of Isuzu I-1 Grand Prix World Technical Competition held at Isuzu Monozukuri Service Training Center in Japan.

The I-1 Grand Prix World Technical Competition is a global competition for technicians coming from different Isuzu subsidiaries and operations worldwide. Held annually, the I-1 serves as a search for Isuzu's number one crew in terms of service skills and automotive knowledge. It is divided into two divisions: the LCV and CV Division. Team Philippines finished at the fourth spot for the LCV Division. The CV Division, meanwhile, is further divided into two categories–Category A: Euro 6 Emission Class Regulation and Category B: Euro 4, and below Emission Class Regulation.

Our very own Team Philippines is composed of technicians and Isuzu TESDA graduates Jusua B. Cantre (Isuzu Bulacan) and Khent John Q. Ventura (Isuzu Cavite). They were guided with coach Gian Franco R. Cosico from IPC, and has beaten 70 technicians from 35 different countries across its global dealership network to bag the top spot in the Category B, Euro 4 and Below Emission Class Regulation.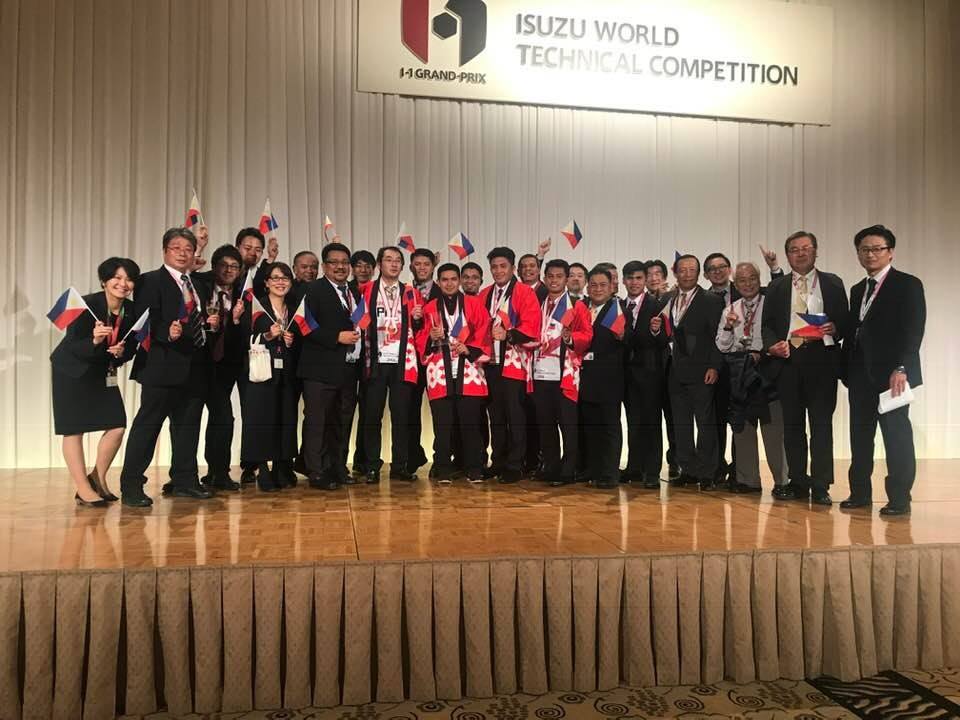 Isuzu Philippines' team has consistently placed 5th or higher in the Isuzu World Technical Competition since 2013. The group has been previously awarded 3rd in the CV Division Category B in 2013, 2nd in 2014, 1st in 2015, 3rd in 2016, and 5th in 2017. A large part of its success has been attributed to IPC's annual Isuzu Service Skills Olympics (ISSO), apart from the professional dedication and discipline the IPC dealers' Parts and Service personnel pour into their daily work.
IPC president Hajime Koso extended his congratulations to the winning members of the team: "Team Pilipinas' inspiring performance at the recent Isuzu I-1 Grand Prix World Technical Competition serves to reinforce IPC's reputation as a world-class workforce. Our teams have been consistent winners since 2013, and though there is always room to be even better than before, it cannot be denied that the training our technicians receive, combined with their dedication to their chosen craft, has made Team Pilipinas, and IPC, the standard bearers in the world stage. At the same time, I am also very happy that our teams' achievements in this competition in the past years have served to inspire members of our dealership network in the Philippines to strive to be the best in their own capacities."