With the traffic we face, there are few things worse than having to endure it in a sub-standard ride. Hyundai has consistently given us vehicles that perform wonderfully, so we expected no less from the all-new Elantra. We got to take it around for a few weeks, and here's what we thought of the experience.
DESIGN: 4.0/5.0
The all-new Hyundai Elantra is gorgeous. It perfectly brings together stately and sporty, with an elegance to the lines, without detracting from a distinct muscular stance. The large, hexagonal front grille flows smoothly into the slim HID headlight assembly with daytime running lights, and onto the broad hood. That line carries over along the Elantra's profile, sweeping upwards and back, all the way to the rear lights. A broad, low-slung roof makes it appear to hug the road closely, further reinforcing the sporty exterior. The combination of sharp lines up front, and elegant, flowing lines to the rear give it a stance that makes it seem like it's more than capable of tearing up the road, while remaining refined enough to hold back. It's a head-turner, there's no doubt there. 18-inch alloy wheels are the icing on the cake, and give it that little kick that separates it from the plane Jane sedans you'll see plying the roads of the metro.
HARDWARE: 4.5/5.0
The image of a restrained monster holds true once you look under the hood. The heart of this beast is a 2.0-liter engine that's capable of putting out an impressive 152 ps at 6200 rpm, and
19.6 kg-m of torque at 4000 rpm. That's enough to propel the car to a max speed of 202 kph in short order. This is mated to a 6-speed automatic transmission that shifts smooth, and surely. Keeping the rubber on the road is a MacPherson strut-type suspension on the front and rear, and keeping that power in check are disc brakes also on the front and rear.
Inside, you have a leather tilt and telescoping steering wheel with Bluetooth call and audio controls, and a 5-inch, full-color, touch-sensitive head unit to control your entertainment functions, and the six-speaker setup you have at your disposal. This complements the rest of the uncluttered center console, with rotary temperature and fan knobs, and large buttons for all the additional functions for the entertainment and climate controls. The engine start button is in its own place, well within the driver's sight line, and out of the way of any other buttons you might be hunting for. Mirrors, doors, and windows are all powered, though seat position and height are manual—no big deal though, considering all the other creature comforts you get.
USER EXPERIENCE: 4.0/5.0
If you're trying to get somewhere, this is a car that will take you there in a hurry. The beefy engine doesn't hesitate to pick up, and power transfer to the wheels is smooth and free from shift shock. Seriously, a quick tap with your right foot pushes you snugly back into your seat in short order. While top speed isn't likely (or legal) on our roads, know that you'll run out of road well before you run out of go. Should the car need a little push, just pop the shifter to the side, and you can downshift as much as the situation warrants.
The Elantra has steering to match. It's wonderfully agile, much more so than a car its size might make you think. You can make the most of gaps in traffic, or change lanes with ease, even while going at a reasonable clip. This was surprising given just how plush the transmission was. I'm used to what others might call a sportier feel to my suspension, and while the Elantra does a great job sticking to the asphalt, it does so while remaining wonderfully comfortable over the many bumps our roads are plagued with. Those of you who have small children, easily frightened pets, or creaky backs are going to appreciate the ride.
Comfort levels are raised even higher thanks to a surprisingly quiet interior. Road noise is reduced to a low rumble, and the outside is kept squarely where it belongs. More than once, I had to be careful to keep myself occupied with driving music lest I get drowsy at the wheel. Back passengers even get rear vents to battle the oppressive tropical heat.
Road warriors have a lot to like about the all-new Elantra. Apart from a truly massive trunk space, the back seats fold down flat, allowing you to load up particularly large or long cargo. Bags, groceries, sporting equipment, they'll all fit, no problem.
That zip does come at a bit of a price. Driving in traffic drains the 50-liter tank rather quickly. During our tests in Christmastime traffic, we were pulling just under 8 km/l. Not terrible, but not the most frugal fuel-wise either. Either way, it's to be expected from all that muscle under the hood.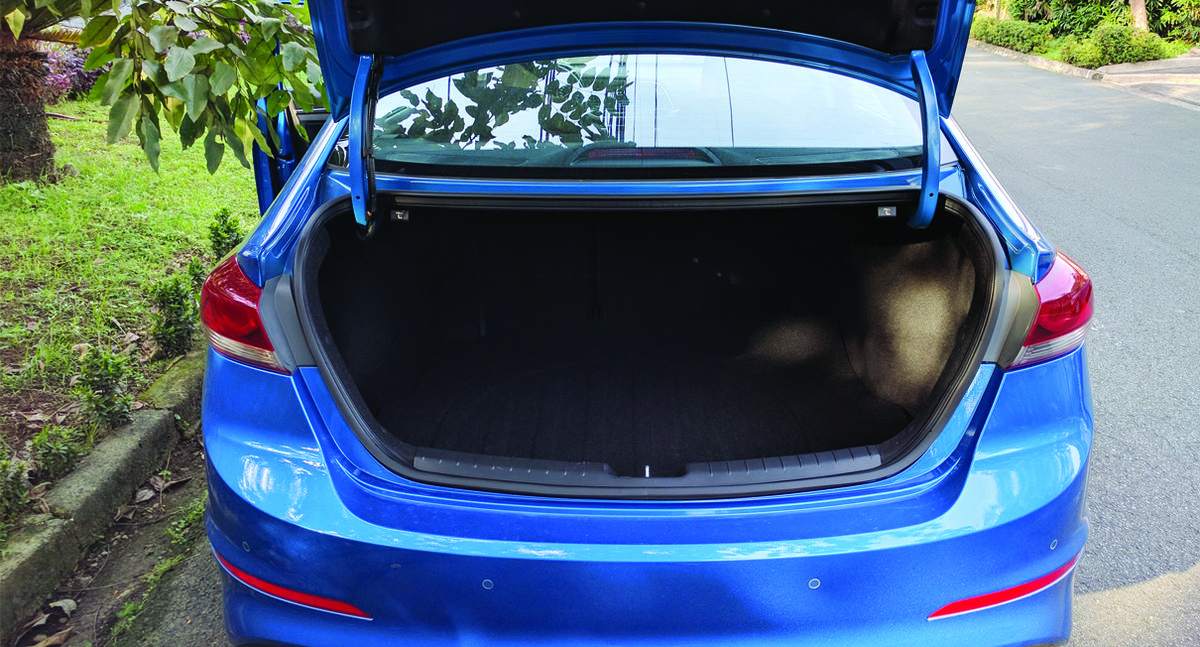 VALUE: 4.0/5.0
At PHP 1.158M, this is a car that will take a bit to take home. Still, given its outstanding performance, comfort, and jaw-dropping style, it's well worth the price of admission. It's a car that'll be just as happy zipping around the city as it will be tackling some winding mountain roads, and it's got the looks to boot.
What's Hot:
– Plenty of power
– Comfortable suspension
– Great looks
What's Not:
– Drinks up petrol
– Price isn't for everyone
Bottomline:
It's as good a car to drive as it is to be seen in.
Also published in GADGETS MAGAZINE February 2017 issue
Words and Photos by Ren Alcantara