Transportify, one of the country's leading logistics and trucking platform, shares its recent study about the changing mix of vehicles enrolled in its app and the several external factors that affected such.
As one of the staple workhorses in the Philippines for decades, the Mitsubishi L300FB has been used both for cargo deliveries and passenger transport. Even if the company has a much wider assortment of larger delivery trucks operating on its platform, Transportify customers recognize and prefer the green-stickered L300 fleet over other models. However, this trend is continuously changing.
According to the study that Transportify conducted, the driver preference of delivery vans in the market has been evolving over the last few years. Although the Mitsubishi L300 is still the most popular choice among the company's driver-partners, it has significantly decreased from 58% in 2016 to 30% in 2019. Delivery vans with a conventional body, such as Toyota Hiace, Nissan Urvan, and Foton Transvan, shows a material representation compared to other vehicles. Meanwhile, the Hyundai H100 presents an important growth, with an increase of 18% between 2017 and 2019 capturing the share primarily from the Mitsubishi L300.
Transportify also notes that the implementation of the Euro4 requirement of the Clean Air Act also affected the mix, especially for the Mitsubishi L300. There are comments from driver-partners about not being able to purchase or delaying purchase decisions to
wait for the new Euro4 version of delivery vans. Chinese manufacturers are also starting to gain some traction in the commercial van space, with Foton showing the fastest growth. Other Chinese automotive brands include JAC and BAIC.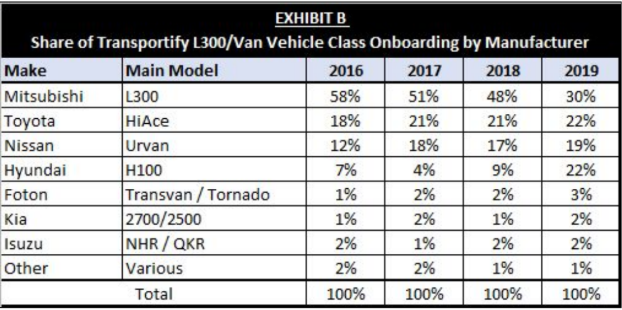 With the new Euro4 Mitsubishi L300 and the Isuzu Travis, Transportify is excited to announce new developments on its platform for 2020. Customers shall look forward to seeing more of the said models, as well as other Chinese delivery vans such as the BAIC H5 and Dongfeng Captain T on the road. Smaller vehicle options will also be available in the form of Foton Gratour and Suzuki Carry.
Within Metro Manila, Transportify rates for one trip in a day could be between PHP 1,500 to PHP 3,000. For full-time delivery vans such as the L300, earnings can go from PHP 80,000 to PHP 170,000 in gross monthly bookings with a monthly average of PHP 110,000.

Apart from the mentioned models previously, Transportify also accepts the following vehicles on its platform:
Kia 2700/2500
Tata Superace
Dongfeng Captain-T
Other light trucks like NHR, QKR, Tornado, etc.
Given all these developments, it is helpful to map out the market in terms of price with some remarks from some of the company's driver-partners.