Rotterdam's claim to fame is that it is Europe's largest port. It is also notably one of the busiest economic centers in the Netherlands, especially with its proximity to the Hague. But what most visitors find most surprising when they arrive in the city is its amazing architecture.
While Amsterdam has quaint row houses, the Rotterdam cityscape is refreshingly modern. This is because the city-center was literally flattened by the Nazis in World War II. The post-war reconstruction offered opportunities for experimentation in structure and design–a trend that continues to this day. Even if you're based in Amsterdam, set aside one day to visit Rotterdam. You may purchase a round-trip ticket to Rotterdam from Schiphol airport, and you can also purchase a Rotterdam tourist day-pass for EUR 13.50 that will allow you to go around Rotterdam using all modes of public transportation.
If you are interested in modern architecture and avant-garde design, a visit to Rotterdam is a must. Most notable of the awesome buildings you will find in Rotterdam is the Markthal–a uniquely designed residential and office building that was opened in 2014 with a market hall below the arched atrium. The building is especially photogenic when its lights on in the evenings.
The market hall is popular with both locals, tourists, and building occupants.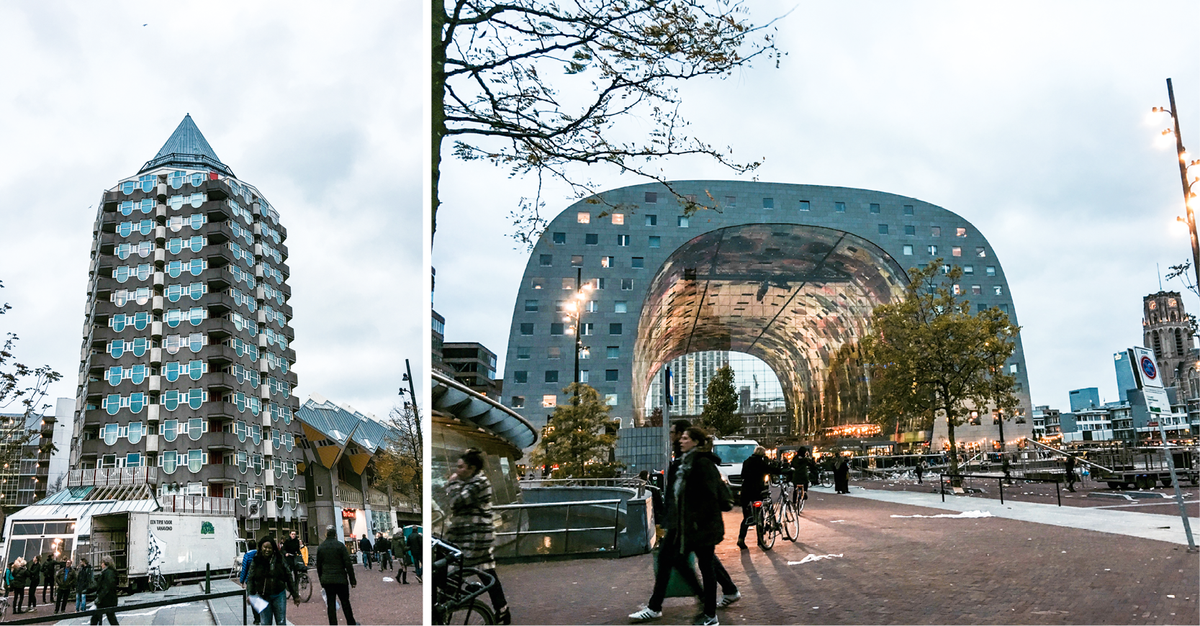 There is an Albert Heijns supermarket in the basement, stalls that offer a wide array of products on the ground floor, including all kinds of spices, ham from Spain, an Asian grocery store, and so much more. Plus, there are several restaurants and bars on the mezzanine level.
Just around the corner from the Markthal, right above the Blaak Subway Station, is the unusual Cube House designed by architect Piet Blom. It is designed to efficiently use space, not only within the living quarters inside the building itself, but also how it is situated. It is quite a surprise to see a subway train emerge beneath one of its archways.
On your way to the Markthal, you will cross a bridge that you might have seen in movies and on TV. The Erasmusbrug (or Erasmus Bridge) is also known as the Swan. It is a combined cable-stayed and bascule bridge that is less than one kilometer long. The appearance of the cable-stayed part is the reason for its nickname, but it is the bascule part that makes it most interesting: it is quite fascinating to watch the bridge go up to allow ships and boats to pass through.
While in Rotterdam, you might also want to visit the Rotterdam Zoo. It is one of the oldest zoos in the Netherlands and is known to be one of the most beautiful zoos in Europe. The zoo's menagerie includes Sumatran tigers, African gorillas, Asian lions, and Asian rhinoceros. It also has an oceanarium and a botanical garden in the grounds.
Drop by this city for its modern architecture, and stay for an antiquated travel experience.