For many Filipinos, flying out of the country to international destinations is more convenient than discovering the wonders of the Philippines, mainly because of the perceived difficulties of inter-island travel. Admittedly, road trips are gaining popularity, as can be evidenced by the monstrous traffic jams on the expressways during long weekend holidays. But these journeys are mainly confined to Luzon locales which are accessible by car. Usually, a vacation to a Visayas or Mindanao destination involves careful planning, watching out for airline seat sales, and buying your plane tickets months ahead of your planned holiday.
Roll-on, roll-off ferries for inter-island travel have been around for many years, but these were usually associated with cargo vehicles or provincial buses. Schedules were iffy, passenger accommodations were meager, and safety was often a concern.
With Archipelago Philippine Ferries Corporation (APFC), traveling through the country's major islands is fast, safe, and convenient. Their FastCat fleet is the first and only catamaran Ro-Ro ferry in the country, specially-designed for the Philippines'weather and sea conditions.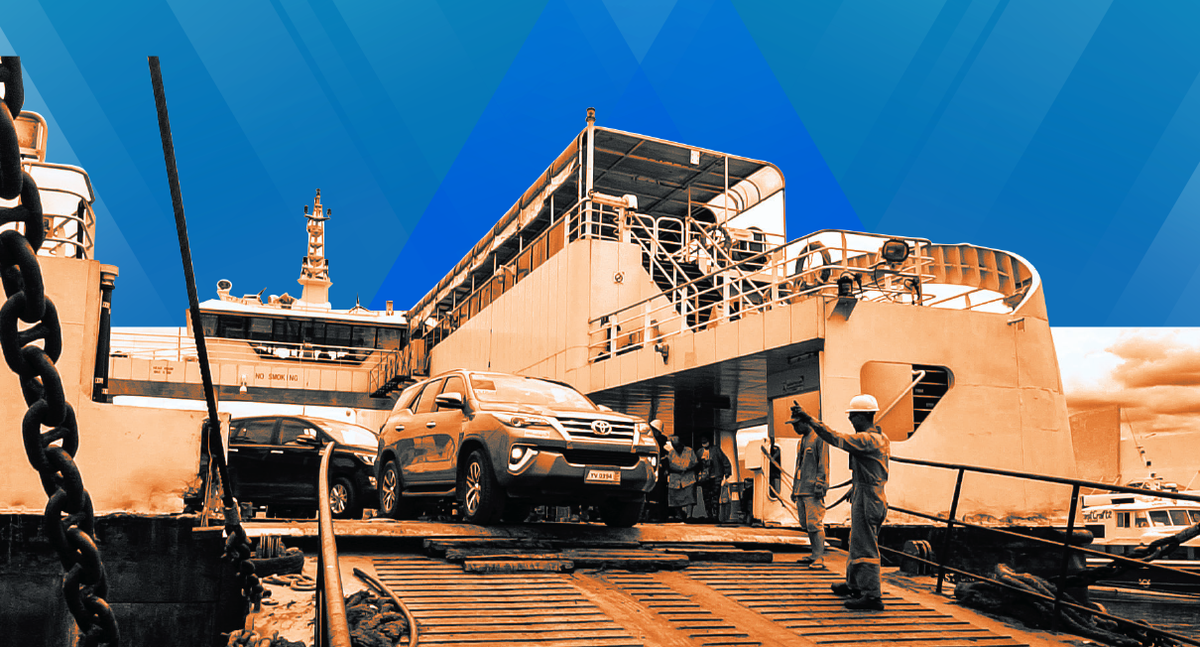 The car deck—accessed via a roll-on, roll-off ramp—can hold up to 34 cars and 7 trucks or buses. The freight charges vary according to the size of the vehicle, ranging from a few hundred pesos for a bicycle, to around PHP 2,000 to PHP 4,000 for sedans and SUVs, and over PHP 60,000 for 20-tonner heavy equipment. The driver of the vehicle gets free passage. To board a vehicle, all you need is a copy of the OR/CR, plus a valid government-issued ID for the driver.
Passengers will also enjoy the amenities offered by FastCat ferries. Three levels of accommodations are offered: The most basic is the Sundeck or Economy, which is an open area with bench seats for up to 107 people. The Premium Economy class has seats for 105 people, LCD TVs for entertainment  and is air-conditioned. Finally, the Business Class is similarly fully air-conditioned, has an LCD TV, and 63 reclining seats. Snacks and drinks are provided for Business Class passengers. Individual life vests are also available on all the seats.
Senior citizens and persons with disability can enjoy the mandatory 20% discount and no VAT, while students get a 20% discount. Children age 3-7 years old travel at half-price, while those below 3 years old are free of charge.
There is an elevator to provide access to people with special needs, such as the elderly and the disabled. A snack bar, offering a wide selection of food and beverages, offers added convenience.
Booking passage for vehicles and passengers are easy, as there an online booking facility on the FastCat website. Of course, you can also get tickets at the FastCat booths at the port terminal. Each port has its own set of regulations and terminal fees, so even if you have pre-booked your tickets, vehicles should be at the port at least two hours prior to boarding time for inspection, while passengers are expected to be at the boarding area at least 30 minutes before departure time.
For travel junkies on the look-out for their next road trip adventure, check out the possibilities that FastCat offers for inter-island travel. For sure, you're going to discover and appreciate the Philippines as an archipelago, and bring home beautiful snapshots and heartwarming memories of as-yet unexplored and hidden natural panorama and cultural treasures.
For more information, visit www.fastcat.com.ph.
---
FastCat Routes
You can literally drive the entire length and breadth of the Philippine archipelago with FastCat ferries, which now serve eleven major inter-island crossings on the Philippine Nautical Highway System.