Before "Instagram-worthy" became a thing, Bali was place whose photos made my heart skip a beat.
The greens of this tropical paradise and how they blend with the colors of the sunset is remarkably breathtaking. It was that natural beauty that piqued my interest, and made the destination a constant topic among friends. The endless talk led to dreaming, and the dreaming became planning, until finally, we found ourselves aboard a budget-friendly airline that would take us to Bali, Indonesia.
My friends and I created an itinerary that would appeal not only to those who have limited resources but also to those who want to make the most of their stay.
A four-hour plane ride from Manila took us to Denpasar International Airport, where we went straight to the foreign exchange counter. To our delight, the exchange rate when we arrived was at 1IDR = 0.0037PHP.
While we're talking about budget-friendly, allow yourself to spend a bit on Grab, instead of taking a cab, to save yourself the stress and harassment that can come from having to deal with the occasional bad taxi.
We were a group of seven people so it was definitely more practical to book a villa. The first villa that we booked was in Kuta; the nearest town from the airport, making it one of the most accessible places in Bali. We also learned that Kuta is perfect for night owls like us, who are always ready for a bit of bar-hopping.
Right after checking in, we immediately got down to business and paid a visit to Garuda Wisnu Kencana Cultural Park, one of the biggest and tallest statues in the world. We rented bikes to get around the vast park that offered breathtaking scenery that I realized, really is good for the soul.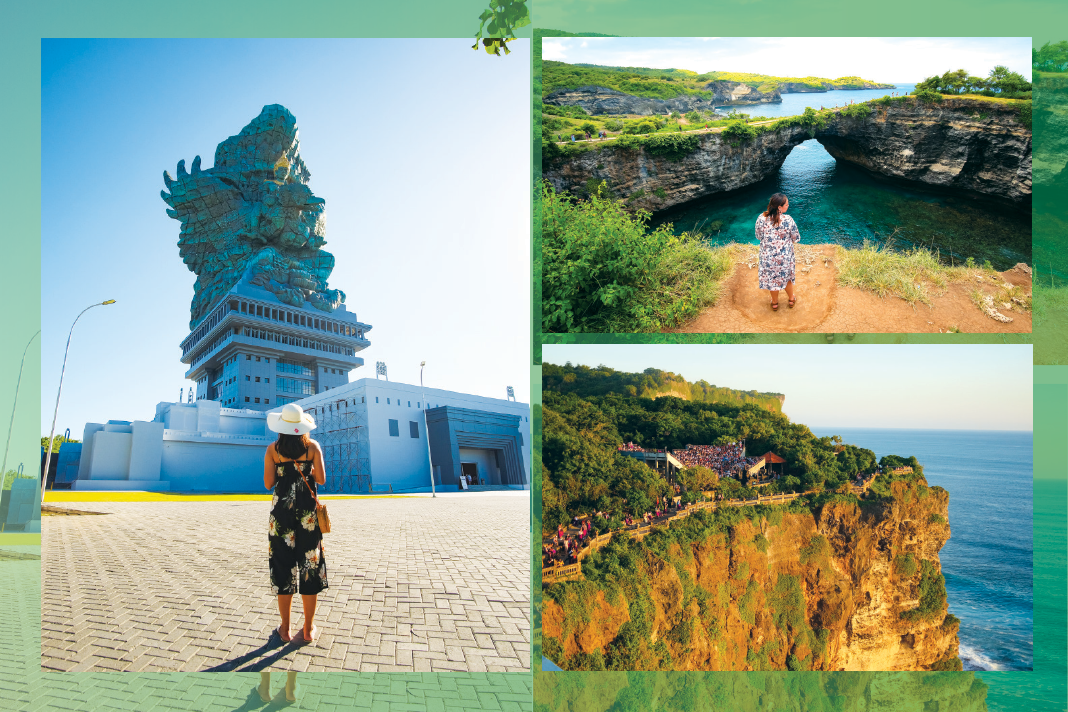 The Uluwatu Temple gave us perhaps the most stunning views of the waves crashing on the side of a cliff overlooking the Indian Ocean. It would have been the perfect place to shoot a dramatic movie scene with an appropriate epic score. For sunset-stalkers, pay a visit around 5 p.m. and wait until the changing colors of the sky, and the quiet blanket of night turn you into a whole different person.
Let me snap you back to the real world for a moment though. Be wary of monkeys at the temple. They are attention-seekers who will take any opportunity to grab your belongings and disturb you from your quiet soul-searching.
If you still have time to spare, I suggest you pay a small fee, and watch a Kecak dance performance at the amphitheater to cap off your day.
We opted for the Nusa Penida Island Tour on the second day. The island in the southeast of Bali appealed to us simply because it remains unspoiled. We strongly recommend pre-booking the tour to save time and make the most of your vacation.
Nusa Penida can be reached through the Sanur Port, which we got to by booking a Grab. The 30-45-minute boat ride from the port thoroughly built up the excitement and anticipation, and the destination did not disappoint. The sheer size of the island overwhelmed us but we were more excited to see Kelingking Beach. We were sad we didn't get to take a dip in the water, as there was so much yet to visit, but the visit was still worth it for the famous T-Rex-shaped cliff that draws visitors in from all over. Our thirst for Bali's beautiful scenery was also met with a thirst for fruit shakes, which was quickly satisfied at Angel's Billabong.
A visit to Bali must always be marked with swimming at Crystal Bay, and its clear, cool water perfect for the summer weather.
A trip to Bali wouldn't be complete without a visit to Ubud. We left Kuta for Ubud Villas–a famous tourist spot in upland Bali that is surrounded by rainforests and rice terrace, with a side trip to Uma Pake where the people in charge gave free tours for tourists.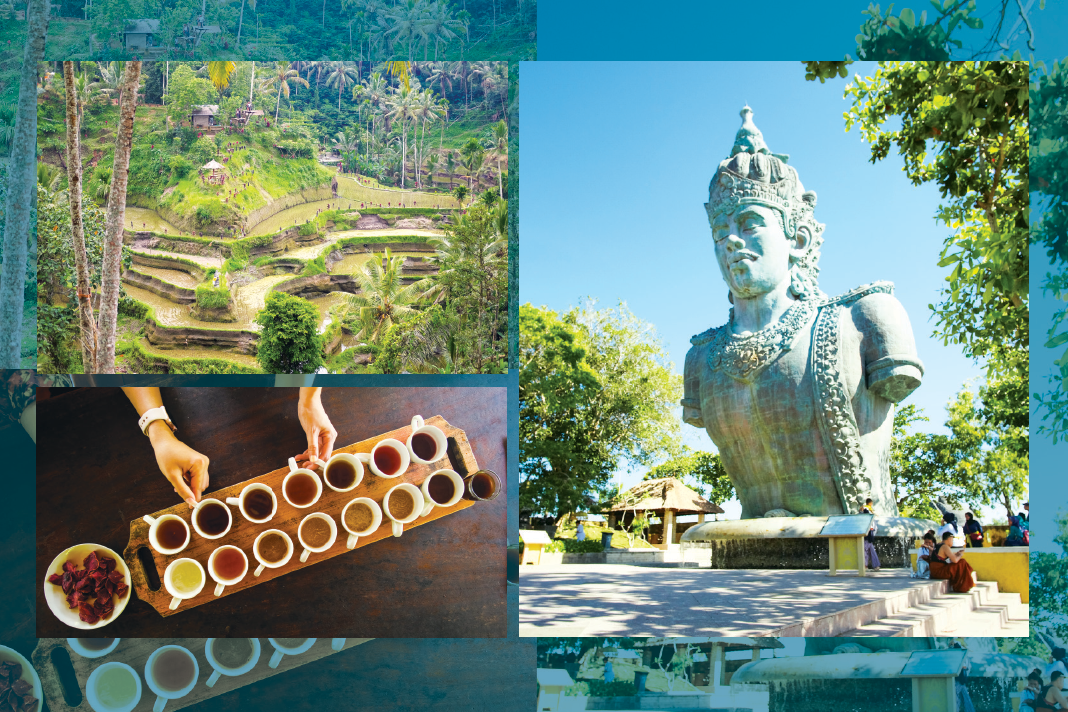 The Bali Swing and Nest is famous for a good reason. We had to try it out for 200,000 IDR (about PHP 700) Make sure you snap a photo to immortalize the memory, and don't miss out on the free tea and coffee tasting just after the snapshot.
You might be thinking that all rice terraces look the same. We have our own up north in the Philippines, but since we were in Indonesia already, we just had to see the difference. While the terraces themselves are roughly the same, the experience was one all its own. The Tegallalang Rice Terracesare vast and photogenic, and instead of an entrance fee, the caretakers accept donations.
For our trip, we decided to save the best for last.
A stay at Seminyak Villa allowed us to experience the nightlife at Bali and have a bit of a food trip. We had our lunch at The Beat Cafe, which offers a variety of international cuisine for a reasonable price. I ordered Nasi Ayam,a chicken and rice dish, which was excellent. Dessert was courtesy of Kynd Community, which has become a favorite destination because of its IG-ready interior, and their superb vegan ice cream.
We made the most of the villa stay by just chilling and reminiscing over the events of the previous days. I have to say that the villas in Bali are super worth it especially if you travel in groups. Just find your price range on Airbnb.
Based on that quick trip to Bali, I realized that even a lifetime wouldn't be enough to fully experience the beauty of a paradise such as Bali. If you are a first-timer like me, who has plans of going back, you can try out our itinerary, which I can assure you is budget-friendly. We managed to pull if off with just PHP 15,000!
Words by Paula Candoy | Photos by Ayra Salvador
Also published in GADGETS MAGAZINE August 2019 Issue