We are in the age where checking social media updates is as important a part of our daily lives as eating meals. The platforms we turn to send a message across have evolved into services offering more than just their initial purposes. We depend on these platforms for entertainment, gathering and sharing information, and more. This reality is where most social media platforms are grounded upon; and in this race, there's a service at the forefront of it all.
Facebook is the world's largest social network. There is no denying that. In the Philippines alone, internal data shows there are 54 million monthly active Filipino Facebook users, which is approximately half of the country's population. This also translates to 54 million people whose "lives" have basically become an open book through the platform. Facebook wants to return the trust and loyalty of their ever growing user base by investing in technology, tools, and resources to keep its community and their information safe.
Security and safety is central to the whole Facebook experience. The social network gave further emphasis to this commitment by holding media workshops in Manila, Davao, and Cebu. The impetus behind this series of discussions is to educate users and page owners about the tools integrated within the service meant to keep prying eyes at bay and make the social media experience more fun.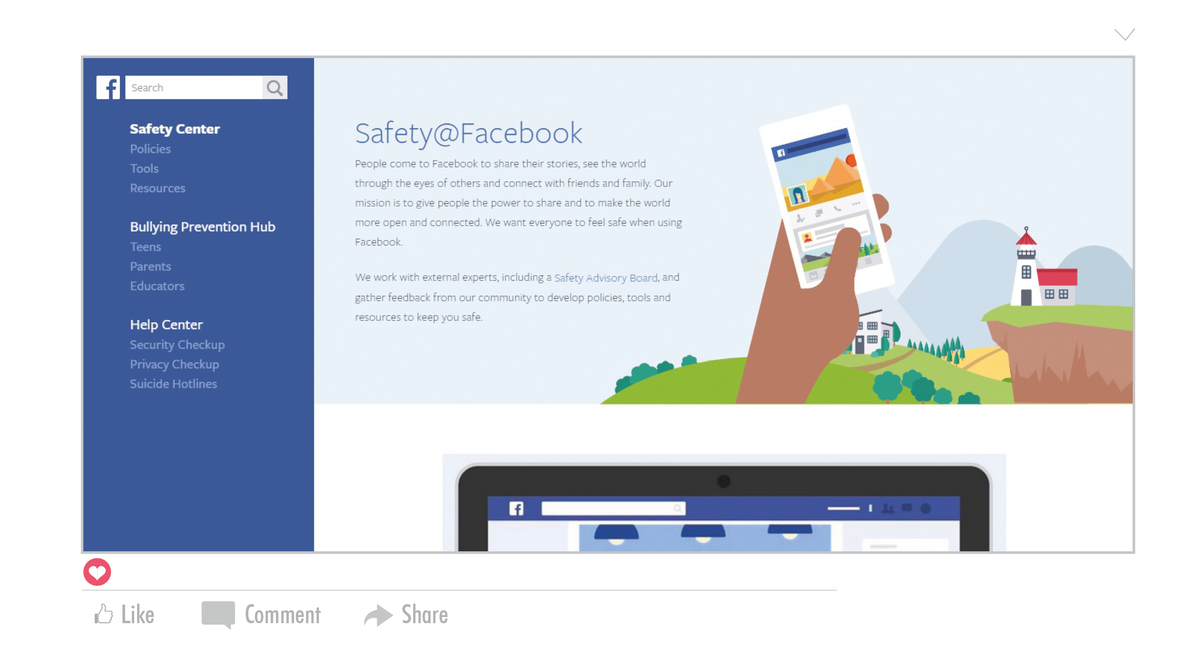 Facebook's new Safety Center (facebook.com/safety) is a one stop shop for users to know the ins and outs of the service. Think user guide, but made simpler and with illustrations that are easy to understand. People patronize a product or service they feel comfortable using, this consumer behavior also applies to social networking services. Facebook fine-tunes itself to the needs of its community of users. With communication taking huge strides toward becoming more visual and truly mobile, the revamped Safety Center now includes 50 languages (with Tagalog) and has been optimized for mobile viewing. Users can head to this part of Facebook for step-by-step videos, FAQs, safety checks, customer support, brochures, and other tools to help you manage and control your account with ease.
If you haven't had the time to tinker with Facebook's many tools, we've listed here some
of what you can pick up from Facebook's Safety Center.
Extensive controls: Facebook offers a variety of controls that go beyond just posting daily thoughts and photos.
1. The Activity Log is a section where users can change or limit the audience for anything they've ever shared on Facebook. This is where you can monitor all the posts (hidden and visible on your Timeline), photos, and comments you've been tagged in and shared recently or have gone under the radar and delete embarrassing posts you no longer want to appear on your account.
2. Facebook provides tools for blocking people you don't want to interact with. Plus, Facebook's Privacy and Security Checkups walks users through the steps to help enhance account security.
3. Users can enable login approvals and alerts. This process would require the user to enter a code along with one's password when logging in from a device or browser for the first time.
4. Facebook makes use of friend connections to enhance security. Simply, you can pick friends to help you get back your account in the case you lose it. What Facebook does is send each friend a code they can use to gain back control of their friend's account.
5. On Facebook, Ad preferences are available for every ad. Users can click on "Why am I seeing this ad?" and get an explanation as to why the ad appeared on their account.
6. Page moderation tools give page owners the freedom to choose how people engage with their page. These include comment ranking, profanity filters, and word blocks. Page owners have the ability to hide comments—the person who posted it and their friends still see the post but others on the page won't. Moderators can also ban people or bots if they prove to be repeat offenders of their page's guidelines.
7. In the event of the death of a user, Facebook has an option to establish a legacy contact. The latter refers to a family member or friend who can manage their account when they pass away. As soon as Facebook gets notified, the account will be memorialized while the legacy contact can freely post, respond to new friend requests, update the profile picture, and cover photo in behalf of the deceased user.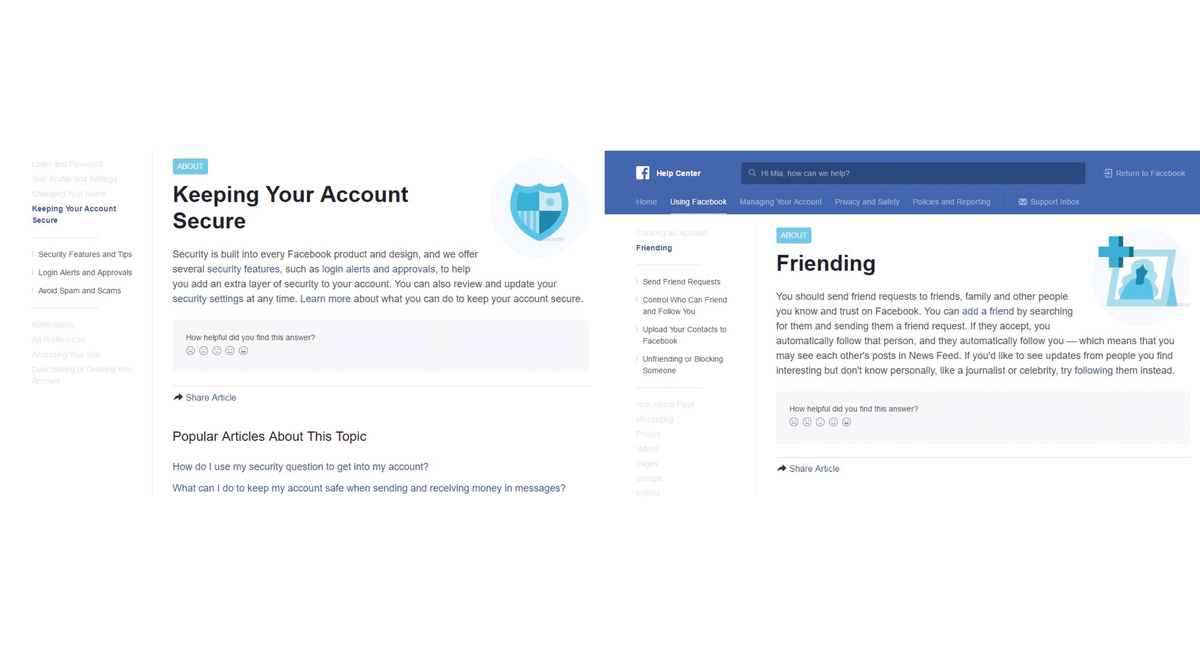 Community Standards: Facebook is a platform where people of diverse cultures can connect and interact, this is why the service has Community Standards designed to create and maintain an environment where people treat each other with empathy and respect.
1. Not all disagreeable or disturbing content violates Facebook's Community Standards. Instead, users are free to block, unfollow, and unfriend people to fend off unwanted content.
2. Facebook's authentic names policy helps discourage bad behavior. This way, users are less likely to participate in bullying, impersonation, and scams.
Easy reporting: users have the ability to report content they believe might violate Facebook's Community Standards using the report links on every Page, profile, or piece of content.
1. Know that global teams work 24/7 to review things people report and respond to users when needed.
2. In situations where a friend struggles with suicidal thoughts, users can alert the Facebook team on this matter
3. Support inbox: this is where you get updates/replies on things you've reported.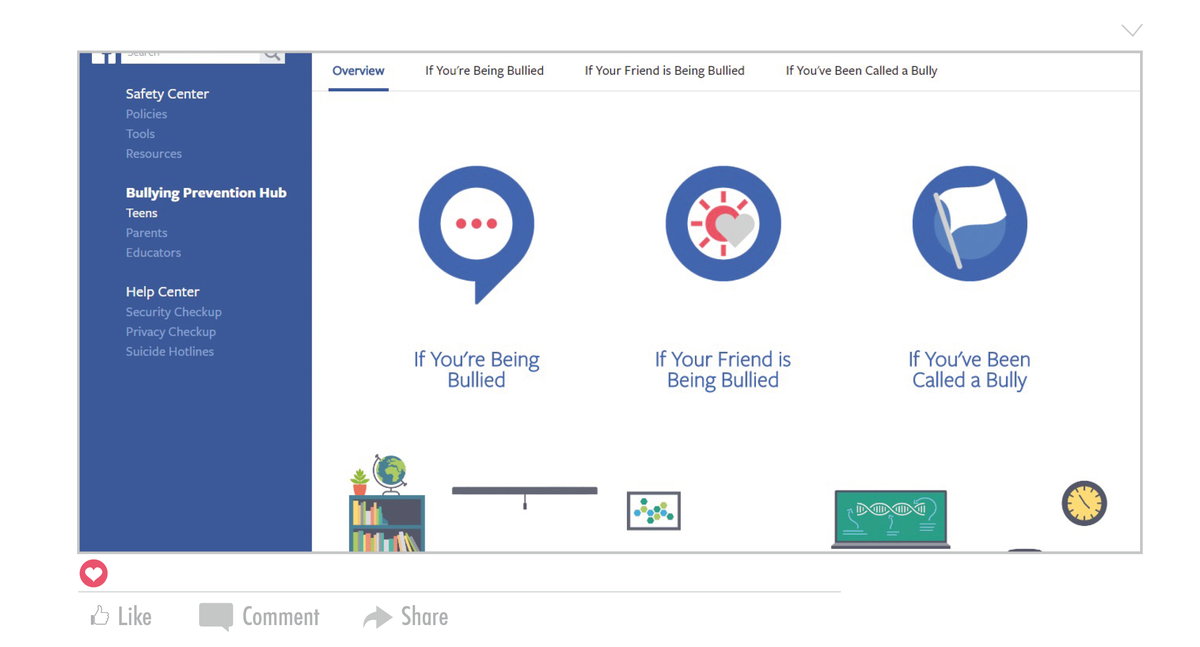 Facebook's Bullying Prevention Hub is a resource for teens, parents, and educators seeking guidance on how to address and prevent bullying. The hub has been developed with the Yale Center for Emotional Intelligence in 2013. Facebook is also working with nearly 60 partners around the world to make the Bullying Prevention Hub more widely available.
Every time you open Facebook, security systems run in the background to catch threats and remove them before it even reaches you. Facebook continues to invest in technology, controls, and education along with working hand in hand with experts the world over to develop features that would benefit its user base and allow them to securely connect to people who matter the most.
Also published in GADGETS MAGAZINE December 2016-January 2017 issue
Words by Mia Carisse Barrientos