Along with adventure, every roadtrip comes with what seems like endless hours on the road. These commutes and drives can go from hours to even days, depending on where you are headed. You can choose to sleep, or you can annoy your sleeping seatmate, though that runs the risk of you two killing each other.  Good news! You can make these dull ticks of the clock thrilling and entertaining with your mobile device, but we bet you already knew that.
We've listed five apps to help make the hours sail by.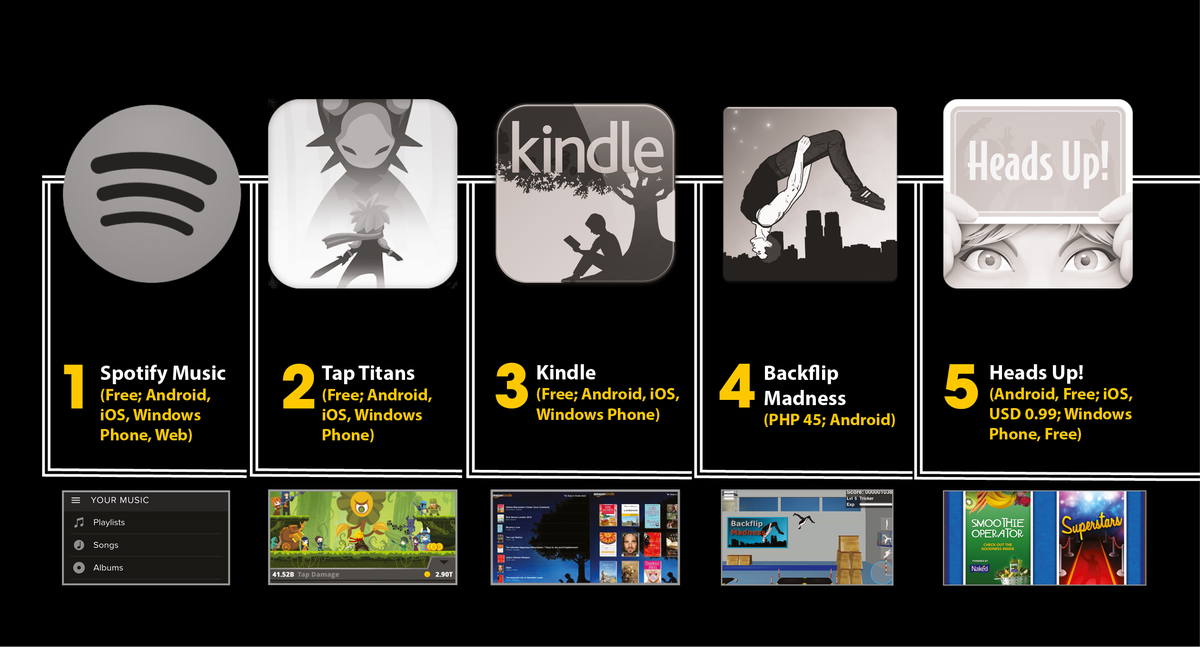 Spotify Music
Music never fails to entertain, and that's what you absolutely need while on the way to wherever you're off to. Spotify is a music-streaming app that allows you to listen to thousands upon thousands of local and international songs, create playlists, and discover music for free, as long as you have an internet connection. If you know you'll be off the grid for a while, subscribing to its premium service will enable music playback even when you're offline.
Tap Titans
For hands that won't just stay put, you've got Tap Titans. Gameplay is simple, you can tap anywhere on the battle area on your screen and your hero will level up. It's that easy. What's entertaining about that, you might ask? Its simple gameplay is exactly what makes this game addicting, and lets it stand out from others. No logic needed, just fast fingers.
Kindle
Books are great travel buddies, however the bulk and weight they add to your already over-stuffed luggage is the last thing you need on a long backpacking trip. This is where Amazon's Kindle app comes in handy. You can choose to purchase thousands of e-books, magazines, and whatnot in the Kindle store or sync your collected e-books on the app and you're good to go.  

Backflip Madness
We have all probably dreamt of being a gymnast at one point in our lives, doing a backflip to say the least. Now you can, albeit virtually! Your only goal in the game is to make a backflip. However, this game is kicked up a notch with extreme conditions that'll make every backflip extra challenging.

Heads Up!
If you're familiar with Pinoy Henyo, you can readily play this game. The game is a modern take on the game of charades. To begin, just pick a category, hold your device on your head (facing your friend), and the word you need to guess will appear on the screen. 

This is as far as our list goes for apps this month, but do know there's a good number of popular games and long-forgotten titles to discover. Test these apps on the road, they'll be great for filling in those empty hours on long journeys, and you might be surprised at how handy and entertaining you'll find them.
Also published in GADGETS MAGAZINE April 2015 issue
Words by Mia Carisse Barrientos