College life is exhausting. Add the workload, internship, extracurricular activities, and all the other responsibilities outside university and it's just hard to keep up. If you are an anxious student and find yourself often overthinking, feeling pressured, and at your wit's end, then worry no more thanks to technology. Almost every little thing has been made easier with just a click. To get you started, here's a list of mobile applications that will surely boost your productivity throughout your college journey.
Todoist
Stay organized with Todoist! Highly recommended by top media outlets, this app helps you organize your to-do lists and other plans. It grants you useful features such as putting subtasks and sub-projects which you can choose to share with people, allowing collaboration.
You can include date of deadlines with its intuitive and functional recurring dates feature. Mind all over the place? This app has color-coded priority levels helping you put emphasis on what needs to be done first. Todoist will also notify you of important changes in your e-mail, help you track your productivity to keep you motivated, and automatically sync your data real-time, across all your devices and platforms.
By availing the premium version, this app can tell you further reminders, allow you to add as many details as you want,  such as attachments using the task comments and play around with its labels and customizable filters. Organizing doesn't have to be boring.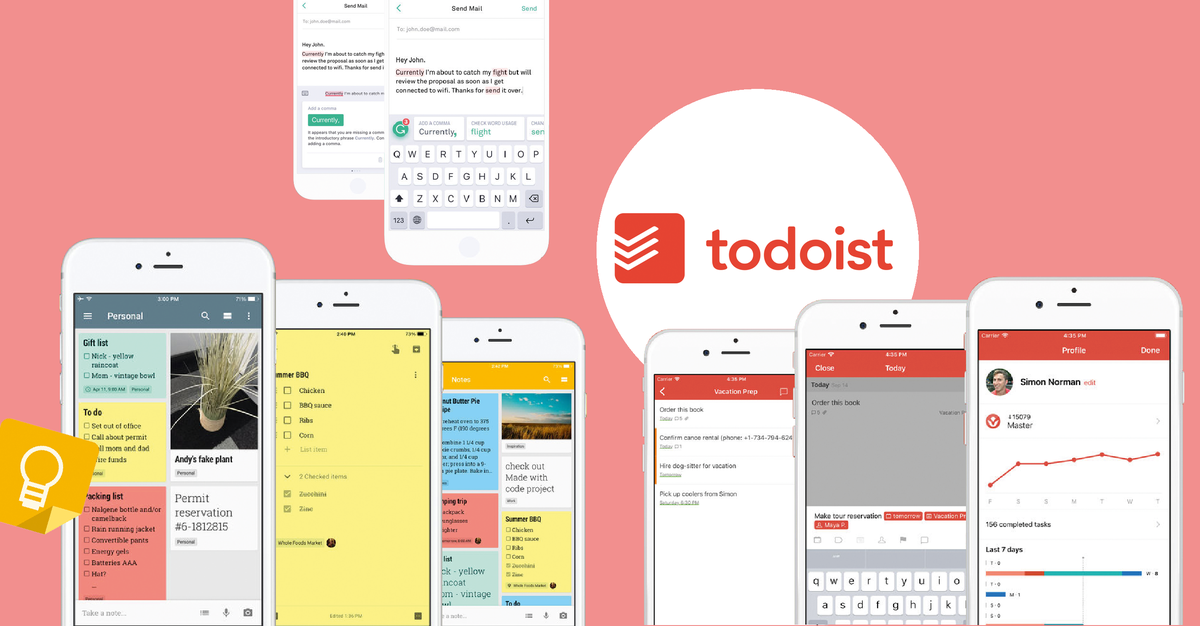 Grammarly
Whether it be essays, reports, dissertations, theses or social media posts, Grammarly can lend you a hand. This app will help you communicate your messages and ideas more effectively and proficiently. "How?", you next ask. Grammarly is an online grammar and spelling checker which helps users find and correct writing mistakes. Its algorithms flag possible errors in the document then suggest context-specific corrections for grammar, spelling, and vocabulary. The app also explains the reason behind every correction, so you can make an informed decision on how and whether or not to correct these errors. Imagine professional proofreading at the tip of your hands.
The free service doesn't end there. This app also suggests a free browser extension for Chrome, Safari, and Firefox that corrects critical errors in grammar and spelling straight to wherever you are writing online whether it's Facebook, Gmail, Twitter, LinkedIn, and Tumblr.
Meanwhile, the Grammarly Handbook is an online handy grammar guide explaining English grammar, punctuation marks, techniques, and styles. They also have a Facebook community and Twitter account which provide fans a dose of daily grammar tips. If you're a grammar enthusiast, the Grammarly community is definitely the squad you're looking for.
Google Keep
Often bombarded with lessons, ideas, and concepts, but can't keep pace with all the data? Here's where Google Keep becomes the best recommendation for note-taking.
Google Keep is the very definition of simplicity. It is easy to use with its recognizable command icons. You can organize your notes and tasks through different colored labels much like folders and create titles for each. Keep also allows you to attach photos, audio recordings, colorful drawings, and tick boxes making note-taking organized without sacrificing creativity.
Additionally, there is an option for you to ask Keep to remind you of your to-do stuff, checklists, and notes by indicating the time and place of every reminder. And when you make a mistake, this app has your back with its undo and redo feature.
Google Keep is just like your DIY planner, but way better.
Office Lens
Accessible via Google Play and iOS store, Office Lens helps you capture, trim, and enlarge texts in whiteboards, blackboards, and in printed or handwritten documents. This app grants you features to convert images to PDF, Word and PowerPoint files which you can save in your preferred storage device later.
It almost magically digitizes your notes and documents allowing you to share them instantly with classmates and co-workers. And when in Business Card Mode, this app can extract contact information and save it in your phonebook hassle-free. You might not need that feature yet, but talk about long-term app usability even after gaining a diploma. To simplify, Office Lens is an instant scanner inside your pocket.
If you want to get your creativity flowing and level up your productivity, these apps deserve space in your phone.