DJI, the leading manufacturer of civilian drones and aerial imaging technology, has just brought the anticipated Mavic 2 Pro and Mavic 2 Zoom to Philippine shores.
A company that played a big part in the propelling of these complex aerial mechanisms into the mainstream market, DJI continues to make camera drones more accessible across different markets at varying price points. DJI heavily invested in R&D to make the latest Mavic series iteration their best yet. Consulting with users, the brand focused on improving three areas of concern: drone fly time, camera versatility, and aircraft intelligence.
"When the Mavic Pro was launched two years ago, it redefined the way people looked at a drone and expanded possibilities for creators around the world," said Kevin On, global communication director at DJI. "Today, we enter a new era of aerial photography with the introduction of DJI's new flagship product, the Mavic 2 series. The Mavic 2 Pro and Mavic 2 Zoom will enable photographers and videographers to take their inspirations to the air quickly and elevate their creative ideas to new heights."
With the Mavic 2 series, customers get two camera options. The Mavic 2 Pro is for capturing stunning landscapes with ultra-fine details while the Mavic 2 Zoom is for getting that sensitive close up of a subject without disruption.
Mavic 2 Pro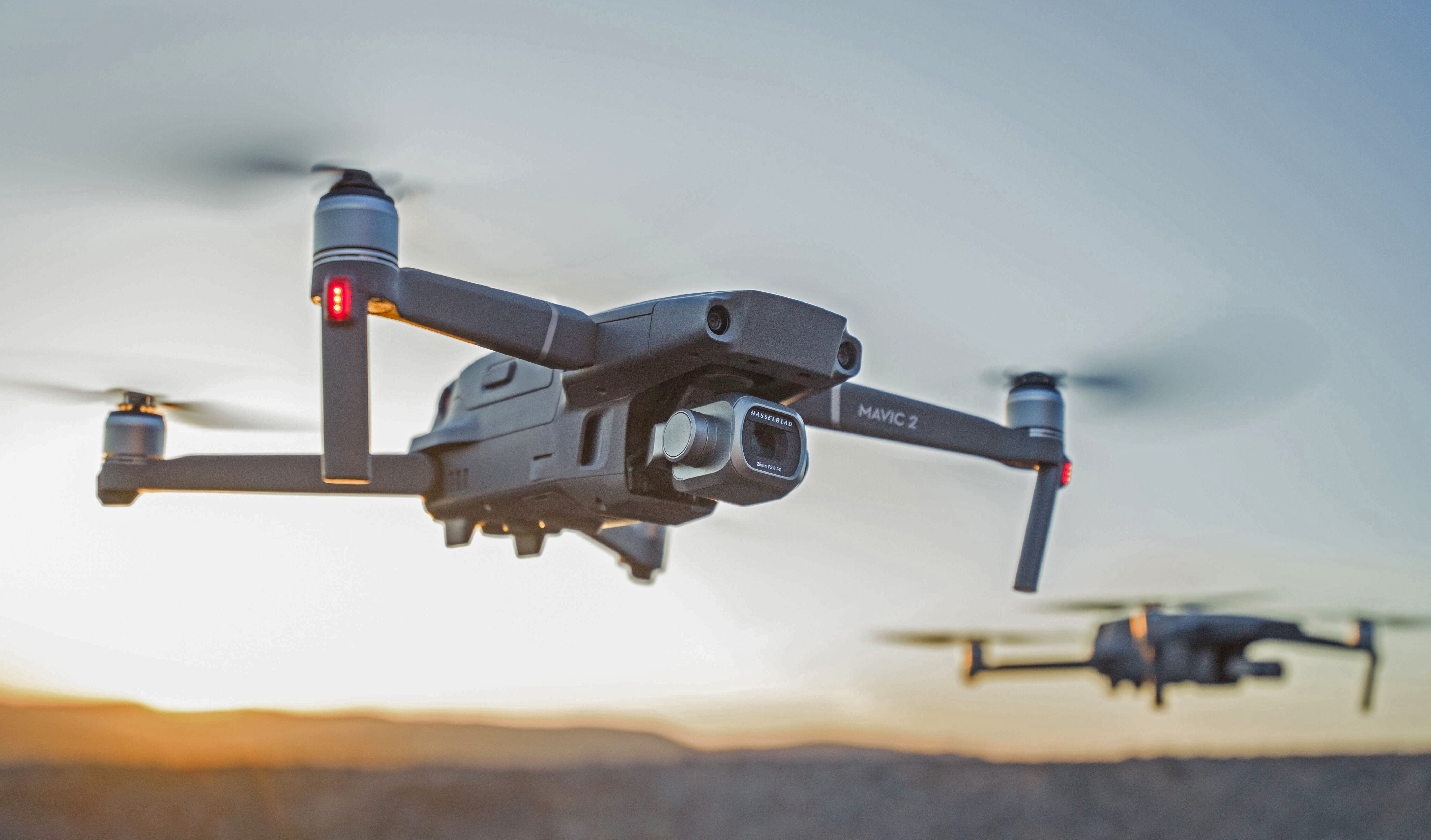 The Mavic 2 Pro is the world's first drone to be fitted with a Hasselblad camera. Co-engineered in partnership with this world imaging leader, the Mavic 2 Pro renders outstanding image quality: vivid and with accurate colors. It features a 1-inch CMOS sensor with a 10-bit Dlog-M color profile, which DJI says captures, four times as many levels of color per channel compared to the first Mavic Pro. The Mavic 2 Pro is able to capture 20-megapixel aerial shots and utilizes Hasselblad's unique Hasselblad Natural Color Solution (HNCS) technology to provide true-to-life colors. It has an adjustable aperture from f/2.8 to f/11 and comes with 4K 10-bit HDR support, giving creators more flexibility. The Mavic 2 Pro can be plugged into a 4K TV with HLG.
Mavic 2 Zoom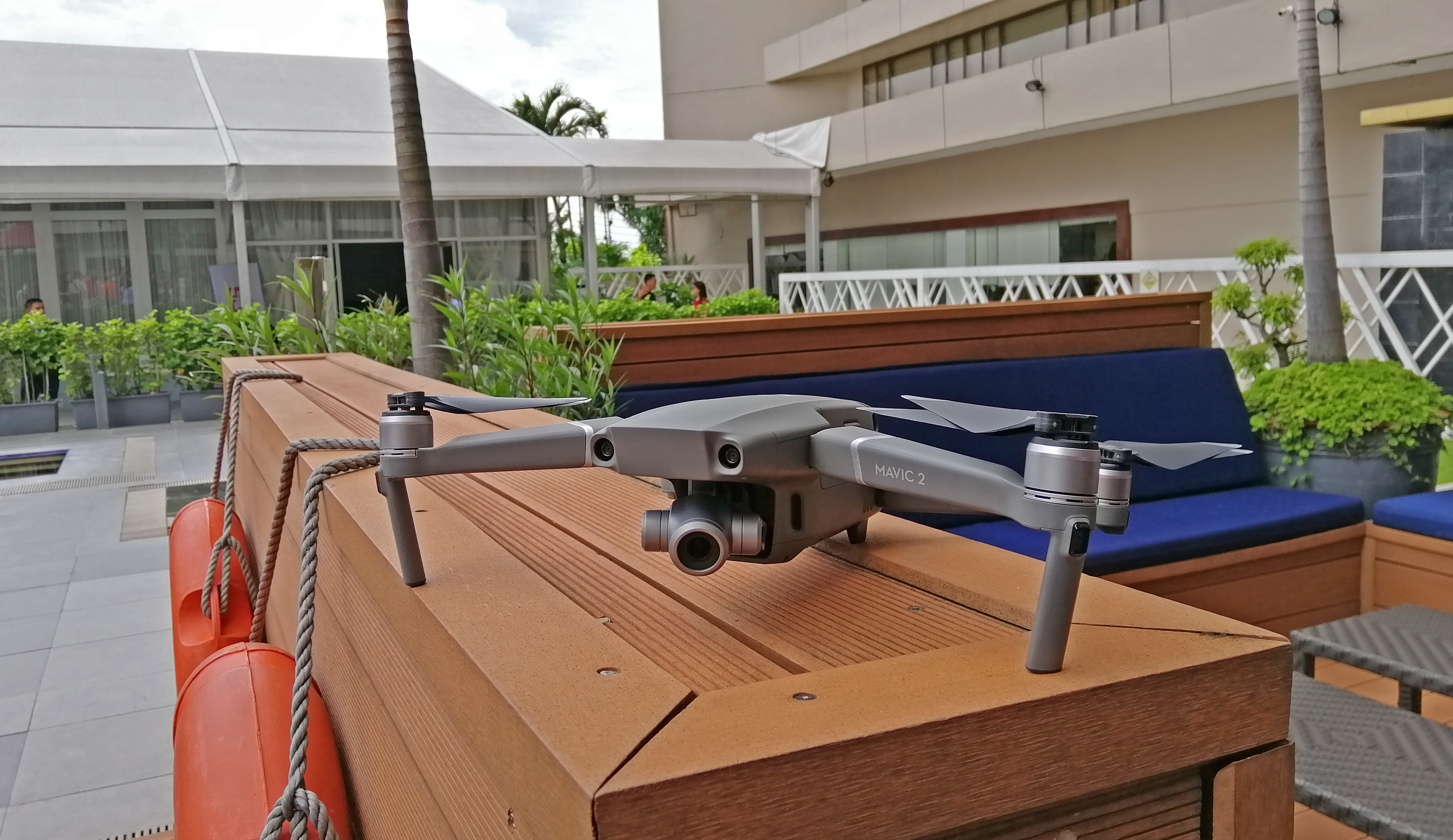 The Mavic 2 Zoom is the perfect solution for when in a sensitive shooting environment. As DJI's first foldable consumer drone with zoom function, the Mavic 2 Zoom truly gives users the freedom to go out and create stories. The camera drone makes use of a ½.3-inch CMOS sensor that is made more powerful by its two-times optical zoom (24-48mm) with two-times digital zoom to simulate a 96 mm telephoto lens. It is able to capturelossless video in full HD resolution. Hybrid auto-focus, meanwhile, combines phase and contrast detection for higher focus accuracy with an increased focus speed. The Mavic 2 Zoom can deliver 12-megapixel photos and has a Super Resolution feature that uses optical zoom to automatically capture and stitch nine photos together for detailed 48-megapixel image
The Mavic 2 Zoom also debuts an exclusive feature, the Dolly Zoom QuickShot. The feature is aimed at cinematographers with it helping create an otherworldly warped perspective by automatically zooming in as it flies away from its subject, keeping the subject the same size while revealing a grand backdrop.
Mavic 2 Series New Features
Beyond its capable cameras, the new Mavic 2 series also come with new technologies that will prove useful across different creators.
Captures 4K ultra-high definition video with a maximum bitrate of 100 megabits per second using the H.265 compression codec.

Enhanced High Dynamic Range: Mavic 2 Pro – 14 stops of dynamic range; and Mavic 2 Zoom – up to 13 stops.

Intelligent flight modes: Circle, Course Lock, Waypoint, or Free mode for creating timelapse videos through the DJI GO 4 Mobile App.

ActiveTrack 2.0: enhanced auto-track feature that combines autonomous tracking and obstacle sensing capabilities.

Upgraded FlightAutonomy

system: transmits data to a more powerful central processor for more accurate obstacle sensing and safer flight.

Improved Advanced Pilot Assistance System (APAS): allows the aircraft to analyze its surrounding environment and automatically fly around obstacles without stopping.

Bottom Auxiliary Light: turns on automatically to ensure safe and precise landings in low-light situations.

OcuSync 2.0 video transmission system: features stronger interference resistance and auto-switching capabilities that supports both 2.4 GHz and 5.8 GHz frequency bands with the capability to use different frequencies for uplink and downlink data streams. It delivers 1080p video transmission feeds at a distance of up to 8 km.

Hyperlapse feature

Support for JPEG and RAW photos
The Mavic 2's flaunt a new design with a more aerodynamic airframe. The drones in this series can fly at speeds of up to 44 mph (72 km/h) in Sport mode, is quieter, and can remain in the air for up to 31 minutes.  They also come with inbuilt three-axis mechanical gimbal, 8 GB onboard storage, a redesigned remote controller with detachable control sticks, as well as compatibility with DJI Goggles.
The Mavic 2 Pro sells for PHP 98,800 (drone, battery, remote controller, charger, and  four pairs of propellers). The Mavic 2 Zoom–including the drone, battery, charger, remote controller and  four pairs of propellers–retails for PHP 76,300. A Fly More Kit, including two additional batteries, a multi-battery charging hub, a car charger, a battery to power bank adapter, two pairs of propellers and a carrying bag, will also be available for PHP 23,100.
The Mavic 2 is now available for purchase at store.dji.com, the four DJI Flagship Stores, and through MSI-ECS.