Naysayers believe that physical photo prints are obsolete. But for photography enthusiasts like me, that's entirely not the case. In fact, Fujifilm continues to produce instant cameras that print photos right as you wait. The instax line continues to grow, and this year, it merges a photo printer and a camera into a single device through the recently released Fujifilm instax mini LiPlay. Is it a hit or a miss? Here's what we think.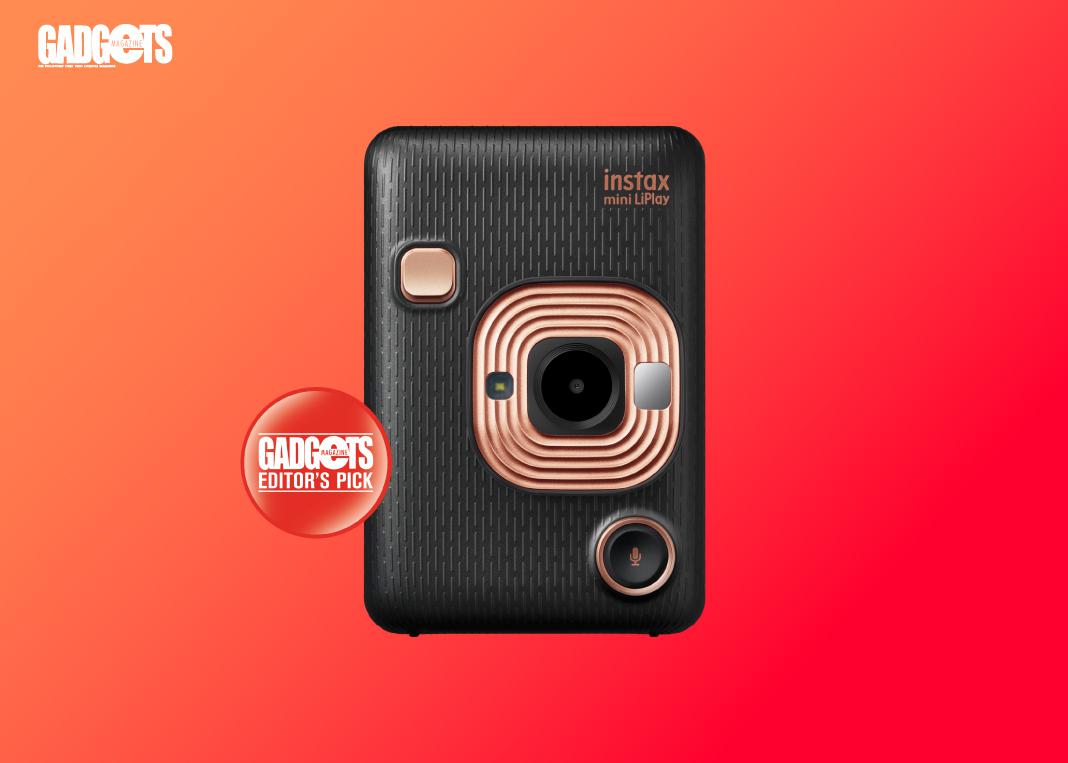 DESIGN: 4.5/5
Boasting a matte plastic unibody, the Fujifilm instax mini Liplay's design is more than stylish. It is a point and shoot camera that has a rounded and compact body that's easy to hold and is ideal for traveling. It might weigh a bit more than its older siblings when loaded, but the placement of the buttons is very ergonomic. We got our review unit in a striking blush gold color.
The shutter button is on the front, just above the lens, while the menu controls are on the back. Meanwhile, the power button and the three shortcut keys for different effect filters are all located on its side. Beside the lens are a built-in flash for extra light when you need it, and a mini selfie mirror. Right below those is a sound button that lets users record audio for attaching to their printed photos.
HARDWARE: 4/5
Replacing the viewfinder found in all other instax cameras, the mini Liplay features a 2.7-inch TFT LCD screen that allows users to review and customize captured photos, reminiscent of digital cameras during the 2010s. This hybrid camera has a 5-megapixel 1/5-inch CMOS sensor and enough internal memory to store approximately 45 digital photos. Should you want more, there's a dedicated micro-SD slot additional storage. Unlike earlier models, the mini LiPlay's lens is fixed, so zooming in will have to be done by walking towards your subject. Setting it apart from other mini instax cameras, this one can even embed audio into the photos through a QR code, making the whole endeavor more interactive.
Behind its colored LCD display is a switch that reveals a hidden compartment where you pop the film cassettes into the camera. If you're an owner of a mini instax, you can use the same film here, since it's compatible with this device. There's also a directional pad just beneath the display for easier navigation of the camera's interface.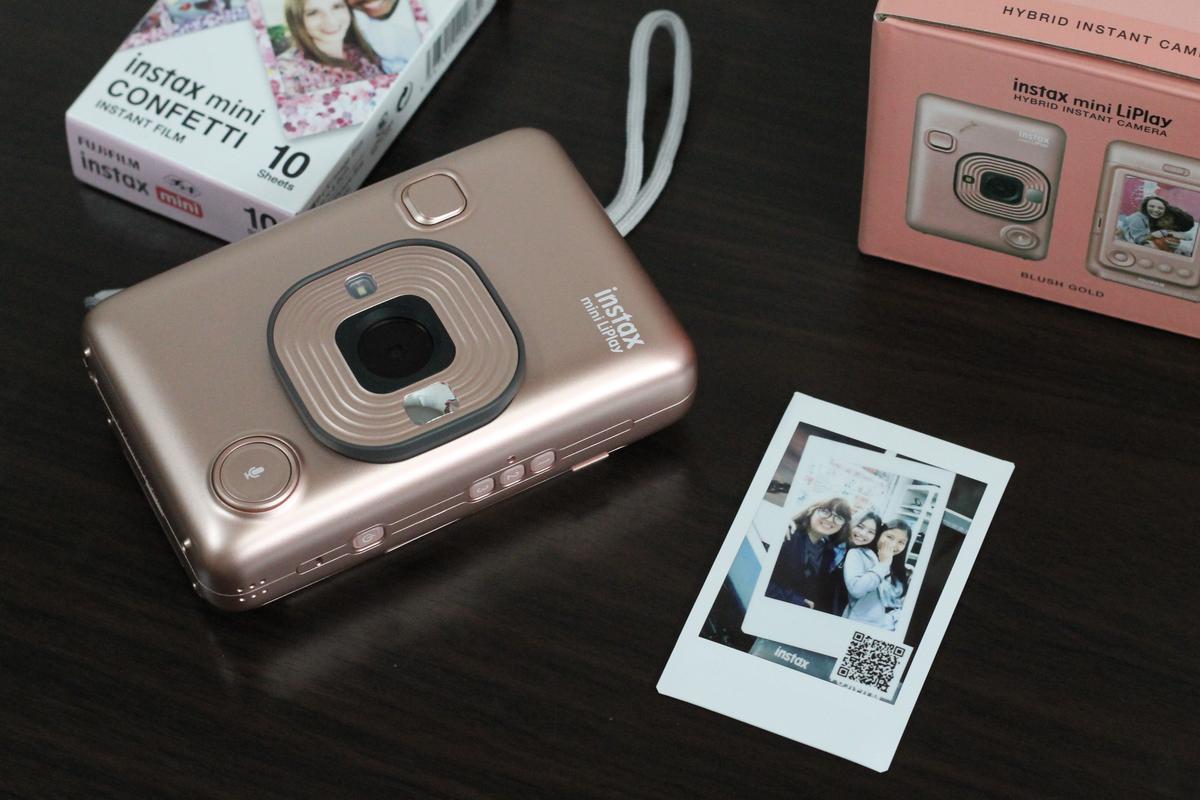 USER EXPERIENCE: 4/5
There's a lot of things that we really like about the mini LiPlay. Aesthetics-wise, it's an eye-catcher that deserves to be carried around. It might be a bit chunkier, but it's still lightweight and is available in chic colors such as blush gold, elegant black, and stone white. It is, however, difficult to take selfies with just one hand, given its bulk, so you might want to hold it with both hands, just to be safe.
Producing more detailed and crisper images, the image quality from the camera is punchier compared to other models in the mini-series. Exposure compensation is automatically switched, but it can be tweaked through settings. It has a tendency to wash out the brighter parts though. The story is different for autofocus. You'll need to lock focus on the subject then reframe your shot for an off-center subject.
Since it is a hybrid camera with a number of special features up its sleeve, the mini LiPlay delivers more when used with its mobile app. This allows direct printing and remote shooting of photos from a smartphone, customizing shortcut keys, designing images with frames, and the playback of embedded audio. The camera has a sound function that embeds audio into the photo in the form of a QR code. Take note that the Live View mode from the remote shooting function of the camera is quite small, so you may need to adjust the camera if you're taking group photos. It takes two hours to fully charge its battery, but rest assured that it can last a day on a single charge. You can even charge it with a power bank, thanks to its micro-USB port.
VALUE: 4/5
With its hybrid capabilities, the instax mini LiPlay is something that shutterbugs might like to invest in. It ticks a lot of boxes both in the novelty and photography departments, and being the first digital camera and photo printer from Fujifilm to record audio is definitely a plus. At just PHP 9,999, you can get the camera with a free microSD card and a two-pack of regular instax mini film. We also had the chance to try the latest confetti instax mini film that adds a pop of color to your photo collection. If that doesn't sound like a great deal, I don't know what is.
SPECIFICATIONS:
Display: 2.7-inch TFT LCD
Image sensor: 1/5-inch CMOS primary color filter
Media storage: Internal memory, expandable through a microSD/SDHC slot
Recording capacity: 45 images (internal memory), 850 images per 1 GB (microSD/SDHC card)
Shooting sensitivity: ISO 100 to 1600 (automatic switching)
Autofocus: Single AF (with AF illuminator)
Shutter speed: 1/4 second to 1/8000 second (automatic switching)
Aperture: F2.0
Photo capacity: 10 prints per pack
Supported image format: JPEG
Printing time: Approximately 12 seconds
Other features: Remote shooting, direct print, sound playback, and frame selection
What's Hot:
Solid build and chic design
Works as a camera and a printer
Embeds audio on printed photos
What's Not:
Small display for the in-app remote shooting
Taking selfies can be tedious
The display is not a touchscreen
Bottomline:
A clever camera that combines digital photography and novelty.

Also published in GADGETS MAGAZINE September 2019 Issue
Reviewed by Jewel Sta. Ana