Camera technology has rapidly progressed throughout the years from the once bulky DSLR to the portable, but equally versatile mirrorless camera. Fujifilm has been at the forefront of the mirrorless revolution for quite some time now, but will their latest mid-range camera, the Fujifilm X-A7, hold that front?
Design: 4/5
To be honest, I'm a sucker for Fujifilm's camera aesthetic. The simple dual tone of their lineup really strikes my visual senses. It's simple yet the buttons and dials aren't merely for design.
There are three dials on top of the camera: the shutter, aperture, and mode selection dials, with two programmable buttons on the top of each of the first two. By default, the smaller button is the dedicated shutter button while the bigger button is for video recording.
At the front is the lens mount while on the sides are the input ports and the button to bring up the flash. At the bottom are the battery and SD card slots. At the back is the 3.5-inch LCD touch screen about which I'll go into more detail later.
Hardware: 4/5
The Fujifilm X-A7 is rocking a newly designed 24.2-megapixel APS-C from Fujifilm, which the brand claims adds a significant performance boost to its auto focus capabilities. The new sensor also has what the brand calls "memory color" which they claim produces near-perfect color replication.
Fujifilm has also upgraded the X-A7 with quicker phase detection and autofocus. Fujifilm has equipped the X-A7 with what they call advance face/eye detection autofocus. The X-A7 also has better night mode capabilities thanks to the upgraded sensor. Just like most Fujifilm cameras, the X-47 has an abundance of film simulation filters.
Video-wise, the X-A7 can now shoot 4K resolution videos in 30fps, a huge upgrade from the X-A5 and X-T100's 15fps. Like the two, HD videos are still shot on 60fps which is great, if you ask me.
User Experience: 4.5/5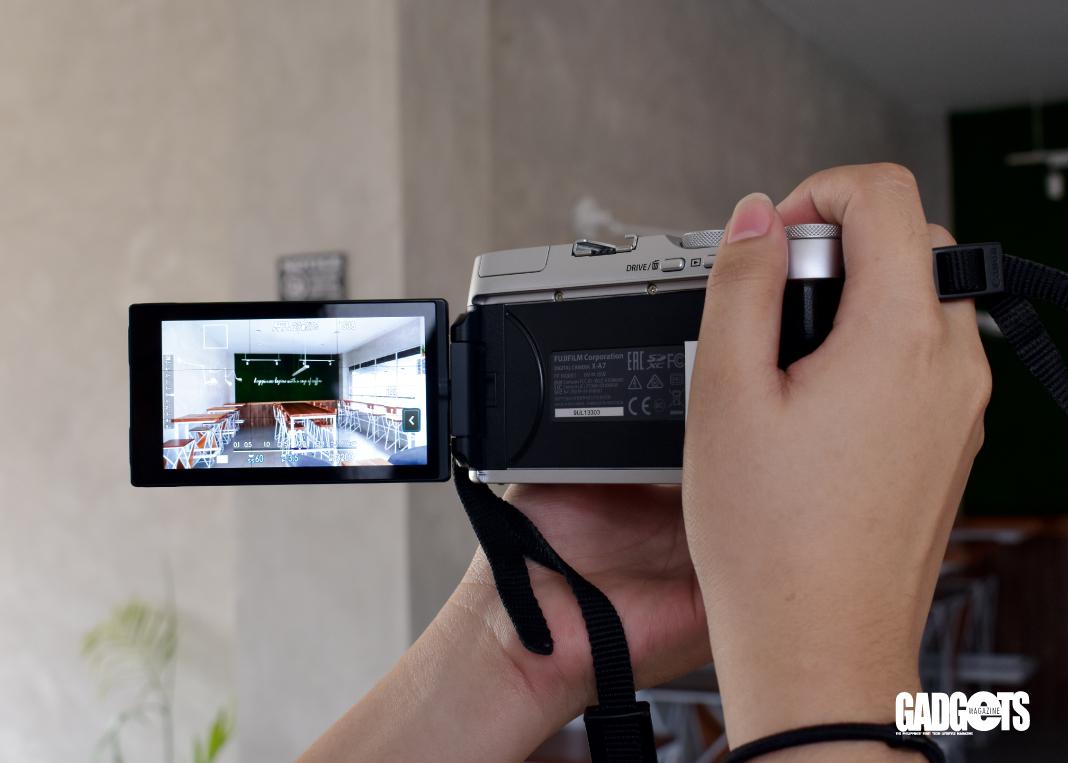 Right off the bat, I was disappointed that the camera came at a time when I was not going on vacation or anywhere interesting. I really wanted to test its full potential on the beach somewhere, but alas, the concrete jungle sufficed.
As someone who's used to shooting with a DSLR, the X-A7 was a huge quality of life improvement. Let's just say that carrying a brick of an SLR camera was a nightmare whenever I was going to events.
One of the things I loved about the X-A7 is its video recording. While the camera had no mechanical stabilization, the electronic stabilization was fairly decent and made me look like a decent videographer. With its improved facial autofocus, videos were absolutely clear. One qualm I had was the time limitations. 4K had a limit of 15 minutes per recording while 1080p had a 30-minutes cap.
Photography-wise, the X-A7's 24.2-megapixel CMOS sensor was great. Images were crisp and sharp. The hybrid phase autofocus system was absolutely amazing, I was shooting an event and the camera was quick to lock on to the speakers' faces.
But the thing I loved most was the 3.5-inch LCD screen. The screen made everything extremely easy, the screen menu was easy to navigate and features were quick to access. I absolutely loved the film simulation feature which made for some creative shots; just ask my unfortunate test subjects at the office.
I also didn't have any problems with the camera's battery life. After a day's worth of shooting at the office, the camera still had a bit of juice for an event the next day. You also won't have any problem when you run out of power as the X-A7 has USB-C charging, so you can just plug it in a power bank and you're good to go.
Value: 4/5
Coming at under PHP 40,000 the Fujifilm X-A7 is a great camera not only for beginners but also for individuals who need a decent shooter with plenty of features.
Specifications:
Image Sensor: 24.2-megapixel APS-C CMOS Sensor
Storage: SDXC up to 256GB
ISO Sensitivity: ISO 200 – 12800 extended up to 51200
Shutter speed: Mechanical Shutter: 4sec. to 1/4000 sec.(P mode), 30sec. to 1/4000sec.(Other modes) Bulb mode(up to 60 min)
Burst shooting: Approx. up to 6fps
Autofocus Points: 117 selectable points
Video resolution: 4K (3840 x 2160): up to 30fps, Continuous recording: up to 15 min, Full HD(1920 x 1080): up to 60fps, Continuous recording: up to 30 min.
File Format: Still Image: JPEG (Exif Ver 2.3)/ RAW (RAF format) / RAW+JPEG (Design rule for Camera File system compliant / DPOF-compatible), Video: Movie File Format: MPEG-4
LCD Monitor: 3.5inch, aspect ratio 16:9, Vari-angle type, TFT color LCD monitor
Connectivity: Wi-Fi, Bluetooth 4.2, HDMI Micro connector, USB Type-C
Battery Life: approx. 440 shots
Extra Features: Film simulation mode, Scene position modes including multiple exposures and light trail mode, advance filters
What's Hot:
Great image quality
Easy to use screen
USB-C charging
What's Not:
Short video recording
No built-in stabilization
Bottomline:
The Fujifim X-A7 is definitely a camera to consider.
Also published in GADGETS MAGAZINE March 2020 Issue
Reviewed by Gabriel Pe