The world of computing continues towards increased portability, security, and maximum efficiency. Constantly growing and emerging, technological innovations are necessary to satisfy our endless digital demands. Needless to say, several advancements are being studied and developed takes years before integration into one machine. This year's Consumer Electronics Show (CES 2018) surely has a lot of awesome surprises for everyone, most especially for tech geeks out there who are into PCs and hardware.
MSI Infinite X
MSI has been known as a reputable producer of gaming peripherals and machines for many years. Their succesful streaks continues with the best gaming hardware in one desktop. Just like its name, the Infinite X offers limitless possibilities. Aesthetically crafted with Mystic light RGB LED lights matched with steel and tempered glass on both side panels, this 2018 CES Innovation Honoree for gaming is a beast of a machine. Integrated with 8th generation Intel processor and MSI's award-winning graphics card, you will definitely experience the best gaming performance to be had in a desktop.
Acer Swift 7 (SF714-51)
Consumers choose ultra-thin and lightweight laptops for a lot of good reasons. Obviously, it all boils down to one thing: convenience. With this fact in mind, Acer has found a way to meet this growing demand. Defying the trends in style with its sleeker and visually appealing aesthetics, the 8.98 mm thick Acer Swift 7 does gives convenience, with no compromise.
Built with a 14-inch Corning Gorilla glass touchscreen display, this narrow-bezzeled laptop integrates a 4G LTE antenna and a 7th generation Intel Core i7 processor inside its unibody chassis.  If you'll look closely, most netbooks available in the market are lighter in weight and smaller in size from traditional laptops. Even the dimensions of computer hardware such as drives and processors are now made even smaller without affecting its performance.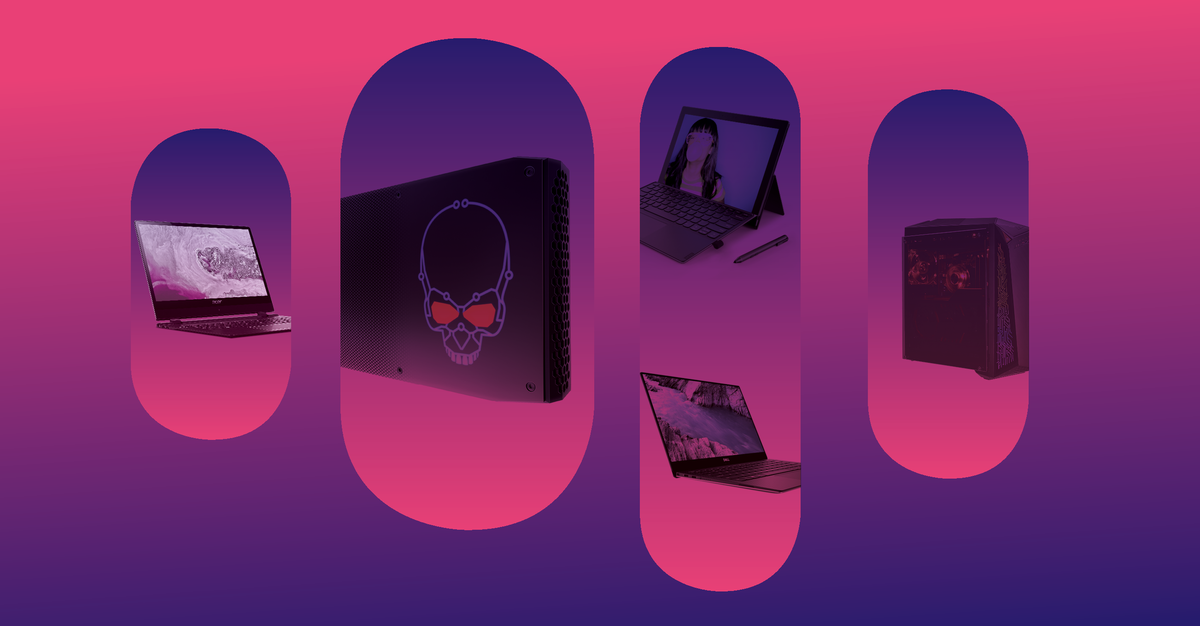 Intel's Hades Canyon NUC
Virtual Reality has been on various tech radar since last year. The Internet of Things (IoT) has allowed a lot of out-of-the-box ideas, one of which is experimental VR programs and apps exclusive for certain devices. This has paved the way for the birth of Intel's smallest and VR-ready gaming rig called Hades Canyon.
This beefy NUC is a result of a collaboration between two competitors—AMD and Intel. Resting in its inner shell is an 8th generation Intel Core processor plus an AMD Radeon RX Vega M GH that gives an immersive game experience at 4K resolution. The Core-Radeon mashup has a solid rectangular look that provides a lot of essential ports for various functions—it's pretty incredible for such compact system.
Thanks to NUCs (Next Unit of Computing), further evolution for these small and mobile personal computers may unlock the full potential of Virtual Reality on both computers and peripherals.
Lenovo Miix 630
With technology taking a leap to another level, users should expect seamless music and movie streaming as well as swifter downloading and uploading speeds in their netbooks. Teaming up with Qualcomm and Microsoft to develop a fresh take on mobile computing, Lenovo's Miix 630 is sure to catch the attention of consumers.
Crafted for people who are always on-the-go, this convertible enables 4G LTE connection for faster internet. With its roaming capabilities, uninterrupted handovers across networks, and interoperability; the Lenovo Miix 630 is a good option for students and the mobile workforce. You might even be able to bring out the inner writer and artist in you with its full-sized keyboard and digital pen. Running on Windows 10 S with  Qualcomm's innovative Snapdragon 835 processor,  beating the deadline is no longer an issue.
Dell XPS-13
Who says laptops can't join the bezel-less trend? Say hello to brighter and bigger screens. A handful of brands have included full high-definition displays on their laptop models and Dell is not an exception. Stunning inside and out, the XPS-13 features an InfinityEdge touchscreen which sports more pixels and fewer borders.
It's not surprising that the XPS 13 bagged an honoree award in CES 2018 for Computer Hardware and Components category. Integrated in its 13.3-inch body is an ultra-HD monitor that produces 4K quality images and videos. Another jewel in its crown is Dell Cinema that improves visual colors, streaming speed, and audio quality of your favorite TV series or movie when played on the XPS-13. Just from its name, you can tell this pre-installed program allows it to produce sharper, more realistic and visually appealing results.
Various brands have been making an effort to give an immense gameplay and entertainment experience, and with years of their long-term research and preparation, I personally feel that 2018 is ready to unwrap these possibilities. Technological breakthroughs are good indicators of change and I am more than ready to see it in physical form in the next months. I hope that you are, too!
Also published in Gadgets Magazine February 2018 issue
Words by Jewel Sta. Ana