Meet the Robinsons and The Jetsons are wonderful examples of homes of the future, but where we're at now is still a far cry from these modern setups. At the recent CES, we witnessed new technologies that bring us a tad closer to the utopian future or at least a truly smart home.
Lenovo Smart Display
Lenovo continues its forward push to the top of the market with its computing devices. At last year's CES, the company made a bold dive into the smart home waters with its Alexa-powered smart speaker and, this 2018, they're taking it further with the Smart Display. This Google Assistant-powered panel helps you accomplish tasks with just a touch or a voice command. You can ask it to tell you weather updates, play you music, update your schedule, show you recipes, and even serve as a hub for enabling and controlling connected smart devices such as your smart air purifier or washing machine. At its core is a Qualcomm SDA 624 chip taking care of its every processes and either an 8-inch with 1200 x 800 resolution or 10-inch with 1920 x 1200 screen up front. For a little over USD 200, the Smart Display should ultimately find its place in many homes.
Samsung The Wall
Samsung is never out of new things to wow the crowd. And at the CES floor, it took  everyone's attention with The Wall. You might be wondering, why the name? At the event, this showstopper looked like a lieral wall that emits bright and deep-colored images. The keyword we're looking at here is MicroLED. Like OLED, MicroLED emits its own light, which allows the panel to be impossibly thin, bright, offer incredible definition, and not be restricted to a size or form. Though just a prototype, this 146-inch modular TV showed promise with its luminosity, durability, and significantly lower power consumption. If this is the future of TVs, we'll take it.
Samsung also showcased the world's first QLED TV featuring 8K AI technologythat is capable of upscaling images to 8K resolution. If that is the TVs of now, we'll take it too.
LG WK7 Smart ThinQ Speaker
LG has entered the smart speaker race with the WK7. This speaker comes with Google Assistant embedded within. This gives your voice the power to command it as you wish. Audio-wise, it features Meridian Audio's advanced technologies giving you crisp, high quality sound. It also has Chromecast built-in. When hooked to a TV, you can command it to stream videos, music, and more making for an all-in-one entertainment device. And since it is powered by LG's ThinQ technology, with it, you can control compatible devices while you have your feet up on the coffee table.
Another eyecatcher at CES was LG's 65-inch Rollable OLED TV. The Korean giant showcased its 65-inch 4K OLED TV that can be rolled up for storage. It is that flexible thanks to its paper-thin OLED display. Imagine stowing your TV like a burrito and unfolding it like nothing happened. Also, LG introduced a slew of ThinQ smart appliances such as stoves, refrigerators, dishwashers, washers, dehumidifiers, ACs, vacuums, and more, all of which you can connect to and be controlled with a device such as the WK7.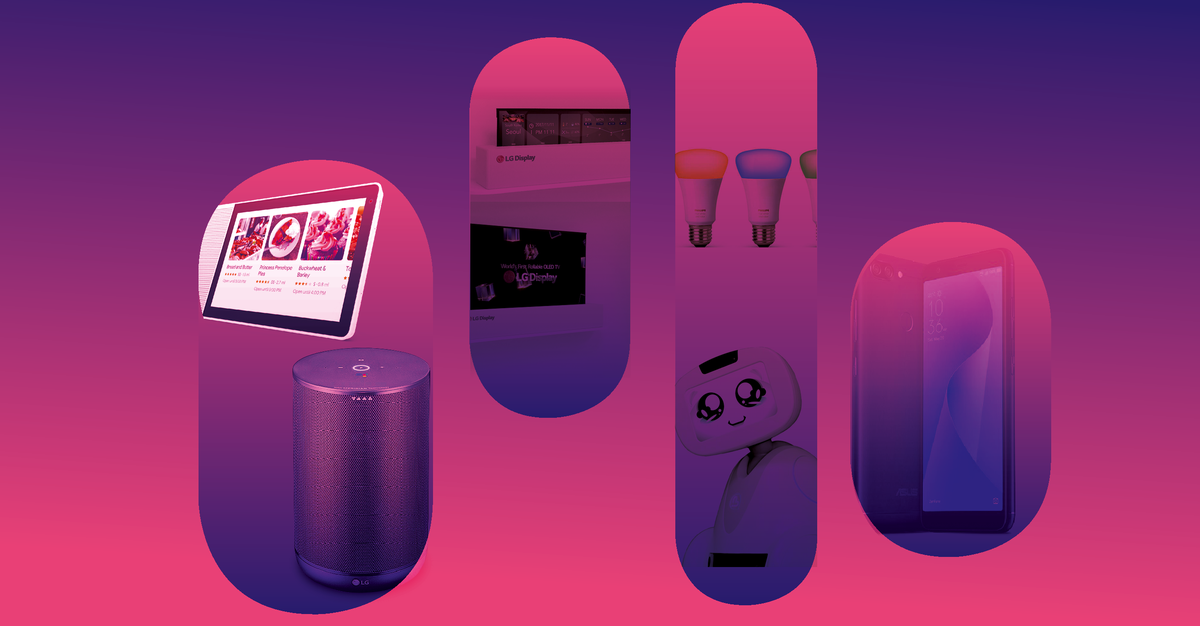 Philips Hue
Philips Lighting has been in the business of making lights that adjust to your preference for years. In 2018, they're pushing the boundaries with a redesigned mobile app. The new version of the Philips Hue app lets you synchronize your Philips Hue lights while you game—in partnership with Razer, listen to music, or watch a movie. A Hue Sync application which can run on Windows 10 or macOS High Sierra-run devices will also be released. This application instantaneously creates immersive light scripts for content you run on your computer, creating an ambiance–perfectly suited for the occasion. Through these improvements, your Philips Hue ecosystem at home intelligently adjusts to whatever content you are consuming, taking the entertainment experience on to better heights.
The company is also planning to roll out lighting products for the outdoors. You can now make gatherings livelier with just a tap on your connected device.
Trinkets and Robots
The biggest consumer-centric electronics show is naught without the usual quirky entries and of course the archetypal future staple, robots.
The former king of mobile phones plans to take back its crown, and it's taking huge strides to get there. While they're at it, Nokia also does other things on the side. If sleep trackers usually go on our wrists, Nokia's Sleep pad goes under your mattress. This sleep tracker promises to analyse your slumber pattern accurately by various technologies along while connecting to other smart devices such as lights to help lull you to sleep.
L'Oreal, the popular make-up and skin care brand, has also joined the smart fanfare with its Electronic UV Sensor. The UV Sense, is a battery-free wearable that can stick on the thumbnail and measure exposure to ultraviolet radiation.
Aeolus is a household robot that maintains order. It can recognise items and put them where they belong. It can also be fitted with brooms or a vacuum cleaner with its modular design. There's also BUDDY, which is touted as a "social companion" robot. Simply put, this adorable robot is something you'd want to talk to even about the most trivial things.
This year's CES was packed with new technologies you'd want to take home. Baked with new technologies, these products can do what you thought was impossible before and can ultimately make household chores a breeze. In the future these will take over our homes and there's no other option but to give them a warm welcome.
Also published in Gadgets Magazine February 2018 issue
Words by Mia Carisse Barrientos