The great thing about CES is its scale and variety. More often than not, we tend to get drawn into the bigger, brighter and more publicized booths and products–and that's really no one's fault. But let me be the quirky, obscure uncle whose taste you've subconsciously absorbed through osmosis and give you some of the less talked about but just as cool (maybe even cooler) stuff you might have missed from this year's CES.
Clearaudio Innovation
Many audiophiles prefer the sound of vinyl and anyone who dare alter the medium would be charged at by an angry mob wearing expensive headphones. But the same aggression does not apply for innovating the thing it rotates on.
The nerds at German company Clearaudio came out with a jawdropping innovation—and the name perfectly describes it. Combining several award-winning technologies, the Innovation turntable uses the company's revolutionary (pun very much intended) optical speed control combined with an infrared sensor to maintain a constant rpm (supporting 33 1/3, 45 and 78 rpm settings). Everyone needs a bit of stability, and this thing is unprecedented in that area.
The high-density, 70–millimeter–thick acrylic platter is rotated by a high-torque decoupled DC motor which rotates friction-free on a 15–millimeter–thick stainless steel sub-platter using the company's proprietary ceramic magnetic bearing design.
It really is any music purist's dream turntable. The catch? A USD 45,000 price tag.
Bragi's The Dash Pro
From the needlessly expensive dream audio device, we move onto the surprisingly useful expensive dream audio device. Bragi's The Dash Pro (article included in the name) is a clever pair of true wireless earbuds.
The in-ears connects via Bluetooth or be used as a stand-alone music player with 4 GB file capacity and features Passive Noise Isolation through premium Knowles Balanced Armature Speakers, giving excellent audio quality without so much as a whisper from the outside world. Or, if you still want to be aware of your surroundings, with just one swipe you can have ambient noise seep into your headphones with its Audio Transparency feature.
Using Bragi's own AI-enabled operating system, the earbuds also offer fitness tracking, iTranslate integration with 40 languages supported (working in real time), and integration with your personal assistant of choice (except you, Alexa, sorry). The Dash Pro can even be customized (at extra cost) based on your personal hearing profile in partnership with Starkey Hearing Technologies.
But what's really interesting and potentially life-changing, is Bragi's initiative called Project Ears in partnership with Mimi Hearing Technologies in engineering a pair of wireless earbuds that will bring tinnitus relief and would double as a hearing aid in difficult environments.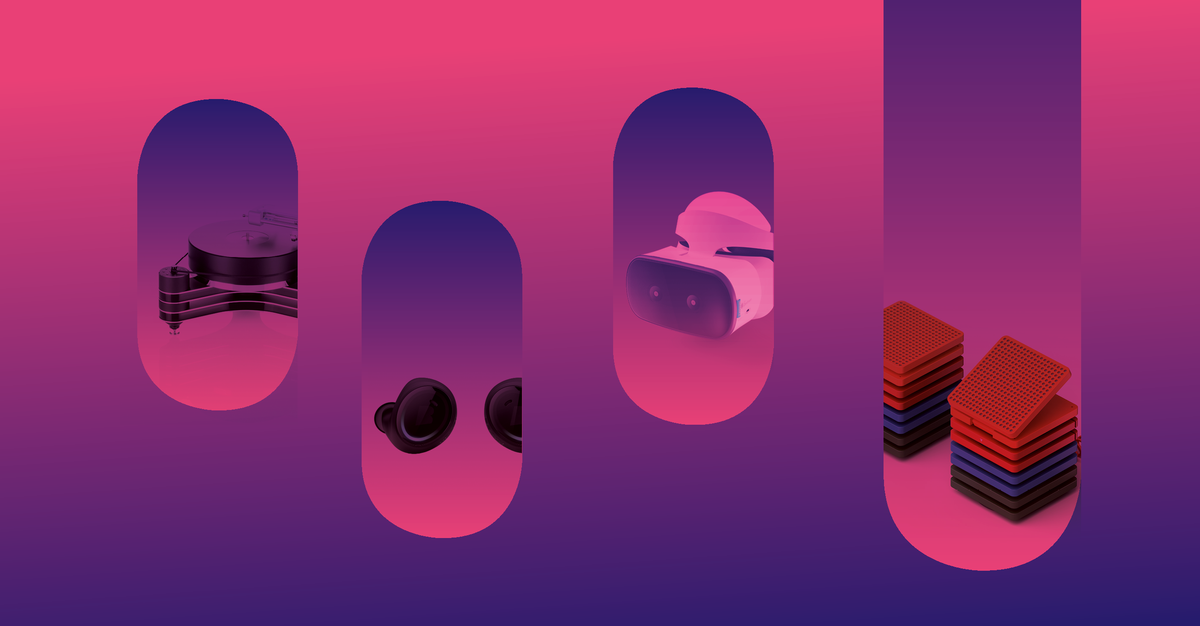 H
That's not a typo. It really is just called H. H is a partnership between Chinese internet giant Baidu and Swedish tech design maverick teenage engineering. It is Baidu's first smart home speaker, under its recently aquired company, raven.
The H is also the first stage of Baidu's massive AI initiative and works  pretty much like any smart home speaker, with a personal assistant much like the Google Assistant, Amazon's Alexa or Microsoft's Cortana.
What's obviously different is its design which exudes teenage engineering's retro Swedish design aesthetic. It wouldn't be out of place in a 60s science fiction program. And just look at that coiled cord charge cable that looks like it came straight off a rotary phone from a mod apartment. Plus, it has audio components designed by Tymphany so it'll sound as good as it looks.
The bad news? It'll only be available in China. We'll just sit here and stare at our drab brick of a smart home speaker. Tough luck.
Lenovo Mirage
It's a point-and-shoot VR camera! No beating around the bush with this one. We have now come to a point where home videos and family photos can be viewed in 3D. Future.
Lenovo's Daydream-enabled Mirage allows users who do not have expert knowledge of VR capture or the expensive equipment it normally requires to take immersive photos and videos with a pocket-sized camera.
The Mirage is equipped with dual 13-megapixel fisheye lens cameras which takes 180-degree VR videos with support for YouTube's latest VR180 format. It also captures photos with a 180-by-180-degree field of view.
With Wi-Fi Direct smartphone pairing, users can review their photos and videos using their phones as viewfinders, viewable with or without a VR headset. The Mirage comes with 16 GB of onboard storage, expandable up to 128 GB via a microSD card slot.
Can you imagine taking a video of a gig and letting your friends experience what you experienced? Complete with you singing louder than the vocalist of course.
Also published in Gadgets Magazine February 2018 issue
Words by Robby Vaflor