For tech nerds, there's more to look forward to after Christmas. January brings with it CES, and a whole industry worth of tech goodness to ogle and dream about. While there was more of a focus on smart technologies and wearables, there's also the staple that we love to keep our eyes on: mobiles. The spotlight might not have been on mobile phone tech this year, but there were still a few interesting developments from some of our favorite brands that we were excited to see. Let's take a quick look at them, and consider what this means for the consumers.
Vivo
While there isn't a consumer-ready device at this point, Vivo was quite proud to show off what might be one piece of tech smartphone manufacturers have been scrambling to bring to the market: on-screen fingerprint scanning. Working with their technology partners from Synaptics, Vivo was showcasing their in-display fingerprint scanning system, making them the industry's first to publicly unveil what has proven elusive to even industry giants such as Apple.
The development allows the manufacturer to make sleek phones that still have the convenience and security of the fingerprint scanner, something that has proven to be more secure than most facial recognition implemented by other makers in the market right now. Vivo also claimed that the device would be ready for prime time early this year.
Asus
Continuing making phones that deliver a great experience along with superb battery life, Asus has just released the latest to their ZenFone Max line of products in the ZenFone Max Plus. It's a capable mid-range device with a massive 4130 mAh battery that, coupled with battery optimization technology, promises days of use on a single charge. The Max line of ZenFones has always been priced reasonably, and this iteration is no exception, with a price tag of just USD 329, or just under PHP 17,000 converted. If it is at least as capable as the other members of this family of phones, we're quite excited to meet it in person.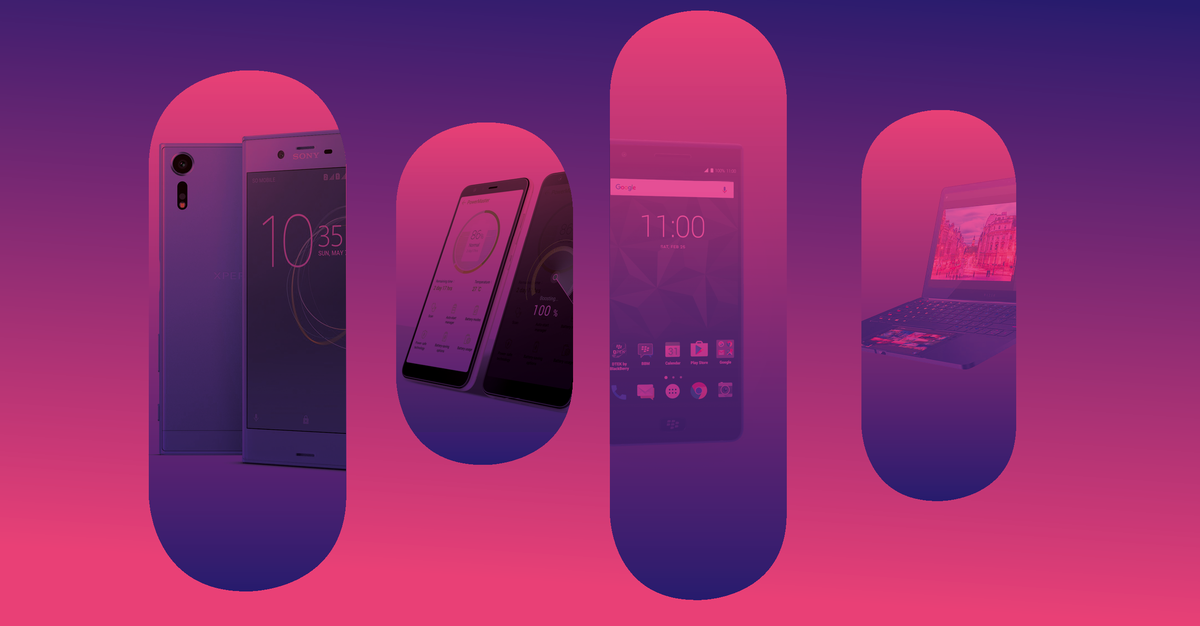 Blackberry
The news of the death of Blackberry have been greatly exaggerated. The Blackberry Motion is the latest from what was once a household name in mobile phones, at least in the US. While this particular model has given up its keys in exchange for more screen real estate, it does carry a curiously large 4000 mAh battery, which in a mid-range device such as this, means long stretches between charges. It also comes with a special context-sensitive function key that delivers different functions depending on your location or the task at hand. The motion is set to hit the market with a price tag of about PHP 23,000 converted.
Sony
While they haven't come up with a bezel-less phone quite yet, Sony has been working to shave the existing bezels down as much as they can. The result is the Xperia XA2 Ultra. Apart from the thinning bezels, Sony is once again shooting for great cameras on the device, with the XA2 bearing 23-MP sensors with up to ISO 12800for unparalleled night-time performance. It retains the signature Xperia look, now with a rear-mounted fingerprint sensor for quick and easy access.
Razer
As if coming up with a smartphone weren't news enough for the gaming hardware company, Razer showed off Project Linda at CES this year. The laptop-like dock allows users to insert their Razer phone into a bay about where a track pad would be located, allowing for an Android experience on a larger, much more convenient device. The phone switches into a functioning track pad, and also serves as the speakers for the hybrid. The idea seems to be to allow Android gaming and daily tasks to be done with a display and keyboard much more convenient than just a mobile phone. While it might not be for everyone, it remains a very interesting development in a segment that hasn't seen a whole lot of change in a significant amount of time. We're excited to see what Razer will bring to the market next.
Also published in Gadgets Magazine February 2018 issue
Words by Ren Alcantara